In This Issue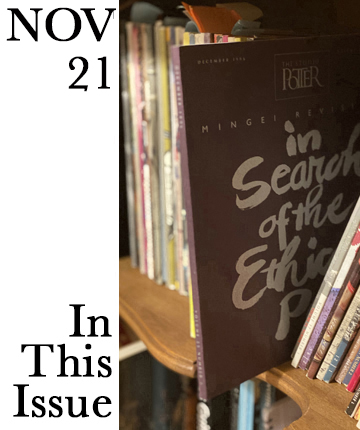 To fascinate is to "attract and hold attentively by a unique power or some other special quality." To be fascinated is to be enthralled. Fascination arouses interest. Fascination is the first step of a journey with an unknown destination.
We might travel so far on this journey that an external viewer cannot see the connection between the output (objects and ideas) developed over the course of the journey and the initial fascination. The distance might be too great. Embedded as it is, at the point of origin, sometimes the fascination becomes so distant it is invisible even to the traveler. They have to trust instinct and momentum, knowing they were carried from a spark of fascination even if it dims. To add worry about whether the external viewer will be equally fascinated by the question or the journey that pulls them, is an unnecessary distraction to the fascinated mind. 
Occasionally, in the rarefied moment, the external viewer IS also fascinated. Then we may find they join us and invest their own curiosity. How true the course of the investigation, on the part of the maker, the writer, or the audience, remains somewhat dependent upon the other fascinations discovered along the way. Do we tire of the query? Do we reach a dead end, a fork in the road, or a boulder? The amount of effort put into any investigation or collaboration will be proportionate to the depth of said curiosity, of the shared fascination.
If nature, for example, is the seminal fascination and we pursue our curiosity, it is likely that the scope of inquiry will narrow. Nature is after all a broad area to be fascinated by. Let's say our fascination with nature gets focused on mud – earth, dirt, clay. Then what direction will our fascination travel? Where will we be drawn in deeper? Will we get caught up by how this one aspect of nature – dirt – feeds nature, because we see the trees grow up out of it and we watch earthworms crawl through it, feeding themselves and in turn being food for others? Are we curious about the evolution of the matter that is mud and how it settles into layers that hold geological and anthropological secrets? Or do we become fascinated by how this material has transformed over millennia from roof-of-the-world mountains into malleable stuff we form by hand? Are we curious about how earth, transformed by a specific journey, can be transformed again by us into vessels, homes, totems and how these objects reflect and record humanity's impact and experience throughout time? Are we curious about how the material can change us, remembering when we sat on a riverbank covering ourselves, head-to-toe, in mud and we breathed in the earth from every pore of our bodies?
The trajectories of a single curiosity, of a magnetic fascination, become woven together, thick and strong, an odyssey that we embark on to reach new areas of knowledge, to explore deeper pools of understanding, to intertwine the pathways of our curiosities with others who are traveling, with others who are fascinated. 
In the world of ceramics there are many destinations. And though we may seem at odds on occasion, there is no denying the shared fascination. Somewhere in our curiosity there is a parallel spark of fascination between us. For November you are invited to read five entries from five travel journals of fascination:  
Jane Perryman became entranced with, "exploring interlocking ideas of time and place through sequential forms." She shares the sights and sounds observed from a pasture set at fifty-two degrees latitude in Suffolk, England, where she documented the changing dark/light ratios through the seasons. Marion Angelica and Harrison Levenstein are external viewers who bear witness to and share in the material fascination of wild clay of two fellow travelers: Betsy Williams and Zach Sierke respectively. From the mountain ranges of New Mexico to sea level quarries of Alabama both have traveled on a path that started with fascination, curiosity, and respect for Japanese aesthetic, process, and reverence for the gifts of the earth. Barbara Frey is recording the heroes' journey in part two of the history of Pine Mills Pottery, where Gary Hatcher and Daphne Roehr Hatcher worked a life out of a piece of land and a craft. Their backward glance illuminates the value of allowing pragmatism to temper fascination and make curiosity purposeful. Clarice Allgood reminds us that fascination is not synonymous with ardor, sometimes we are fascinated in anger with arbitrary hierarchies and value systems. She also reminds us that even then, even in fascinating anger, we might find solutions – maybe even resolution.
Be well everyone, and thanks for reading,
Jill Foote-Hutton, editor