In This Issue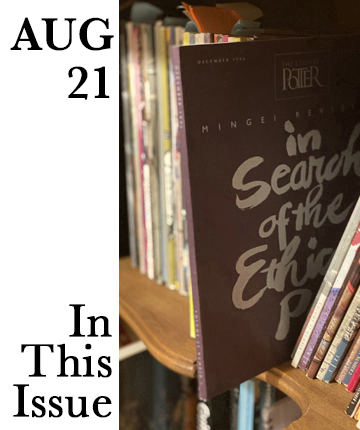 One of the first times lecturing in a room with stadium seating, I was so nervous my voice shook while speaking on the confidence-giving power an avatar can provide. Specifically making a point about the history of puppetry, I cited examples of how puppets were able to speak truth to power without repercussion of death or imprisonment. But the tremor in my voice was increasingly unnerving, and the unnerving made the tremor worse. Maybe it was because I had spent time immersing myself in this history that miraculously it occurred to me  to demonstrate the power of an avatar by making my hand into an ad hoc puppet to speak about my nervousness. I, the speaker, told my avatar, my hand, "I've never spoken in front of a crowd this large and it is unsettling, what do you think I should do?" To which my hand replied, opening and closing as though operating an actual puppet head, "Don't be so nervous. They are just here to learn about your journey. Some of them will identify with what you share, some of them are just glad to be out of their normal routine, and some probably don't care very much about what you are saying. It doesn't really matter though. Just be yourself and relax." The audience laughed, I relaxed, and my voice stabilized, tremors were gone. 
For well over a week I've been trying to think of a way to introduce the August stories to you. I wanted it to be good – really good, wanting to occupy the same creative flow I was in when I wrote about Monk King Bird Pottery in Wyoming last month. But every flow I tried to jump into was more of a mud puddle than a stream – the connections felt too forced, when all I really wanted to tell our readers was, "I'm excited to share these stories! I think they demonstrate depth and nuance in a time when it feels like stories are getting flattened by absolutes." 
Studio Potter has existed all this time, almost fifty years, because people in the ceramics community are willing to share their journeys, their perceptions, their knowledge, and their hearts. Many truths ring out from the chorus of those voices, with perhaps the largest truth being a belief in the power of the handmade ceramic object. Readers may find the four articles presented this month complement the December 1988 issue of Studio Potter, Volume 17, Number 1 Utah / Perception; I encourage you to delve into the archive and revisit the issue after you read this month's offerings by Diego Valles, Nicole Marroquin, Richard Nickel, Stephen Earp, Daniel Velasquez, and Clarice Allgood. Volume 17, Number 1 focuses on the ever-shifting concept of perception, containing a collection of voices that examine, meditate upon, and deconstruct perception by parsing out the road from observation to knowing. I don't want to draw a stronger connective line between the two. Except to say, I hope the subtext will allow the reader to consider how much cacophony has been made throughout human history regarding the pursuit of the truth and how the arguments made surrounding the pursuit of truth are dependent upon one's vantage point.
The FREE! article this month is written by Diego Valles. History and Story of Mata Ortiz Ceramics: Why Oral Tradition Matters (Part I), illustrated by Nicole Marroquin and Richard Nickel, invites us into the multi-layered history of Mata Ortiz Pottery, expanding upon the single story that has become the most popular narrative of how one of the most relevant ceramic expressions in the world evolved due to the efforts of a few men. Valles asserts that the popular narrative has been distilled from a more complex narrative, and in Part I he lays the historical groundwork for us.
The Fuller Craft Museum exhibition American Clay, Modern Potters, Traditional Pots is an opportunity for Stephen Earp to parse definitions in the pursuit of clarifying and bringing depth to current conversations surrounding appropriation. In Modern Potters, Traditional Pots he writes, "We will probably always wrestle with the thorny question of how contemporary efforts to honor the beauty and complexity of traditional ceramic art can operate on a deeper level than merely 'sampling' visual aspects of past achievements for individual purposes."
Clarice Allgood invites readers to look through the lens of a first-time craft fair experience in No Time Like the Present: A First Festival Journal. Narrating the storm before the calm, "Awake and distraught. Rather than charging, my phone has drained to a dim 2%. I remind myself that I'm not superstitious. By 9:30 AM, I'm fully set up, my power bank, phone, and Square are all communicating. I find some courage, hang my sign. Ready," she remains present throughout the experience, giving us the full arc of her truths.
Finally, an interview with Daniel Velasquez where the creation of ceramic objects is a foundational springboard toward a destiny – not inevitable, not pre-ordained, but one deliberate choice after another, one query pursued after another. His journey is the embodiment of reaching into darkness and finding a rope to grasp and grasping again when the rope slips out of hand. Slowly, with determination, he is plotting points in the darkness of fate to illuminate his destiny. Fate vs. Destiny is a portrait of an artist who couldn't have traveled any other way and could not be anyone other than who he is becoming.
Be well everyone and thanks for reading,

Jill Foote-Hutton, editor