In This Issue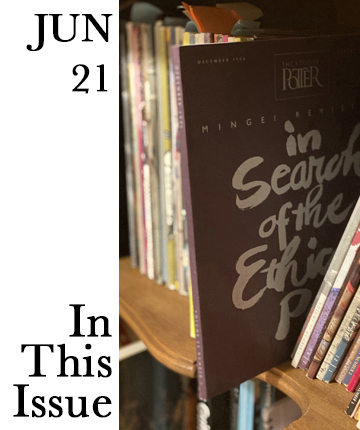 Before Mr. Fishburn's eighth grade earth science class, I'm not sure how much attention I paid to the rising and the setting of the sun. Somehow this ball of fire had circled the earth, bringing a seemingly never-ending supply of new days filled with adventures and possibilities, without being tracked. No doubt some of my classmates, perhaps those who were learning to navigate a boat on the lake at night or those who grew up in farming families, were already being taught to mind the rhythms of nature. For me, deliberately tracking the time of the sunrise and sunset over the course of a year was an entirely new concept. Ever since, days have seemed more precious and fleeting. Although, I know the object lesson was meant as an introduction to understanding the universe. This is how we begin to harness power beyond our physical self – we pause, we observe, we track, we learn, and we harness. In our June articles four authors invite us to consider details they have noticed by gazing intently upon a specific topic. Gathering data over a span of time, allows us to consider our experience in relationship to a broader spectrum. It allows us to step in and out of ourselves. It allows us to learn, grow, and evolve. 
Studio Potter, the nonprofit organization, thanks to a generous benefactor, has had the opportunity to award $10,000 in grants to support the apprenticeship model of education. Apprenticeship is an educational pathway we have endorsed since our inception. The details of the benefits gained from a novice working with a master were examined, tracked, noted and then became embedded into our identity. When that happens the details are consumed by the whole, they become homogenized with all the other materials in one's foundation. Any inconsistencies are usually small and become absorbed within the foundation – until they can no longer be absorbed, until the inconsistency becomes an obstacle. The way around that obstacle is usually to return attentiveness to the details. Steve Théberge and Louise Allison Cort, Studio Potter board members who serve on our Grants for Apprenticeship Committee, have undertaken a journey to reexamine the details in Rereading Apprenticeship in Craft, Forty Years On. They take us back to the aggregated wisdom that led us to champion apprenticeship and weigh it alongside our current reality, grounding us in our purpose and focusing our eyes on what needs to change so that once again the foundation will be firm.
In our FREE June article On Speaking With Precision, Gerald A. Brown, trains our gaze to see the agency available to artists who use the details of abstraction to speak precisely. Megan Thomas helps us understand how the details of utilitarian form and nature come together to paint an anthropological picture of the past in Patient Observation. We recognize consistent details in There is a Thread, reflection on a life – so far. Catherine White shares her journey with materials and we realize that sometimes the question of HOW becomes as important, if not more so, than WHAT.
We take heed of details so we are not consumed by the magnitude of life.
One last bit of news before I let you go – our July articles will be edited by Studio Potter board member and former publisher and editor of international ceramics journals Ceramics: Art & Perception and Ceramics TECHNICAL, Elaine Henry. Thank you Elaine for stepping in and stepping up, we are lucky to have your gifts in our organization.
Be well everyone, and thanks for reading, 

Jill Foote-Hutton, editor