The Heartland Table Event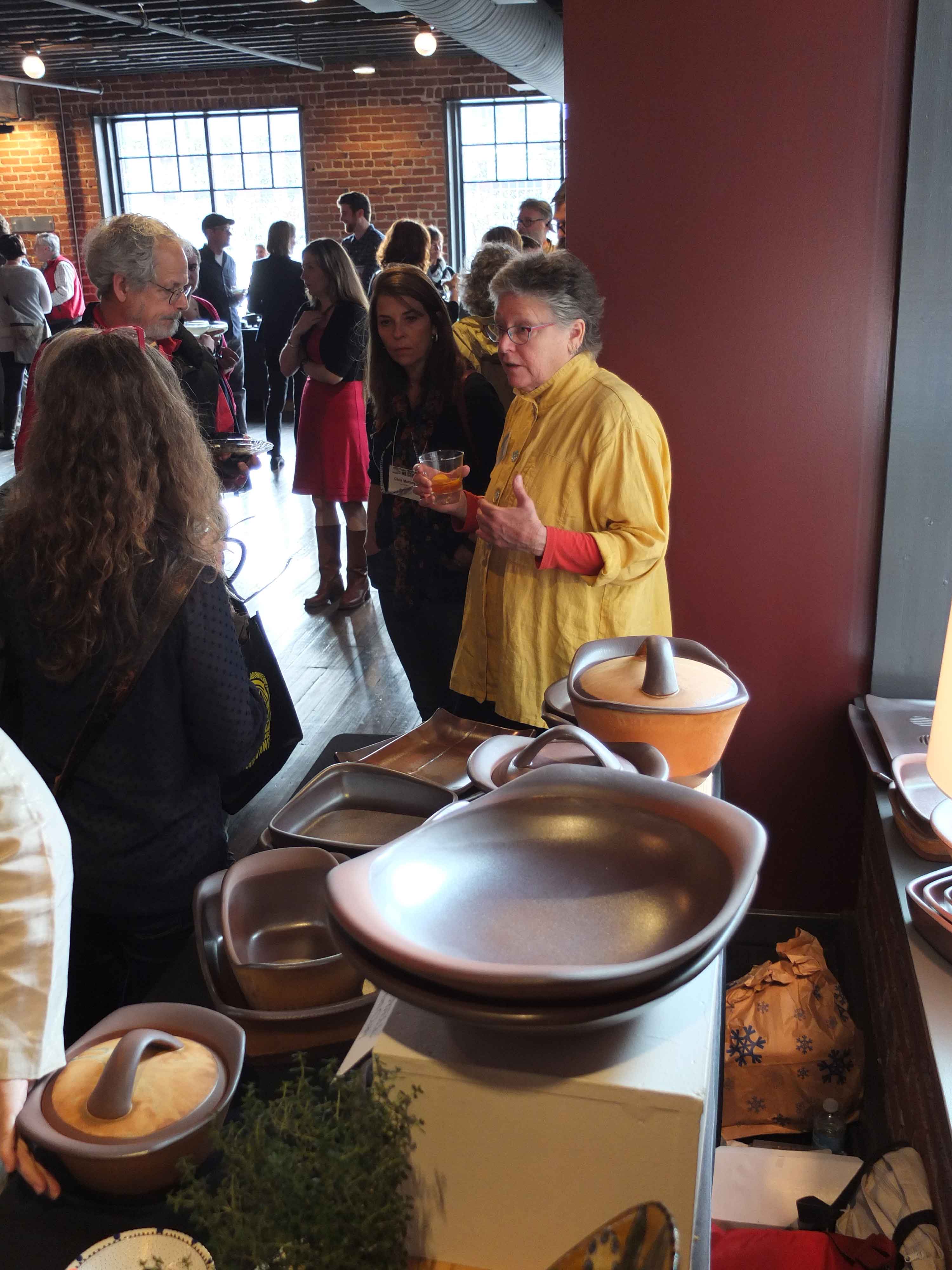 Studio Potter had the pleasure of partnering with Cook on Clay flameware pottery company to produce a unique event, The Heartland Table, on the eve of the National Council on Education for Ceramic Arts (NCECA) annual conference. Held at Tom's Town Distilling Co. in the crossroads district of downtown Kansas City, Missouri, nine regional potters displayed their wares and six prominent local chefs were invited to cook directly in clay pots for over three hundred guests. 
Our featured potters were: Margaret Bohls, potter and Assistant Professor at the University of Nebraska, Lincoln; Mark Cole, potter and Assistant Professor of Practice for the University of Nebraska, Lincoln; Chandra DeBuse, a local Kansas City studio potter; Brice Dyer, a resident artist at Belger Crane Yard Studios; Stuart Gair; Meredith Host, another local KC studio potter; Gail Kendall, potter extraordinaire (and past Studio Potter contributor); Brenda Lichman, a studio potter in Wichita, Kansas, and teacher of ceramics and drawing at Wichita State University; and Kyla Strid, Director of Residencies and Adult Education at the Lawrence Arts Center.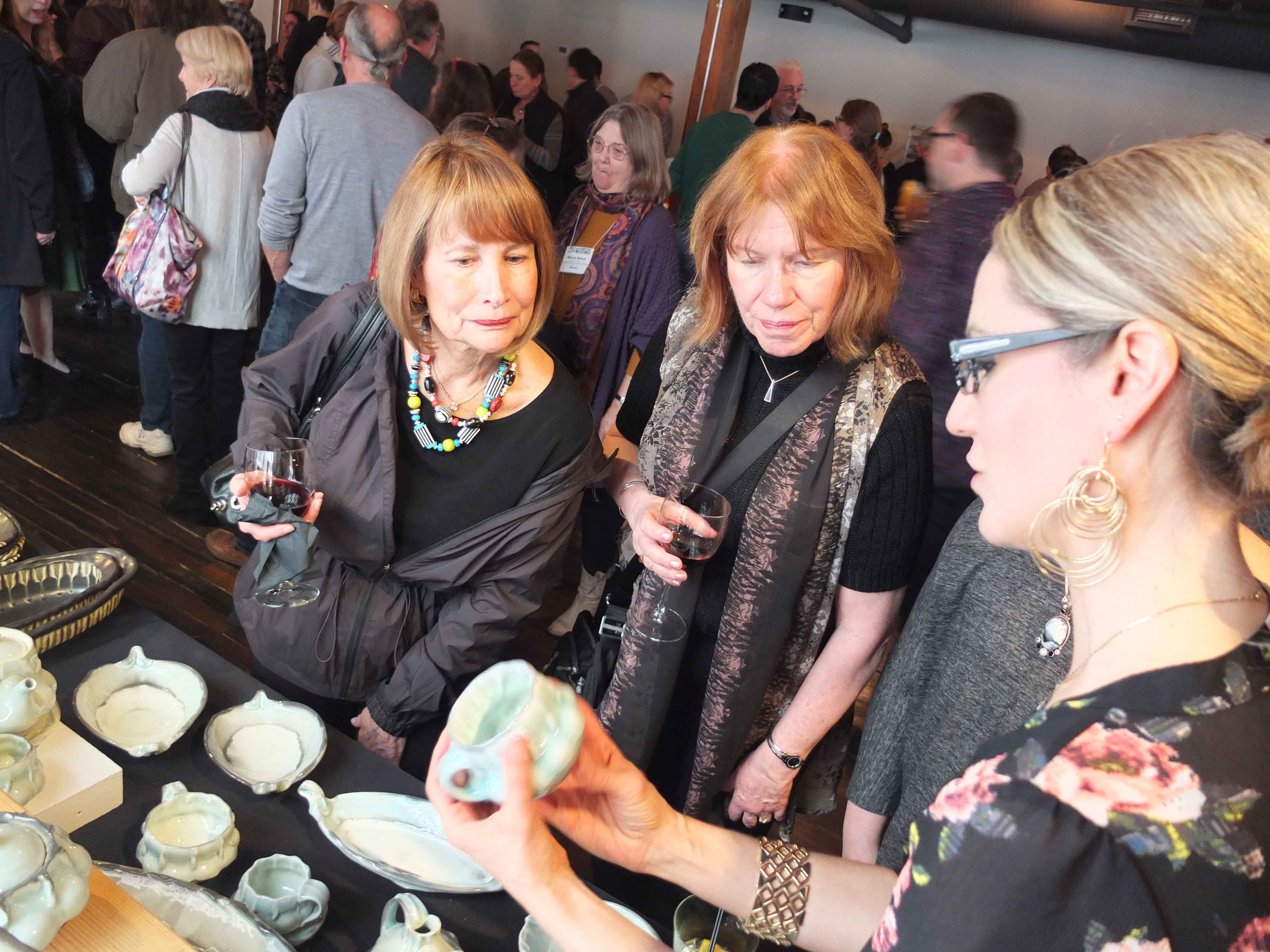 In her article for Feast Magazine, Jenny Vergara recapitulates the chefs and their dishes - both clay and culinary: Alex Pope, owner of Local Pig and Pigwich,
 chose a large rectangle pan for his Dill Cured Pork Loin with Nduja Risotto and Fennel; Michael Foust, chef-owner of The Farmhouse, used a lidded version of the large rectangle pan for his Whole Roasted Lamb, Clemson Lentils, with Preserved Lemons & Olives; Craig Howard, chef-owner of Howard's Grocery, Café & Catering, went with a large round casserole with lid for his Pork Confit with Wild Garlic Shoots on Sweet Potato Biscuit; Josh Eans, chef-owner of Happy Gillis and Columbus Park Ramen Shop, used two large rectangle pans to prepare and serve Fuji Apples with Cultured Cream and Rye Crumble; Howard Hanna, chef-owner of The Rieger and Ça Va, took a large square pan to work for his Vietnamese Beef Short Ribs with Local Rice; and Ted Habiger, chef-owner of Room 39 and Brewery Emperial, went simple and traditional using a large oval pan for Merguez Meatball Paella. Guests also enjoyed signature cocktails by Tom's Town bartenders as they shopped for some of the Midwest's finest handmade pots and tasted the best of Kansas City's local food. 
The event contributed to the dialog of Across the Table, Across the Land, a NCECA 50th anniversary project. SP appreciates the hard work and cooperation of Jenny Vergara, Brice Dyer & Holly Siggelow Dyer, Steve Revare & Emily Dane McDonald, Maryon Attwood & Robbie Lobell, and the Studio Potter board of directors in making this an unforgettable evening. (Above, right: Robbie Lobell. Above, left: Brenda Lichman with guests. Below, L to R: Guests with Gail Kendall's pots, Stuart Gair with guest, Meredith Host with guest. All Photos by Hollis Engley.)