For Free?!
Since renewal cards have been pouring into the office this week, I wanted to remind everyone of an easily overlooked membership perk. When you become a member for the first time, and every time you renew your membership, we offer a free back issue of your choosing! Or, my choosing if that is easier (feel free to ask for my favorites when you renew). 
One of the best parts of my job as circulation manager is that I am surrounded by our archive of these issues. Whenever someone renews and sends me hunting for the issue their article appeared in, or asks me to select for them an issue before 1985, I can't help but browse. Casual browsing leads to obsessive reading, and I emerge minutes later clutching the issue fiercely while shouting to Elenor, "You HAVE to read this!" She has a knowing grin. This happens daily.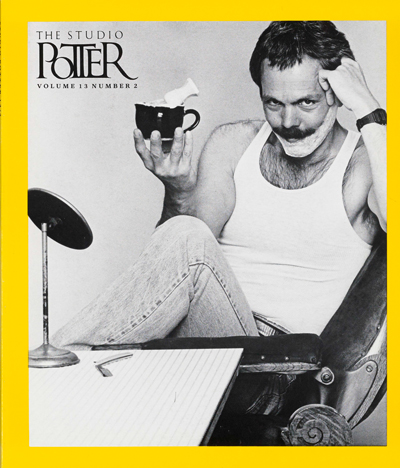 I think we have all had these moments and we at SP want to help you share that experience with your friends. But maybe you are out of shelf space or already have all the back issues? If so, we will now gladly send your free back issue to a friend of yours, who you think should experience the journal. You might send them the first issue of SP that you remember reading, the issue you appeared in, the one with that ridiculous Joe Spano cover (see image, right), or choose at random knowing that every issue has and always will have the best writing on technology, criticism, aesthetics, and history in our field.
When you renew, send me an email at membership@studiopotter.org with the name, address, and issue you would like me to send to your person of choice. If the back issue of your choice is out of print or not available we can send a PDF version via email. If your membership has lapsed or you'd like to become a new member click here to renew online (May is new member month!); if you are up-to-date (received the last issue) and want to continue by renewing online, you must first LOG IN, then go to the member sign-up page, click the renewal option at the bottom. Don't know which option is right for you? Just e-mail me.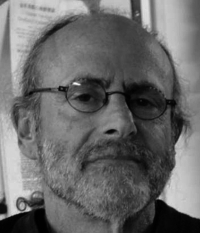 Also, this is Jonathan Kaplan (left). Jonathan has been a great friend to Studio Potter over the years and currently serves on our board of directors, while still maintaining a busy studio practice and running the wonderful Plinth Gallery in Denver, Colorado (look for an article from him in the upcoming Summer/Fall 2016 issue!). Jonathan hounds us constantly (wink) about Volume 2, Number 2 and calls weekly (double wink) to ask if we have somehow come into possession of an extra copy that he can purchase. We haven't, but if you have it and want to make "someone's" day (month, year, or decade) send it to him! Jonathan can be reached through Plinth Gallery.