Archive Feature: Mothers With Careers in Clay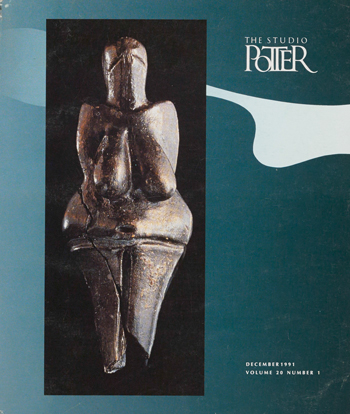 In this conversation compiled by Charlotte Speight and published in the first issue of SP devoted to Women and Clay, Vol. 20, No. 1, December 1991, Coille Hooven, Nancy Selvin, and Catharine Hiersoux reflect on the challenges of balancing parenting and a career in the arts. Already accomplished artists at the time this article was published, all three women have since had distinguished careers spanning more than three decades. Their work has been featured in the Smithsonian American Art Museum, The Renwick Gallery, and even the White House. Most recently, Hooven's 2016 exhibition at the Museum of Art and Design was profiled in The Washington Post, which described her as a "formidable storyteller" in clay. 
Being a parent has made me much stronger. It helped me focus on what my priorities are. I never see an immediate translation of such things into my work, but I've done a lot of collaborative work with my daughter. Being a parent changed my whole teaching career. -Nancy Selvin 
This candid conversation touches on role models, takings risks, bringing kids to craft shows, marriage, joint parenting, parenting as a single mother, and even stealing ideas from your children. "Being a parent is difficult for everyone," says Nancy Selvin. "I know lots of women who say, 'Well, I'm going to raise my kids, or, I'm just going to have a career.' And they choose one or the other. I think it's important when you do both to speak out and show how difficult it is and yet how it can be done."
This article is the precursor and template for the discussion between Kari Radasch, Beth Robinson, and Leanne McClurg Cambric, published in Vol. 45, No. 1, Winter/Spring 2017 (forthcoming). At very similar moments in their careers to those of Hooven, Selvin, and Hiersoux in 1991, these three artists talk about their own efforts to navigate parenting and their professional lives.
The similarities between both articles are striking as all six women, speaking twenty-five years apart, convey the personal, emotional, and artistic struggles they faced as mothers. Much has changed since 1991, but much has also remained the same. You can read the full article here.