A conversation with Catharine Hiersoux, Nancy Selvin and Coille Hooven, compiled by Charlotte Speight. 
Coille Hooven: I'm interested in providing a role model for younger women: How we can combine the desire to have a career— some sort of self-actualizing experience for ourselves—with parenting . . . both very satisfying, fulfilling roles. How can we do both?
Nancy Selvin: Being a parent is difficult for everyone. I know lots of women who say, "Well, I'm going to raise my kids, or, I'm just going to have a career." And they choose one or the other. I think it's important when you do both to speak out and show how difficult it is and yet how it can be done.
Catharine Hiersoux: It's obvious that at a particular time the self-actualization needs versus the needs of a family are going to be in conflict. Choices have to be made. Ifs a hard balance. I had my kids quite young, before I had chosen to make a career. The career followed later. My mother told me, "Everyone has something they do well. Find it and do it." I took that script. I learned and developed an interest in and facility with clay. It was something I did well.
Nancy: I had my daughter when I was in my mid-thirties. I worked for ten years and was married for ten before I had my child. My husband and I decided we'd have only one child. My career was already underway and I had ongoing commitments. When Liz was born I had to get back to work; there were things I had said I would do and felt the need to honor those commitments. My mother's story was interesting. It turned out that before she was married to my father she had a whole separate life. We found out about that after she died. She talked to me about artists and an art community in Mexico where she once lived with a group of muralists including Frida Kahlo and Diego Rivera. She had the romantic idea that artists were the chosen people. She didn't like her own life when she stayed home and raised kids. She used to rant and rave about how bad it was, and advised us never to do that. As a result I went out into the world determined not to stay home and raise kids.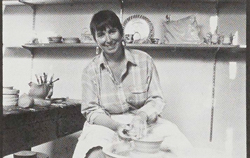 Catharine: My mother was a music major who taught piano before she had children. After the kids came she gave up teaching. She didn't regard music as art, though I always identified her music as an art form that she was never really able to play out. So, in a sense, she scripted me to carry on.
Coille: My mother always worked. She started out as a college teacher and ended up as a nursery school teacher. In addition she always wrote journals and regarded herself as a poet—poetry was her major love even though she always worked. So that was my role model. I knew I was going to be an artist from the time I was four. I have been driven to do it my whole life. In college I discovered ceramics. I knew that was it from the moment I touched clay. I got a degree in ceramics and then a job teaching. I was twenty four when I found out I was pregnant. Was that upsetting! But I got used to the idea and just took my kid to school with me. I've had a career and raised my kids together ever since. I have two kids and think of myself as a good parent—not a perfect parent. I have guilt and regrets and feel I missed a lot of my children's growing up because I was so busy with my own life. I could have enjoyed them more. But to be satisfied with them I first had to be satisfied with myself. They got very few dinners but both my kids now have degrees in art and are on their way to becoming artists.
Catharine: My studio was at home so I was always there when the kids came home. I had my son when I was twenty one and my daughter at twenty-five. During their early years they got more attention because my career developed later. When they were pre-teens and teenaged it was almost the reverse: I was running a fast pace to keep up with career demands for by that time I had become more successful. There were outside pressures including a major renovation of our house. I didn't have room for choices or extra time for their needs.
Nancy: My situation is different because I was ten years into my career when I made the decision to have a child. I continued to teach and have exhibition commitments after she was born. She just arrived on top of it all. When she was three months old, I hired a person to come and take care of her. I decided the best thing that could happen to my daughter was to give her the role model of someone who did something in the world. I had to struggle with the problem of finding time to spend with her. I didn't do laundry, I didn't clean house, I didn't cook meals— I did my career. Now my daughter loves to come home from school and cook for herself.
Coille: When my kids were four and six, my husband and I separated and I became a single parent and had to support the family. Making money took away from my art career but I don't really know if it affected it—I always did my own work. I think I was maturing as an artist so that by the time I got to be thirty I was ready to enter the field publicly. That probably would have happened even if I hadn't had to earn money. Life is a compromise. There is never enough time.
Nancy: I've always worked and had a teaching job, but I'm not the sole support of the family; my husband is there. We're older parents - Liz was born when we were both established and had a house, even a dog. However, my career always has been a big financial drain on us.
Catharine: In our situation, the financial responsibilities alternated. At the beginning Arne had odd jobs—he was an artist- and that was enough to keep us going. And it was cheaper to live at that time. I taught privately in the studio and did some selling. Then at a point I became successful enough to support the whole family with my income, and he was able to go back to being an artist. The burden of income was being shared.
Coille: I started a ceramics business. Actually it grew from an idea of my daughter's that I copied. When she was ten years old, she made Christmas ornaments. When I saw how popular they were I took up the idea and went on from there. None of it was easy. There were hard choices and decisions. A lot of it was satisfying, but a hell of a lot of it was just plain hard work. Sometimes I felt as if I'd never get enough sleep. I can remember transporting pottery on boards in the back of an old station wagon and taking them to someone else's kiln and staying 64 up all night firing. I mean, if life had thrown me another problem, I don't know what I would have done. But I've made it through and now it's not so hard anymore.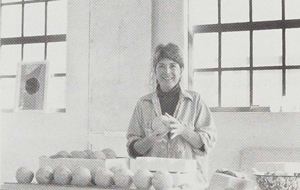 Catharine: I still do that, but now ifs ok - I've learned that's the way the world goes around. You sort of make do with what's there.
Nancy: That makes my life sound as if I didn't have any problems, but I think that waiting to have a child until you're much older changes things. When you're young and trying to be an artist you go through a lot of emotional issues just trying to get your life together. In my case that was not compounded by being a parent.
Catherine: My career evolved out of a life process. Certainly the family—my relationships with my kids and husband — was part of that. What I did in the studio came from an internal rather than an external need. I would work with the clay and let it evolve out of the process. It was largely unconscious. As I look back on it, it seemed I was defining myself through form, finding relationships with my environment.
Nancy: I go into the studio and just think about what I want to do, and somehow it comes out. I look for things I want to reveal—I think of it as things I remember. My work is about remembrances. I jot down ideas visually, just sketching them out like flashes from a dream or glimpsed in a memory. That's what I try and capture. In that sense, my work is derived from my experience.
Coille: My work is about beingness - the humanness of being—something I relate to deeply. My art is inner directed and my business is outer directed. Who I am comes out in my work. I am essentially the inner person. I am interested in relationships and dialogues, and my work reflects this. The process of uncovering the unconscious is important to me. Life is working through process. My art is the vehicle. I am a much stronger person for being a parent and having to rise to the occasion. All parents know what I mean: it bring out the best and perhaps the worst in you. To be a parent requires incredible strength, calling on depths you never knew you had.
Nancy: I like that and think it's true. Being a parent has made me much stronger. It helped me focus on what my priorities are. I never see an immediate translation of such things into my work, but I've done a lot of collaborative work with my daughter. Being a parent changed my whole teaching career. I left college to start children's programs. I would never even have imagined doing that if I had not been a parent.
Catharine: I'm not sure my clay image was influenced by my children. But being a mother certainly affected my development as an integrated person. I had to become more attentive to relationships and priorities and learn to be flexible. Often the rhythm seemed disjointed and disorganized. It was impossible to do everything equally well. I would get wound up about 4:30 or 5:00 in the afternoon, then feel panic when I realized I had to stop and prepare dinner. I learned I could go back at night and pick up the work for four or five more hours in order to complete what I needed to do. Everything was pressured. There wasn't room to finish one job in an orderly fashion before going on to the next one, and at the same time have all the shopping done a week in advance and the meals all planned out. It just didn't happen that way.
Nancy: You pick the things that need to be done and you do them. In 1980 when Liz was three-and-a-half I had a show in Los Angeles. I said, ok, we're going to L.A. So we went down on the train and she hung out in the gallery and helped me in stall the show. I had special stands built for my show and she helped me paint them. It's as much a part of her life as it is a part of my life.
Catharine: Many times my daughter slept under a table at a craft fair, trying to get her mom through those ordeals. I think they saw what kind of struggle and how hard it was and how you have only yourself to depend on. No matter how well developed you become, there is no concrete affirmation from the world that means anything. It's all internally directed. Whether you get shows or critical acclaim doesn't mean a thing. My children are both in creative fields, but fields that tend to generate sufficient income. I think they saw too much financial struggle and wanted more security. Now the world has become expensive. I went through a major crisis in the mid-80s after my husband died, and had to reevaluate my life and my work. Ultimately I chose to give up this driven lifestyle. It had ceased to be pleasurable. When it only involved me, I could choose a life compatible with my rhythm. So I made major changes. I took two years off and went to New York to work as a sales rep for a publisher. I learned a lot. I realized I missed my work, my house, and living near my kids. That was important. And I loved the craft world — such great people! My work changed. I stopped production and pulled everything in from shops. I ceased wholesaling which meant my income eventually dried up. But I knew I had to do it in order to develop new forms and work differently. I began to explore the material and place more emphasis on one-of-a-kind pieces. It was financially risky. Fortunately I had a buffer: I could rent my kids' rooms to cover some of the difference in income. That was the option available to me but if it hadn't been there I would have taken a part time job.
Nancy: The question is, 'How are our kids affected by our choice of work?' My daughter is younger, but I think it has affected her. She has grown up in an environment where she sees everybody making decisions for themselves. She's surrounded by people who create. I think ifs made her an independent thinker. It turns out she is a talented musician and not interested in being an artist after all. She's planning a career as a trumpet player, a difficult field for a woman. She's aware of that.
Catharine: If men and women were able to do some of their work on less than a full time basis, they could partake of other endeavors, especially that of being more active in their children's lives. That would enrich their personal lives and also be important for society as a whole.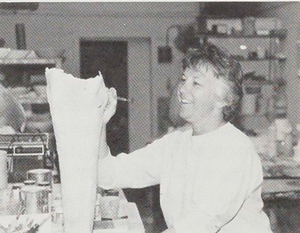 Nancy: Childcare is part of restructuring the whole workplace so that having a family is an accepted part of your career. Traditionally a family is supposed to stay home out of the way and not be seen in the professional world — perhaps to appear decoratively only at openings. We need to change that perception.
Catharine: I think more emphasis should be placed on finding those satisfying and pleasurable things that happen on an everyday level instead of projecting so far into the future. You lose the richness of those day-to-day experiences that feed our art. Art is just an expression of our life, not something that exists in the abstract. Enough has happened in the last twenty years to allow women to have the choices, the options, to choose their lives based on what their own needs are, and not to fall into prescribed roles.
Coille: You have to provide your own support. Make sure you structure in the support of your friends through people having the same kind of problems as you. Make sure you get support to live life the way you want to. Nancy: I have a lot of close artist friends who have decided not to have children. There shouId be a way to make those choices and not be under the kind of pressure that wouId hinder your career. Ifs a difficult act to pull off—to be a parent and to have a fulltime career. We're not talking about doing this on the side; we're talking about devoting every day, all day, all our time, to it.
Catharine: In a family situation each person has needs, and therefore one's attention is rotated to support different ones at different times. If it's done with consideration to each person's relative needs, ifs not abusive.
Nancy: Here in Berkeley the community support is important. We're fortunate in the availability of daycare and in being surrounded by a number of working women artists in all fields. We're lucky that way.
Coille: Its more than luck. I did it on purpose.
Web editors note: This artical originally appeard in Volume 20, Number 1, December 1991