Announcing our "Back to Back" Sale!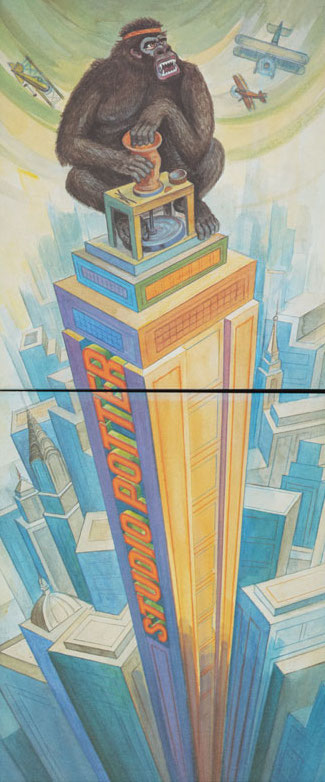 The season is not the only thing changing in September; the price of our print issue journals is too. To celebrate the start of the school year, Studio Potter is putting on a  back-to-school back-issue sale!  Members (a.k.a. subscribers) can buy a back issue for a mere five dollars, rather than the usual ten. Non-members can purchase a back issue for eight dollars, instead of the normal fifteen. Nearly seventy-five different volumes of our hefty print issue journals spanning nearly fifty years of ceramics history are on sale.
One back issue we recommend that fits perfectly with the season is Volume 36, Number 1 themed "Teaching and Learning." We know what you are thinking, "Isn't SP only online now? Why would I buy a print issue?" Buying a back issue enables you to hold ceramics history in your hands. Volume 9, Number 1 from 1980 is about urban potters, and the poster-like cover is an illustration of King Kong making pottery at the top of a skyscraper! These issues are filled with beautiful images for which your screen simply does not do justice.
Hurry—this sale ends September 30th, and some print issues will be sold-out soon. Collect them while you can!
View all available issues on our archive page, and subscribe at just $5 per month to get new articles delivered to you each month, plus discounts on these back issues and more.