2020 NSJE Awardees
Studio Potter is pleased to announce the 2020 winners of the Studio Potter Merit Award from the NCECA Juried Student Exhibition. This year the show was very strong, and we applaud the awardees for their excellent work. The awardees are invited to write for Studio Potter, so keep an eye out for an article from these up-and-coming talents!
---
Luciano Pimienta

Above: Luciano Pimienta, Fallen Fruit-Interactive Installation, 2019, terra cotta, wire, drywall screws, glass containers and liquid, 65 x 63 x 63 inches
Luciano Pimienta is originally from Rosemead, California, and currently resides in San Diego where he is an MFA candidate at San Diego State University, located on Kumeyaay land. Pimienta's work explores the difficulties living in the in-between of cultures and the rich complexity found in what it means to be "American." Interested in the ephemeral, he often uses a variety of media outside of ceramics to explore his ideas. The natural world both inspires him and provides material to connect the parallels found in the human condition. In the "Reconstructing Memory" series, he recreates memories of personal, cultural, and generational narratives. Through this work, he hopes to create conversations and begin to heal from the generational traumas transferred from family experiences and reassign them as offerings of empowerment.
---
Megan Thomas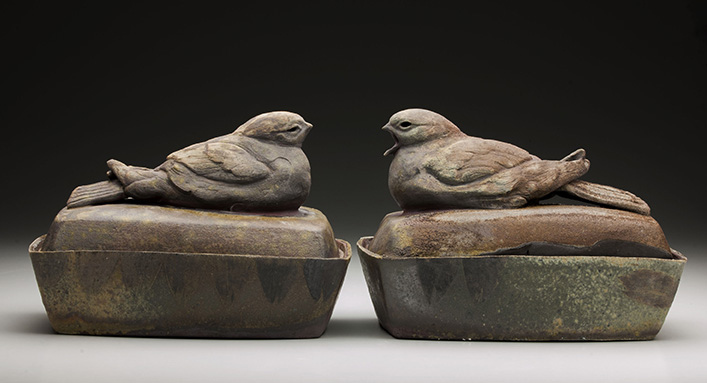 Megan Thomas is from Ross, Ohio, and currently resides in Logan, Utah. She is an MFA candidate studying ceramics art at Utah State University. Thomas's work explores how personal collapse and environmental collapse mirror each other. Through sculptures, vessels, and drawings, she tells stories about how people and animals respond to biological and emotional scarcity. She has a special interest in how art (past and present) reflects attitudes towards the environment and how it helps its creators navigate changing environments.
Above: Megan Thomas, Let me tell you a secret / I'll put it in your mind, 2019, wood-fired stoneware, 7 x 20 x 6 inches
Follow Thomas on Instagram @chickensarecuter
---
Heather McLlelland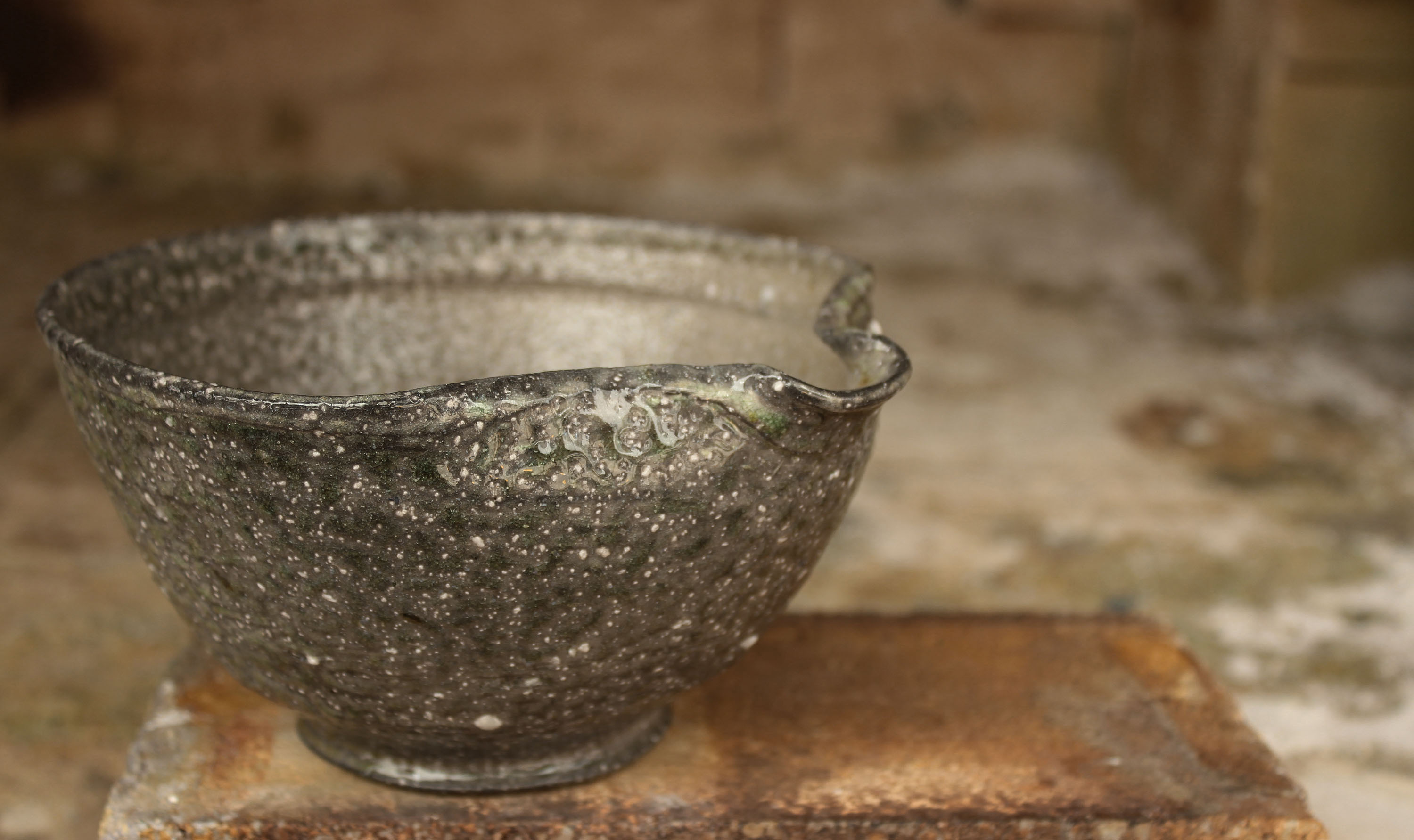 Heather McLlelland was born in Seoul, Korea, and raised in Montclair, Virginia. Heather earned her Masters of Fine Arts from East Carolina University this past spring, 2020. Her work acknowledges our fast-pace, disposable culture and how her material consumption is stimulated and affected by the environment around her. Egg Mixing Bowl for One reflects on Heather's experience of Hurricane Florence as a new mom by incorporating sand from the sandbags used to stop flooding. 
Above: Heather McLlelland, Egg Mixing Bowl for One, 2019, wood and soda-fired white stoneware mixed with Hurricane Florence sand from Kinston, North Carolina, 3 x 6.5 x  2.75 inches
Follow McLlelland on Instagram @Heather_lee_mclelland
---
Studio Potter is proud to support excellence in the field of ceramic arts, and we can only do it with your support. Support us by becoming a member today, or donating.