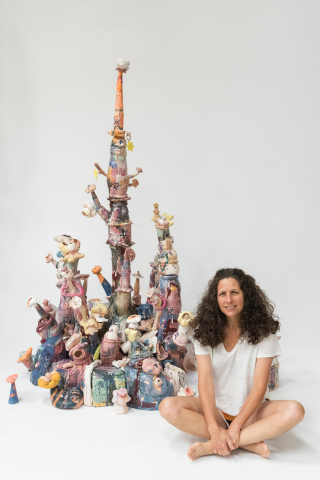 Author Profile
Lisa Marie Barber
Originally from Tucson, AZ, Lisa earned her BS in sociology with a minor in art at Northern Arizona University (1992) and her MFA from the University of Texas at Austin (1998). She is currently a full professor in the Department of Art and Design at the University of Wisconsin-Parkside, Kenosha, where she teaches and serves as the Community Liaison in the Arts. Prior to her professorship, she worked as a university and youth art instructor in the San Francisco Bay Area.
Lisa's aesthetic sensibility is rooted in Central American folk art and the Mexican Catholic shrines of her heritage and upbringing in Tucson. Deliberate with showcasing the handmade quality of her work, she uses low-tech methods to create large assemblage ceramic sculptures and installations, as well as mixed media quilts. Her work encompasses imagined conceptions of home, gardens, peacefulness, playfulness, and celebration. She strives to make her work accessible to audiences of all ages and backgrounds.
In addition to exhibiting nationally with over fifty solo and two-person exhibitions to her credit, Lisa has held artist-in-residence positions at the City University of New York, Hunter College; the Northern Clay Center, Minneapolis; Watershed Center for Ceramic Art, Newcastle, ME; the Kimmel Harding Nelson Center for the Arts, Nebraska City, NE; the University of Arizona, Tucson, AZ; the Mendocino Art Center, California; and the Clay Studio of Missoula, Montana. She has received numerous honors and led workshops from New York to California.