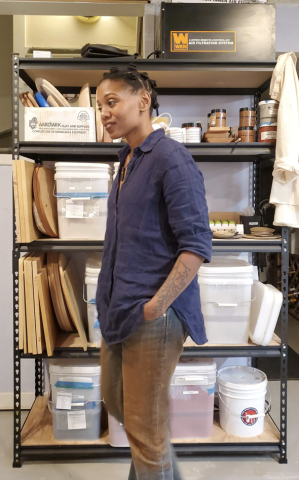 Author Profile
Kristina Batiste
Kristina Batiste became an artist later in life; prior to ceramics, she worked as a writer and editor, served in the graphic design industry, and worked in higher education. She is currently a part-time librarian. The throughline of her career has been distilling information and complex ideas into simple, accessible, and memorable forms. 
She is a Tacoma-based ceramic artist who started her ceramics education at Tacoma Community College's Community Education program but is primarily self-taught; age and experience inform her practice. Inspirations include modernist art and architecture, literature, and nature. She incorporates wheel-thrown and hand-built techniques into functional and sculptural projects.
She is featured in the newly released book Contemporary Black American Ceramic Artists and has work in the accompanying traveling exhibit to be shown at Sacramento's Crocker Museum.
Kristina was the subject of a segment in Hulu's Your Attention Please documentary series and is a guest artist at the Northern Clay Center's 2023 American Pottery Festival. She has been written about in Ceramics Monthly, The Seattle Times, The Strategist, and the Craft Industry Alliance, and she is the co-founder of the Tacoma Pottery Salon.