In a time when potters were questioning traditional forms of ceramics, the 1950s artist Katherine Choy developed radical work that was distinctively her own. Choy's extraordinary clay innovations were noted in a Craft Horizons 1961 exhibition review as "a startling transition in a relatively short, concentrated ten-year period... the earlier pieces suggest forms clad in ordered robes, but the later ones expose the flesh."[1] Katherine Choy's pots sprouted additional necks, could be aggressively large or asymmetrical, and had glazes that intentionally left parts of the raw clay bare for all to see. Her significant body of work was revolutionary among her mid-century American pottery peers, and as shown in the 2022 New Orleans Museum of Art exhibition and catalog Katherine Choy: A Radical Potter in 1950s New Orleans, Choy's pots still look fresh today.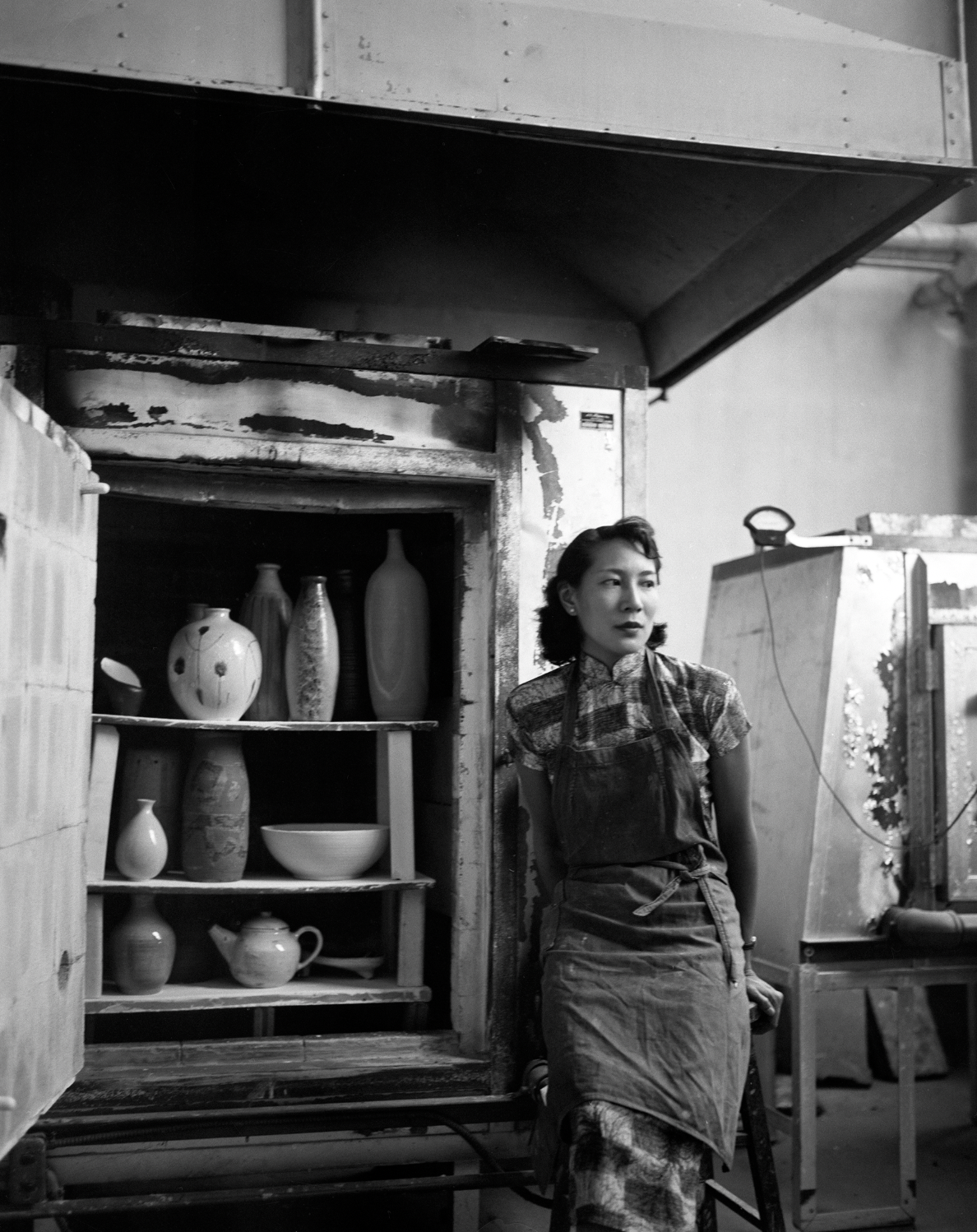 I believe that the artist-potter should question life. This requires a continuous breaking down and summarizing to express, to relate, to find one place and move with one's own time, yet keep a universal entity. – Katherine Choy[2]
FAMILY IN CHINA
Katherine Choy (Choy Poyu 蔡宝瑜) was born in Hong Kong into a Chinese merchant family in 1927.[3] Her parents, Choy Wai Man 蔡慧民 and Kwok Wah Cheung 郭華章, raised their nine children in Shanghai, where Katherine attended the prestigious McTyeire School for Girls. The family's privileged and well-known department store, Dai Sun, exposed the Choy siblings to international products and ideas, including both traditional and contemporary art.[4] Choy credited her interest in art to her father, who collected Chinese paintings and took young Katherine along when he bought art for the stores.[5]
As the Choy children grew into adulthood, they were encouraged to study abroad. In Katherine Choy's words, "it was fashionable," but it was also a prudent time to leave China due to social unrest and war during the 1940s.[6] In 1946, at age nineteen, Katherine Choy left home to study at Wesleyan College in Georgia. In 1948, she transferred to California's Mills College, where she enrolled as a painting major, and it is nearly certain that the art department at Mills College introduced Katherine Choy to making art in clay.
MILLS COLLEGE
...