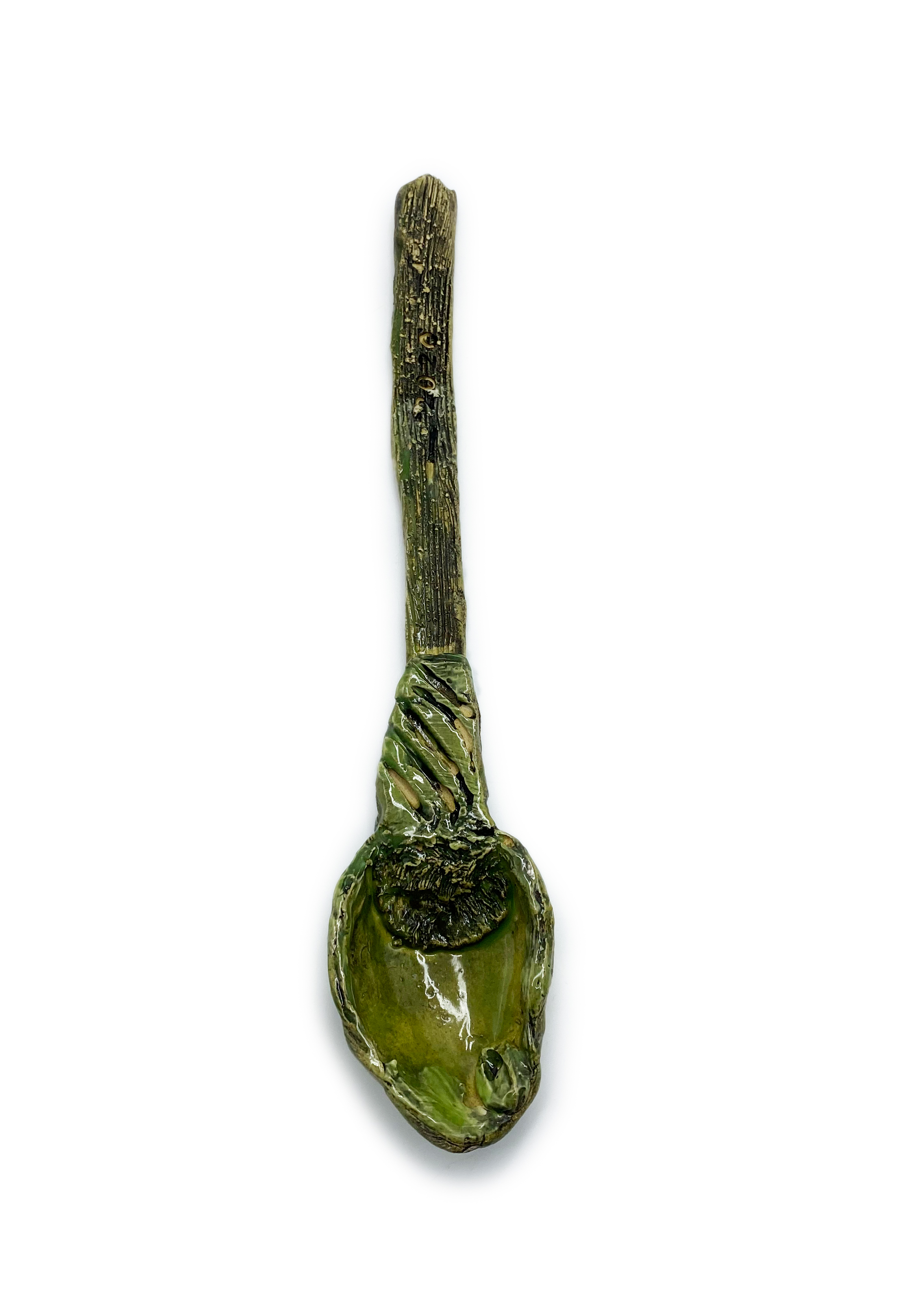 It started with playdough.
As a child I enjoyed making structures out of the colorful, salted clay for orientational purposes. My father would draw for me when I was young, when he was still alive. He drew people, small animals and birds. Then he would give me playdough to build everything he drew. My father would talk about the figures he drew and examine the figures I created. He told me many stories, animating every object. Clay, in any form, has offered a therapeutic and soothing outlet for me my entire life. As a severely sight-impaired artist, clay has added a sense of purpose and balance to my entire world.  
As I grew up clay and its origins continued to excite my curiosity. What colors and types exist in this world? Exactly what else could be done with these clays? The possibilities kept me interested. I heard that clay was "cooked" and could change to glass. The simple answer I found is that it all comes from the ground – from all over the world. I realized clay, the unsalted variety, is beautiful, and I can make many beautiful objects with it. 
I did not get a formal education in clay. My studio practice began at a community art center, once called Bloomington Art Center, now known as Artistry, located in west Bloomington, Minnesota. Here is where my knowledge of clay deepened, quenching the curiosity my father had awakened. I understood why people built or threw clay on a pottery wheel. I began to implement proper terminology – the "stove" clay is "baked" in is a kiln and that clay isn't "baked," it's fired. I experienced different types of kilns and firing processes, like raku. I began to design ceramic projects and to enter my works into juried gallery exhibitions. I joined other community arts organizations like Minnesota Women Ceramic Artists and the Roho Collective in Minneapolis. The MNWCA is a professional organization that supports women ceramic artists in Minnesota and provides opportunities for exhibiting, networking, and mentoring. The Roho Collective takes its name from the Swahili word for spirit or soul. They embrace, support, and nurture artists of color, striving to create a positive impact in the Twin Cities and demonstrate how art can be a powerful force for unity, empowerment, and change. As I developed my approach to clay at the art center, I also developed a consistent style. I found that I love sgraffito and adding lots of textures to objects that are both functional and sculptural. Visiting studio practices and sales events occurring in the local communities, helped me network with other artists in the field.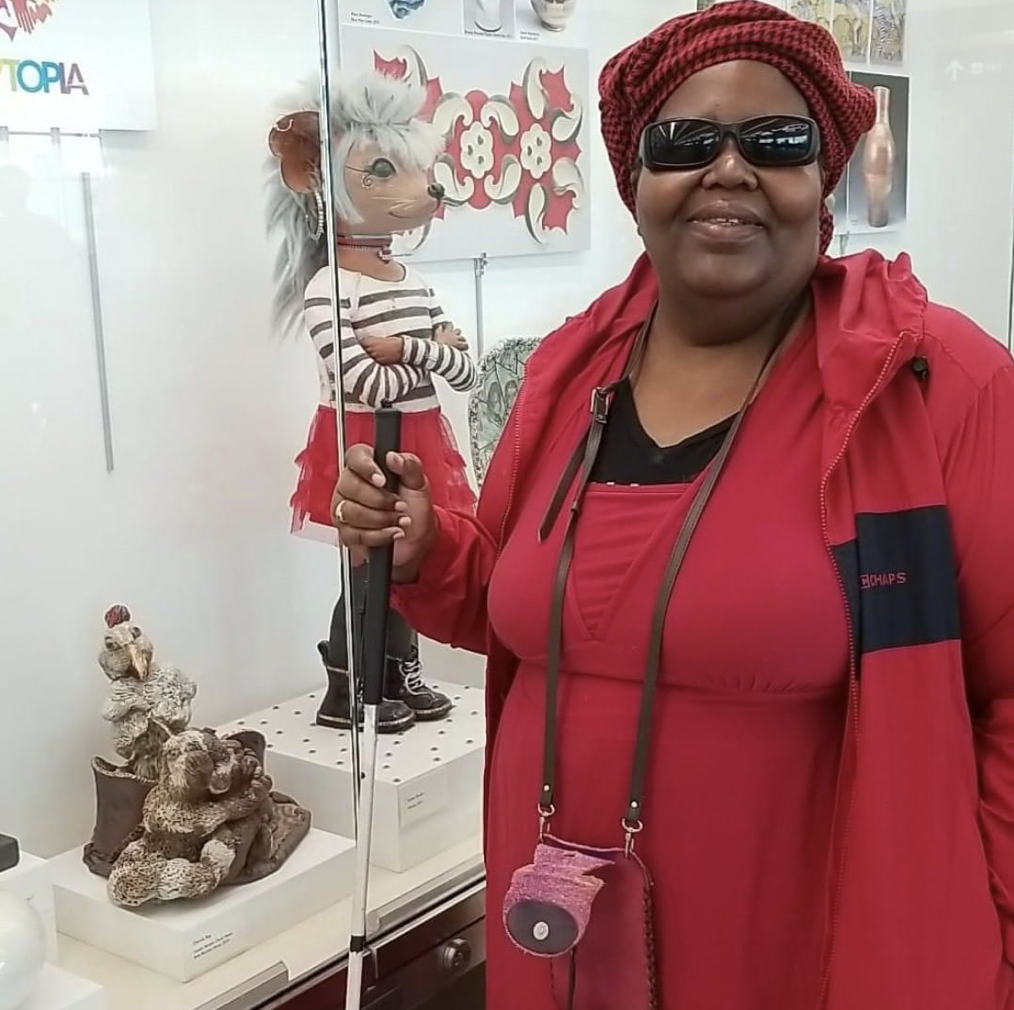 After working for many years, 2019 became my triple crown year in ceramics. It was the first time I attended the National Council on Education for the Ceramic Arts conference. In the past I mostly assumed NCECA was only for persons who taught ceramics or were formally educated in ceramics, but I was still seeking opportunities to attend and applied for NCECA grants repeatedly. In 2019 I became a recipient of a Black Indigenous Persons of Color grant, and that year Minneapolis, actually the entire state of Minnesota, hosted the conference. I felt like Cinderella going to the ball! I had three pieces of art on exhibition in two locations during the conference: The Northrup King Building, located in an exclusive Northeast Minneapolis neighborhood, and the Minneapolis-St. Paul Airport, in the Herbert H. Humphrey Terminal. Attending the conference and exhibiting work during the conference where my first two crowns. I enjoyed the convention and took full advantage of the chance to meet other artists, listen to speakers, visit the many gallery setups around town and at the convention. I learned about The Color Network too. I became aware of many BIPOC artists through this organization. I attended workshops and participated in the Maker Space, part of NCECA's Project Space in the main exhibition hall. I saved the project as a memento of my first attendance. I purchased a cup from the annual cup sale. Each experience was a jewel in my crown, but the final crown, topping everything off, was the interview with Paul Blais, host of The Potters Cast, and participating in a recording for the the NCECA podcast. 2019 was really a great coming out year. I never dreamed I could experience so much in one week. This was prior to COVID-19. There were no masks. I had anxiety, but it was good, happy, adrenaline-driven, sensory overload anxiety.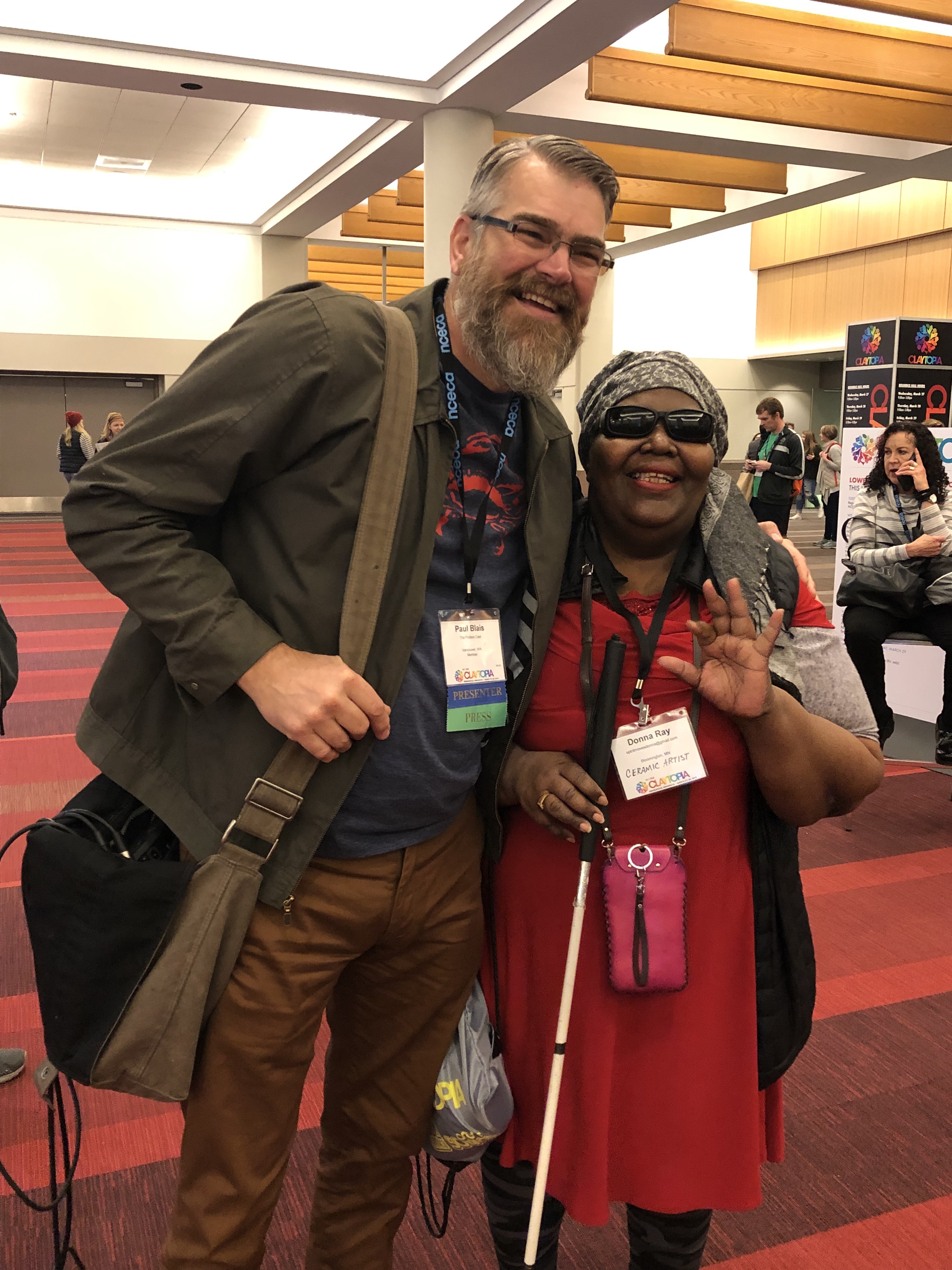 After my years in the small suburban community art center, I was invited to become a pre-emergent BISQUE Resident artist at the Northern Clay Center. BISQUE stands for: Believe, Include, Sustain, Question, Understand, Evolve. These terms are significant to me and explain my residency exceptionally well. I felt I had been granted the golden ticket and opportunities to fully develop my studio practice. Working from my shared studio at NCC, I planned to take advantage of this unique environment. 
Clay fairy tales do come true.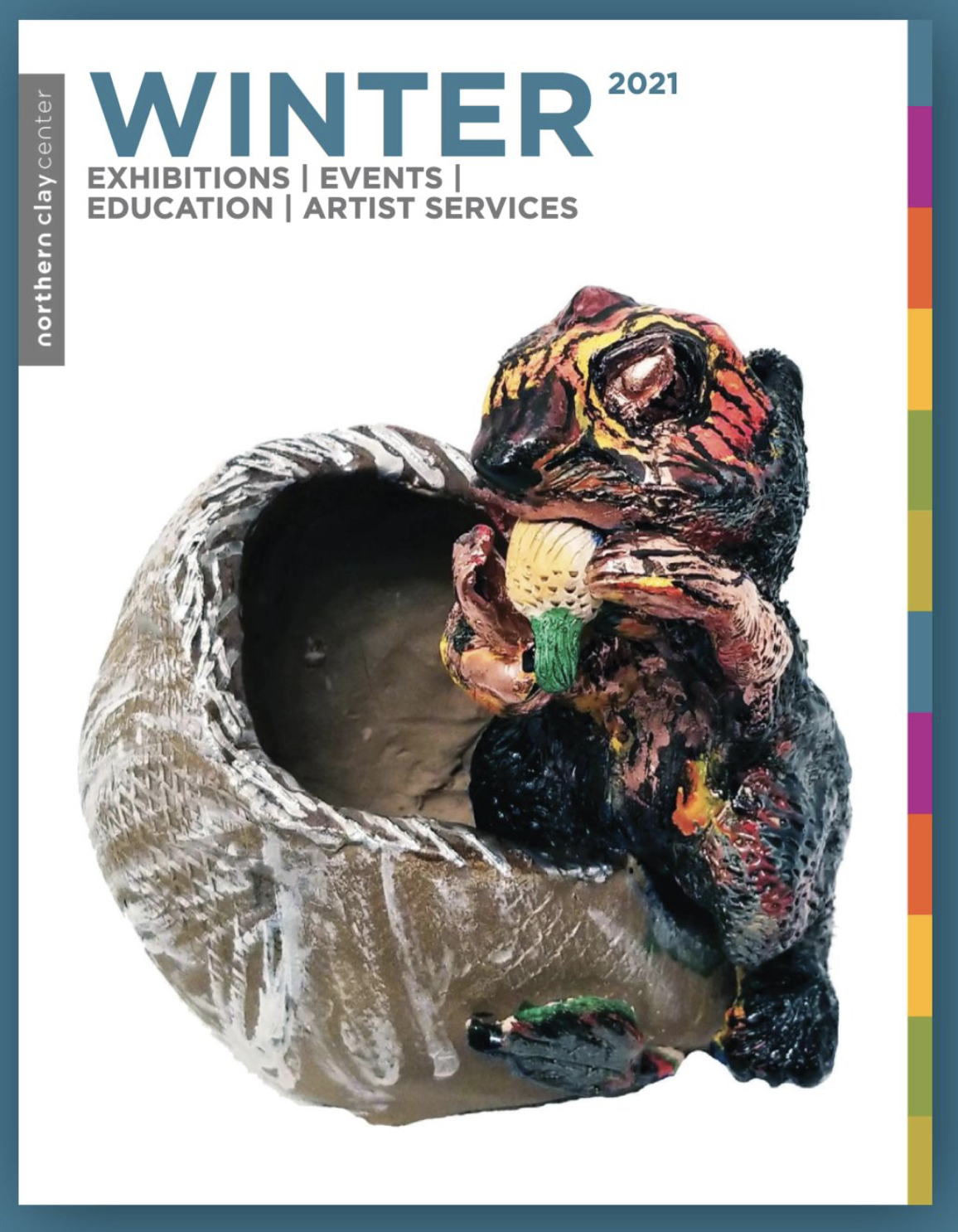 I began my residency year in September of 2019 with a clear agenda and began working on the projects the day I stepped into my studio space. Having access to the variety of kilns at NCC, I was eager to try soda firing. Figuring out the locations of all the classroom studios, I familiarized myself with the building and memorized where materials were stored. I tested all the clay bodies available for purchase in the clay storage bay. 
As my understanding of ceramic materials grew, I saw where I could bend the rules; I mixed low and high fire clays to create an Asian taper carrying basket. There were two glazing stations with low-fire and high-fire glazes. My favorite high-fire glazes became Rhodes White and Tenmoku. The combination produced black and white effects that are high contrast, which is easier for me to see. Yellow Soda became my preferred surface for basket forms.
In the winter I dove into mold design and started a few series of forms that allowed me to investigate the production process, the characteristics of clay bodies, and glazes. Another NCC studio artist, Kate Maury, showed me how to create a humidor to keep my projects from drying out. I attended every workshop that was offered. Everyday I was gaining knowledge I could use to organize my own studio – to make the things I wanted to make. 
Once I had several results from my clay and glaze experiments, I felt I could begin working toward the gallery exhibition that would take place at the end of my residency. I turned my attention toward specific themes. Before the residency I would create in an exploratory, intuitive manner, but now, prior to starting the task of building, I would make a plan around my developing themes: the ecosystem of homes, migrations and enslavement of people, and the destruction of resources. I explored these themes through two forms: the basket and the cameo.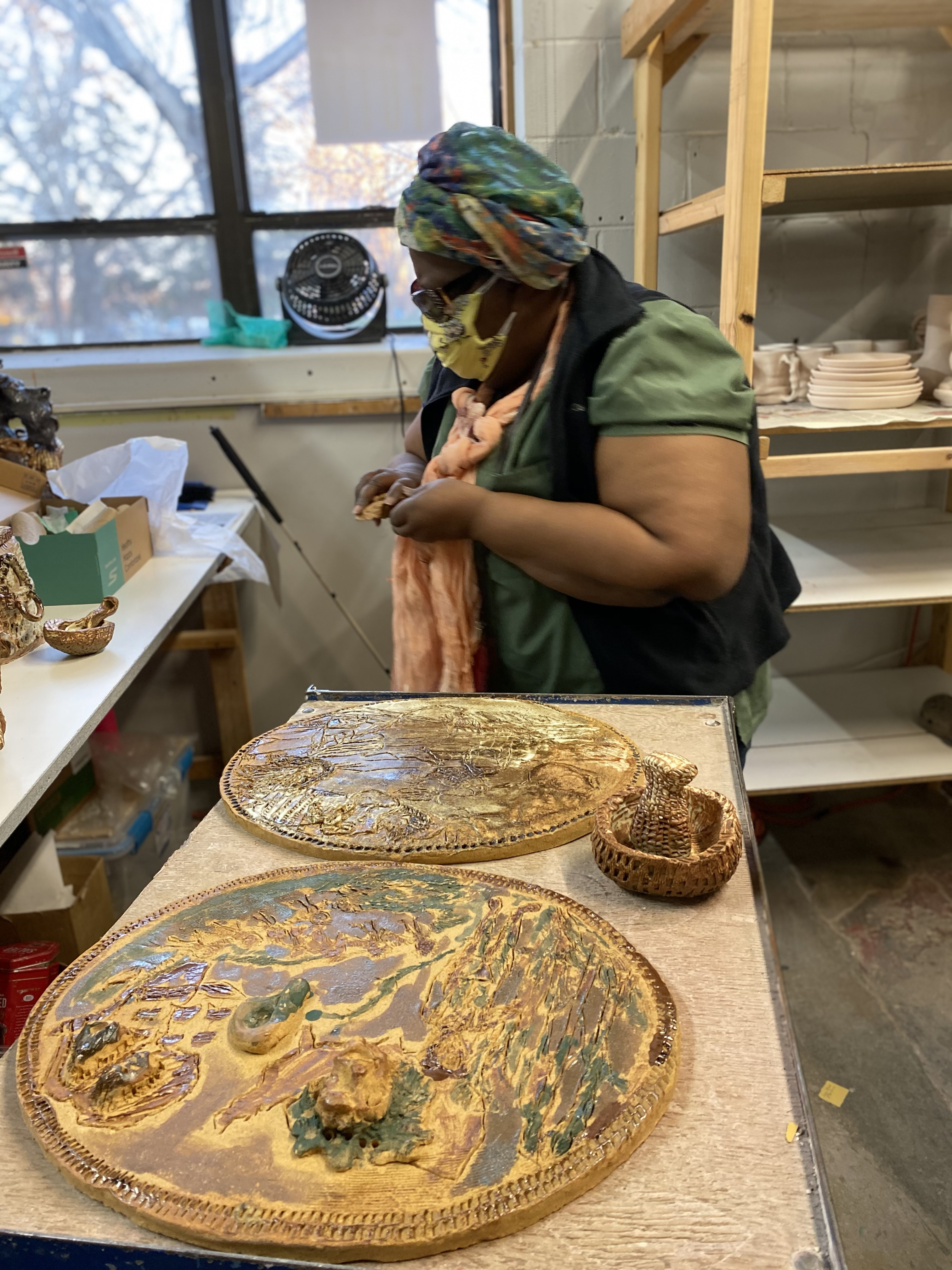 I have always wanted to explore the idea of home, considering what that means. More specifically, what it would have been like if I lived on another section of the earth? What if I had been born a different species, sex, or race? Would I even still be living? Maybe I would be or maybe I would be on the endangered species list – just a puff of flames, like the rainforest or parts of the United States that seem to be waiting to die. We are the stewards of the earth and I question what we are leaving for future generations. These intermingled questions arose from my themes and became oval-tile cameos with images that celebrate the fragile ecosystem we inherited from mother earth. I specifically focused on geographic locations found in the United States, Africa, and South America – regions that are tied to my own heritage. Baskets are the adaptable children of the earth. They are born from the by-product of trees and also from the by-product of man-made industry. History has informed us that baskets are precursors of pottery vessels. Used for food storage, clothing, and fishing, they reflect many cultures in their diversity.
In the first half of my residency I did not miss a beat. My overlapping themes became more and more important to my soul and kept me working as an artist. 
However, like many, I was not immune to the global effects of COVID-19. I work for the Minneapolis Veterans Affairs Health Care System and am considered a frontline health care worker. I have worked at the VA continuously through the pandemic. In March of 2020 I was locked out of the NCC studio space when the cities began sheltering in place. Stressful moments and high anxiety followed me daily. I had registered for kilns to fire and was hoping to go to my second NCECA in Richmond, Virginia in 2020. I had plans in place to participate in the buddy system again – NCECA staff paired me with volunteers in 2019 to help me navigate the conference hall. I was looking forward to meeting James Watkins in person. I was excited to complete my third artist mentor interview, part of my BISQUE residency package, with Dan Finnegan. I hadn't even had the chance to document completed work to apply for a NCC 2020 Emerging Artist Residency. A pre-showing of my work, scheduled for May, was cancelled. None of these milestones happened. It felt like my triple crown was falling off.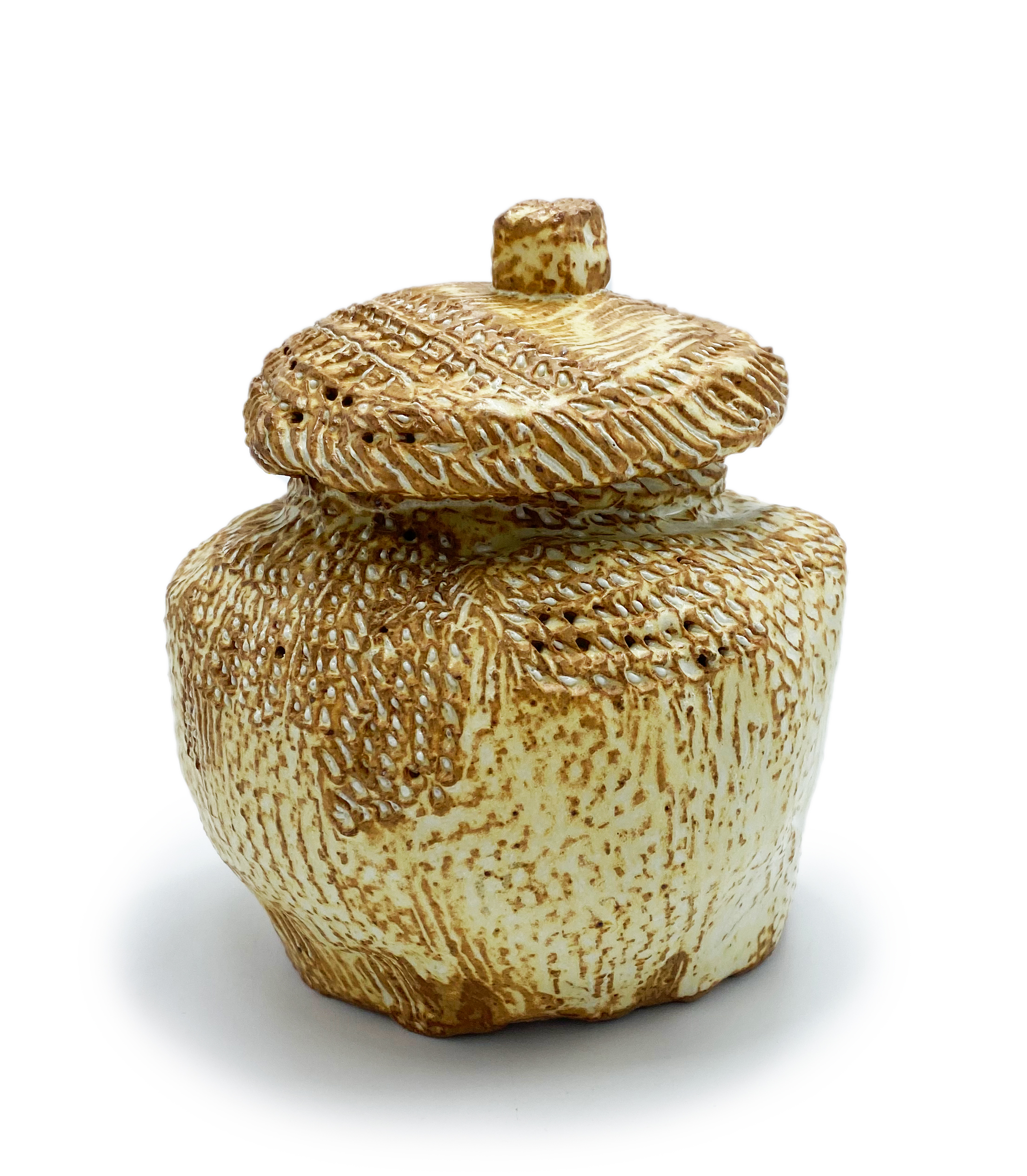 As a blind artist the shutdown was a straight up culture shock. I felt I knew nothing about a setting up a home studio or how to transport greenware around town. It was truly my first rodeo. As an emerging artist I had many doubts regarding my capabilities. I had been at NCC less than six months. Everything was just – shut down. Initially I was overwhelmed with fears that normal community studio times would never return, but I was too angry to be scared long. Fear manifested itself into invention. I started thinking, "What it would be like if I never returned to the studio – what could I possibly do?" One thing I knew I could do well, was survive. 
I stuck to the themes I had started developing in my BISQUE residency, and I timidly set into organization mode, building a makeshift studio in my one-bedroom, carpeted apartment. My first attempt to go to Continental Clay to pick up supplies using Metro Mobility, a shared ride public transportation service for certified riders who are unable to use regular fixed-route buses due to a disability or health condition, was a learning experience for everyone. The driver almost took me back home because we were not allowed to enter the store and he could not find the loading dock where they instructed him to assist me in picking my pre-ordered and paid for supplies. This was before all the protocols had been fully established in regard to entering stores and curbside pickup was still getting sorted out by establishments. Of course, the clay and supplies were crucial for me to be able to set up a home studio. All the tools and clay I owned were inside of NCC and we were not allowed to retrieve anything. Wanting to keep these home projects distinct from projects built at NCC, I purchased a dark chocolate clay body that was not in the NCC's inventory. I didn't want to risk mixing the two bodies of work up, just in case things built at home were not successful.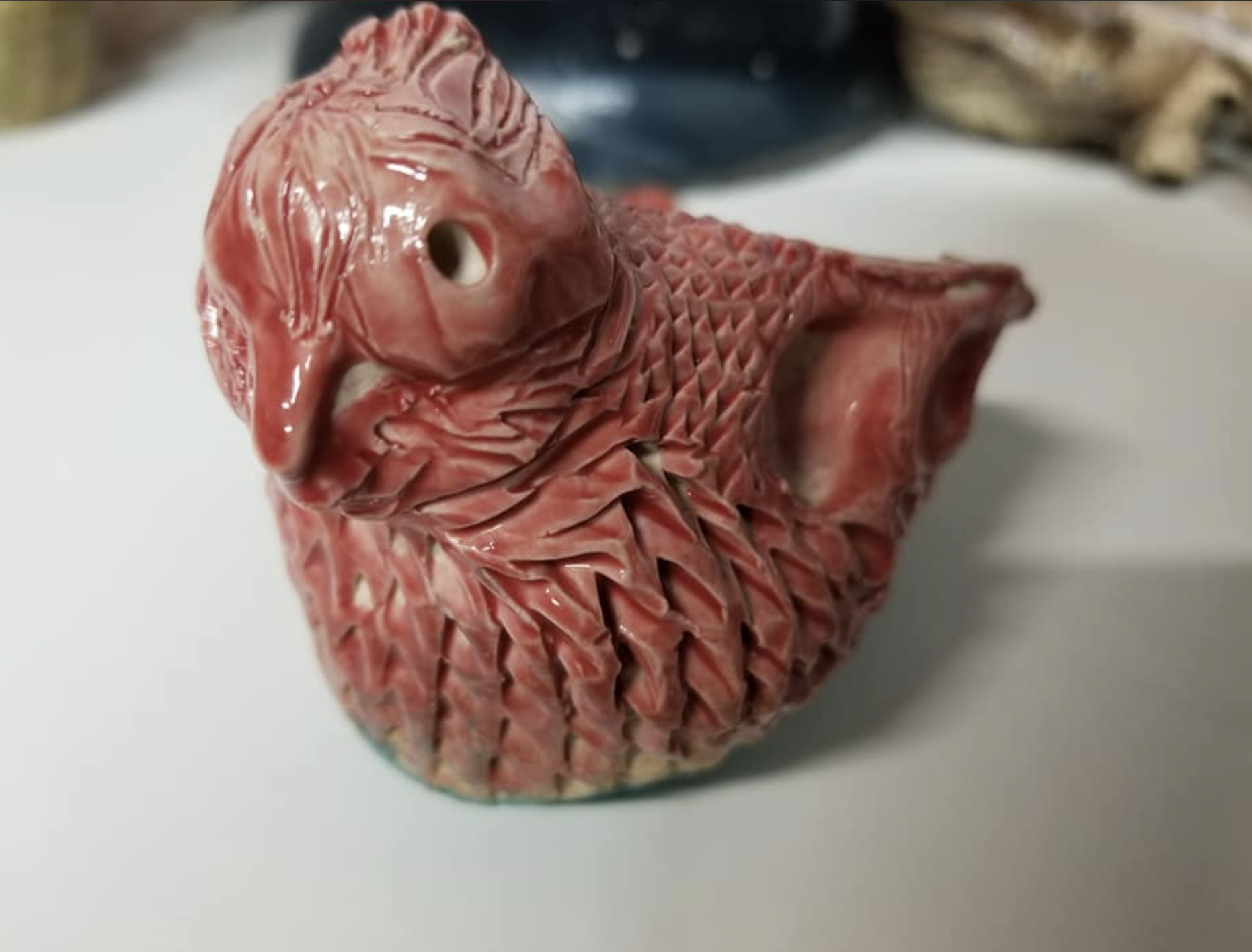 Eventually, I came to define my home studio practice as "staycation projects," and began several new projects – all greenware, all guided by my themes, and all waiting for the day they would be fired at NCC. I wrote a proposal and was awarded a Messages of Hope Mini-Grant from Forecast, a non-profit arts organization founded in St. Paul. They answered a need voiced by artists in the Twin Cities and created a grant to support artists who were producing projects of hope for their communities in real time.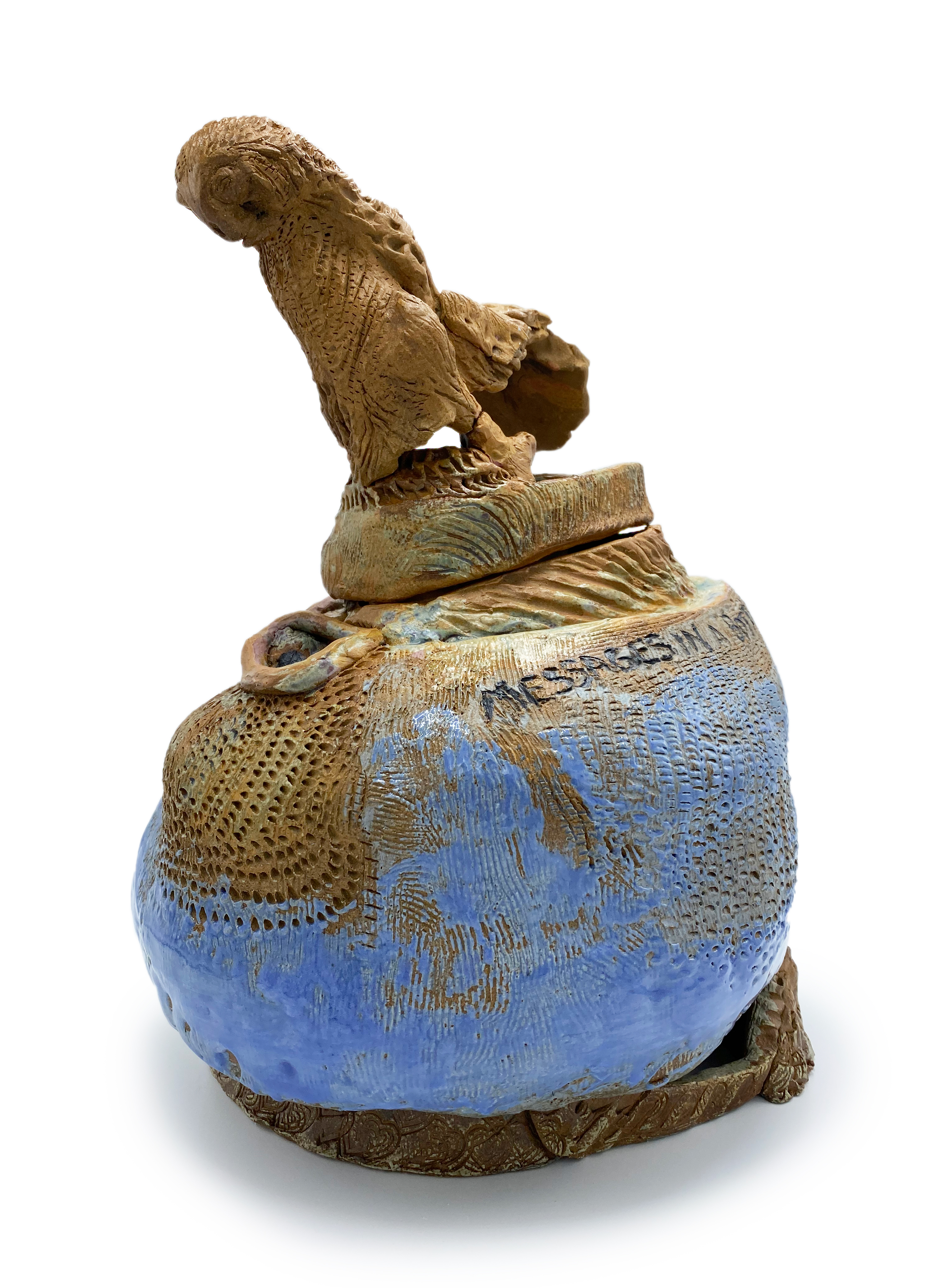 I proposed Messages in a Bottle. Minnesota residents from across the state are invited to submit an anonymous word, doodle, or sentence via an open Google document – a message they wish to leave for future generations to share their story of how they are living in these times of COVID -19 and Black Lives Matter. Ceramic "bottles" will hold these messages, containing our hope for the future. This project filled the creative void left by abandoning my cameos in the studio. My "bottle" is modeled after a round basket pattern and is topped with the messenger bird of prey from the spirit world, the hawk. I chose a red tail hawk in honor of my father. When he was encouraging me to build the figures he drew, he told me stories. One story he told related how people who have died and gone to heaven come back as cardinals to visit family members and friends on earth. He taught me that the only time people returned as a higher bird of prey was if, by chance, they met a tragic or untimely death. In light of the tragic death of George Floyd, I have returned to this story. A clay hawk is perched on an oval nest, a hybrid of the cameo and basket forms I had been working on in my studio at NCC. He nests on top of the "bottle" and will carry these messages into the future. Messages in a Bottle started out as a response to the isolation caused by COVID-19, but before we could navigate the pandemic another tragedy occurred in Minneapolis.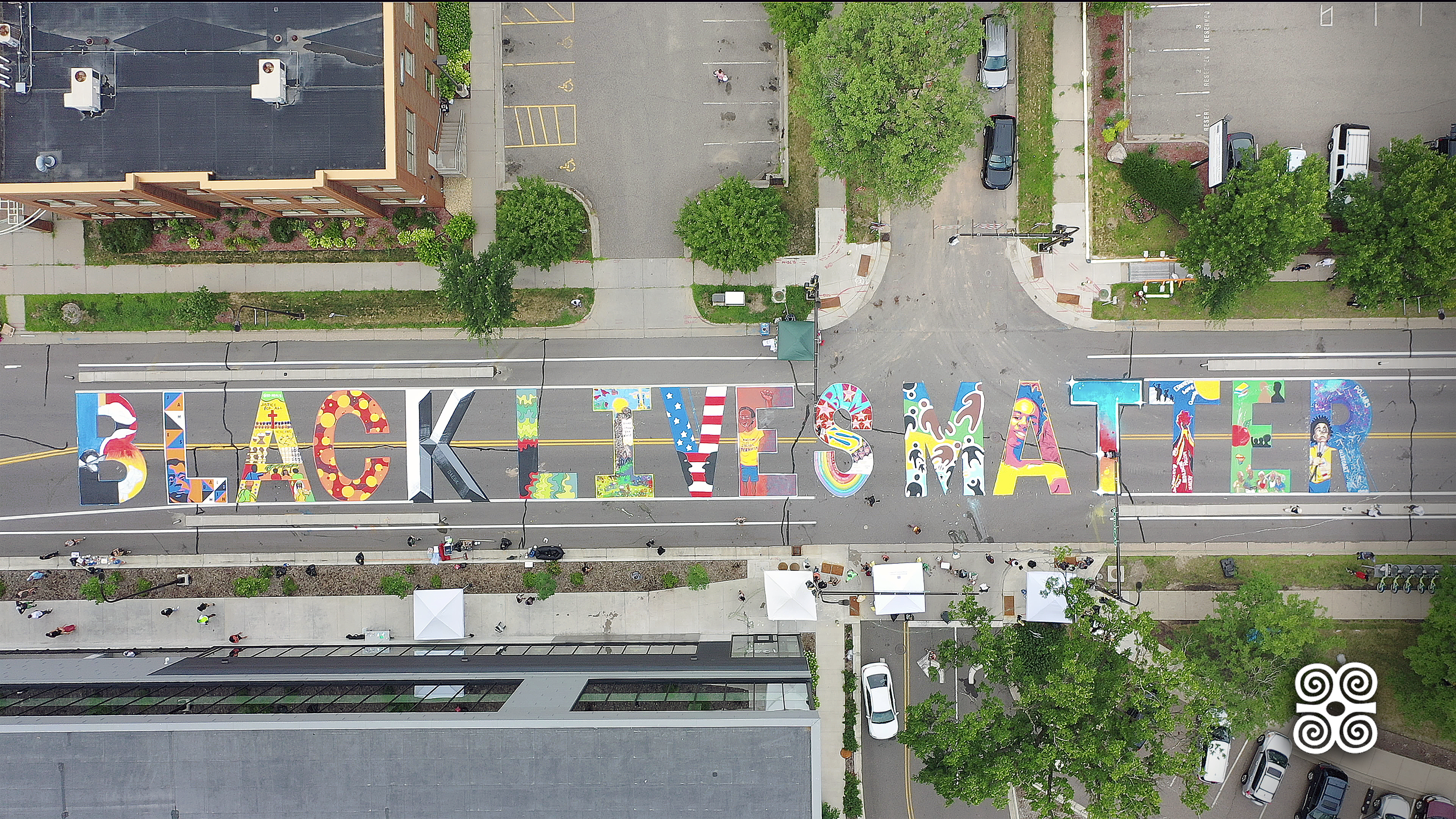 NCC reopened in the middle of May 2020, three months to the day since it closed down. Shortly after returning to the studio the protests started. With looting and fires in south Minneapolis and around the Twin Cities I feared NCC might shut down again. The protests were in response to an event, to too many similar events that preceded it. The murder of George P. Floyd inspired my second public art "staycation project." I was invited, with fifteen other BIPOC artists, to participate in a Minneapolis Black Lives Matter mural. The mural was sponsored by the Minnesota African American Heritage Museum and Gallery. On July 11, 2020 I was assigned the Letter "I." On a very hot Saturday, July 18, 2020, I decided to keep the themes of the Red Tail Hawk and his nest. I included five eggs for Floyd children. The message from the messenger bird says, "Daddy Changed the World." These are the words spoken by George Floyd's youngest daughter Gianna. Cardinals fly around the hawk, representing all the other Black men and women who have died over the years. The birds carry our messages out to the universe. This mural has been seen all over the world.  
My worldview as an artist has grown and changed. I no longer think of art in terms of craft, livelihood, discipline, practice, or process. Art is BISQUE. Believe, Include, Sustain, Question, Understand, and Evolve; I am all this. I am a much braver social justice artist. I will continue participating in our evolving historical record through art and through multiple community collaborations.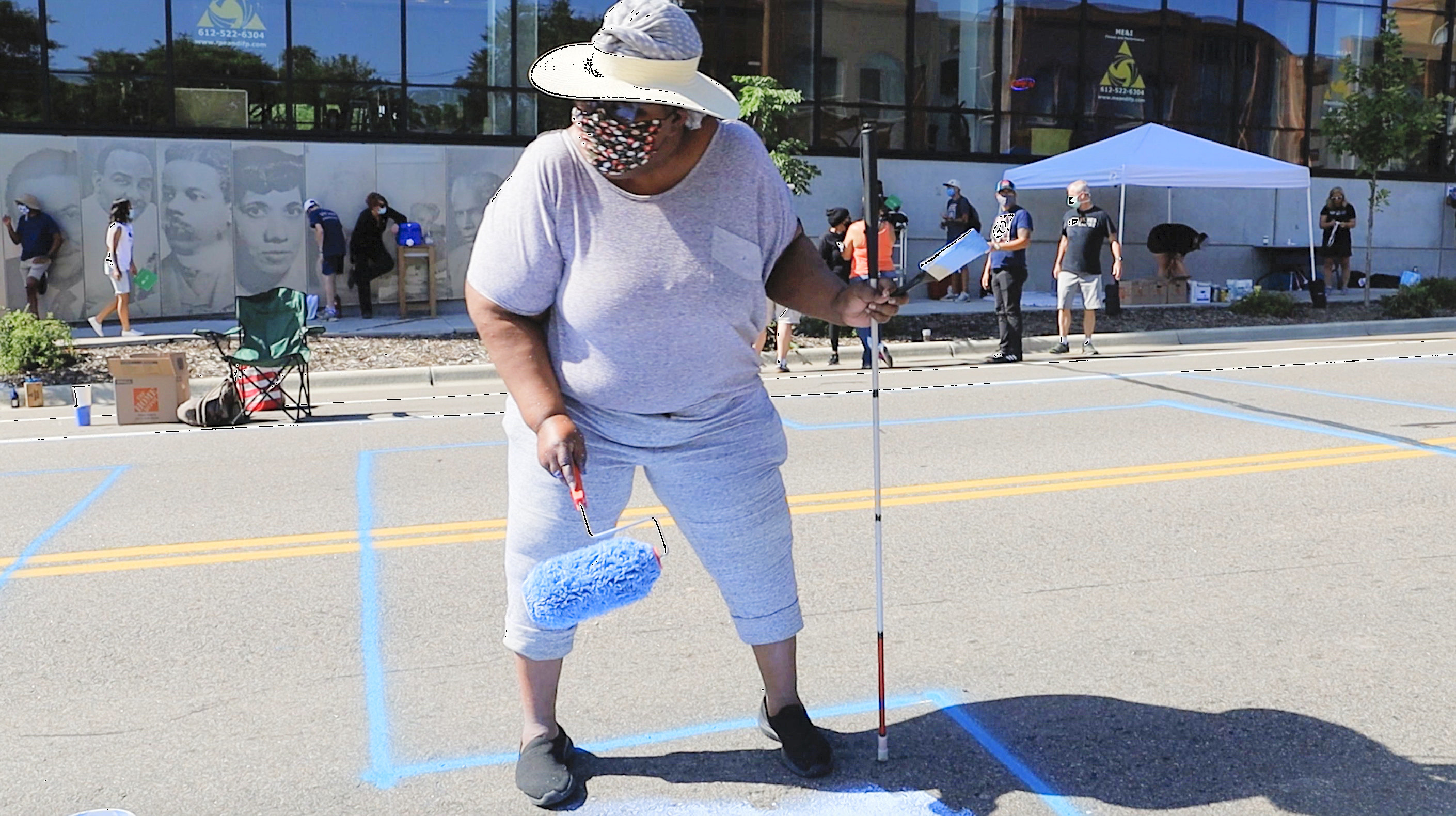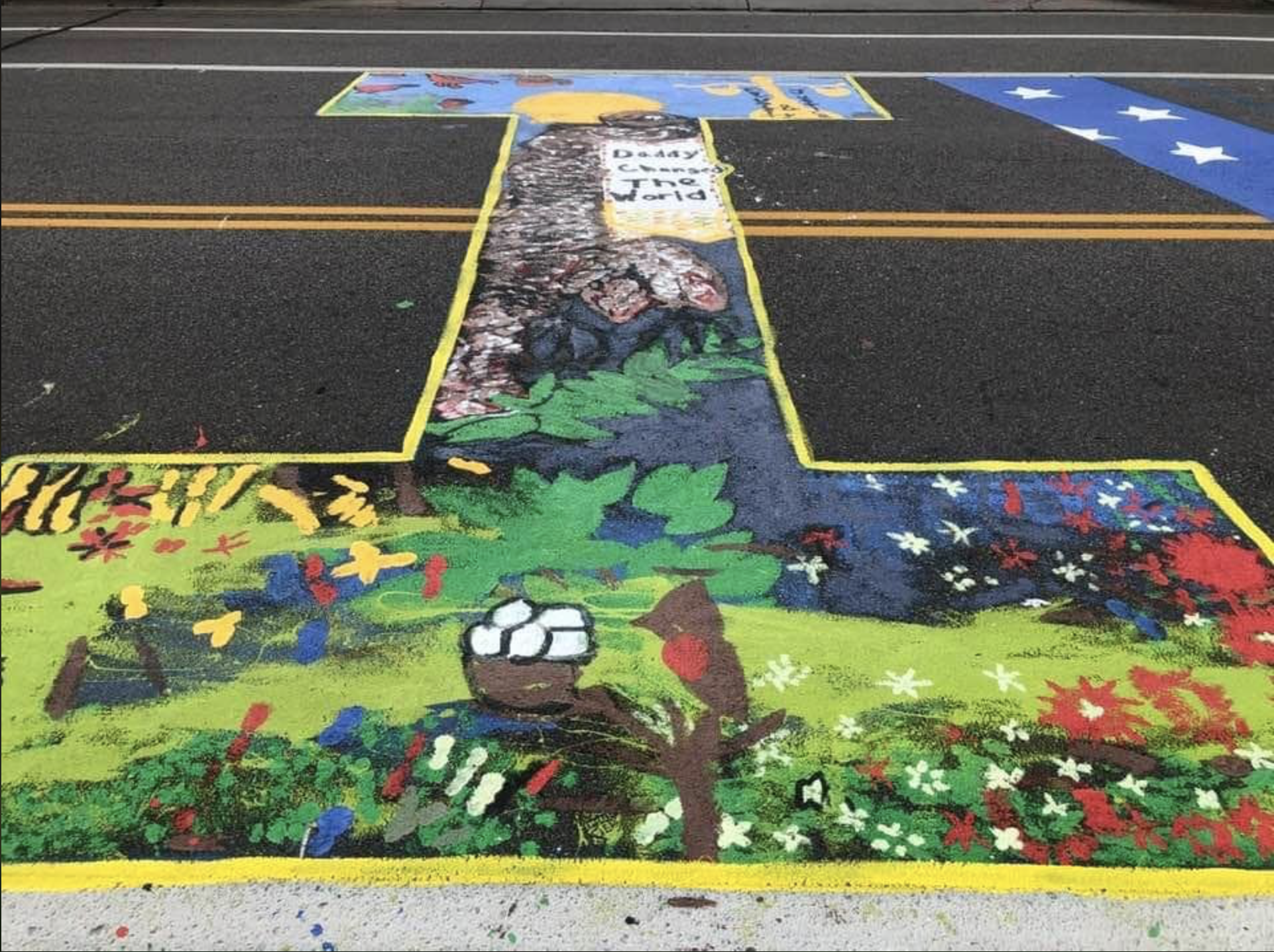 Epilogue:  
The BISQUE Residency has been extended until the end of the year 2020. I was able to participate in a soda firing and completed all of my tests and firings. I moved to another studio at NCC and this BISQUE resident found her voice enough to continue applying for grants and exhibitions. I am patiently waiting to hear the result of an application I wrote for another public art project. The NCC emerging artist exhibition will be on January 15, 2021 and the first 55406 Community House Project will be held on January 23, 2021 at NCC, 12 pm to 2pm. This is an interactive community clay project designed by and for the people of the 55406 zip code. Participants will join me as I share my community-building and arts-inspired equity vision and contribute by making a miniature clay object to add to a scaled "community house." I continue to work on my mini public art project Messages in a Bottle – still collecting messages and will collect more messages at the exhibition in January 2021 as COVID-19 precautions continue into the next year. I decided it is important to continue my studio practice in the community for this moment – community building, healing with arts, networking with aspiring artists, and building up the artist infrastructure and enterprise for future generations. I always carry my tools home now. I persevere and continue working on the my baskets, trying to get projects fired.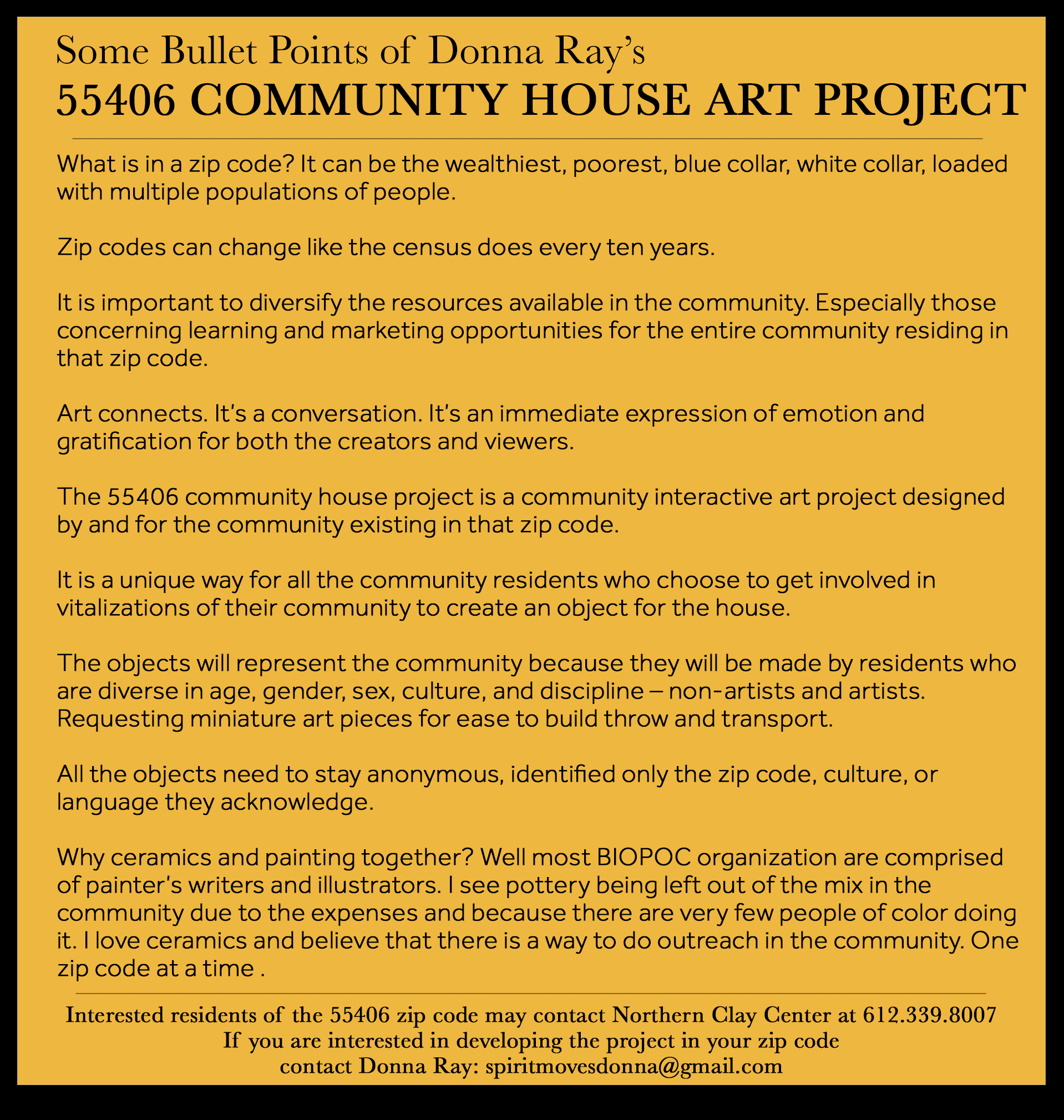 Editor's note: In closing we wanted to share a video of the Black Lives Matter mural being created with spotlight moments on some of the artists, including the magnificent Donna Ray.