In the spring of 2015, Todd Pletcher invited me to be a guest at his stop on the Michiana Pottery Tour (MPT) the last weekend of September. The MPT route meanders south through the bottom of Michigan and crosses into Goshen, Indiana. I had met Todd during a week-long anagama-firing at Justin Rothshank's the year before. The invitation was also extended to Troy Bungart and Steve Hansen, both potters I admired from southern Michigan. By 2015 the MPT had an excellent reputation, and it seemed that the Goshen area was quickly becoming a hotbed for ceramics. 
Todd's invitation was twofold: to bring my booth display and pots for the tour and to send bisque-fired pots ahead of time, which Todd would wood-fire the week before the tour. I had been following the construction of Todd's new train kiln (designed by Ted Neal) and the prospect of firing it had me feeling like a kid waiting for Christmas morning.  
My wife, Jill, and I talked over the pros and cons of doing a weekend show, ten hours from our Tennessee home. It was to be an outdoor show, so I would be at the mercy of the weather. I'd be traveling during valuable making time for upcoming holiday shows and online sales, and leaving behind the gallery Jill and I had just opened, halfway through an important solo exhibition. Ultimately, the idea of spending a long weekend with Todd and his partner, Anna, meeting new collectors, and being part of the MPT family won out over my doubts. I decided to be bold and gladly accepted. 
After the bisque pots had been shipped, I began making pots and compiling a list of every conceivable thing I'd need for an endeavor this far from home: phone charger, credit card reader, bags of various sizes, promotional postcards, Sharpies, pens, receipt book, spare credit card reader, shims to level the booth, change…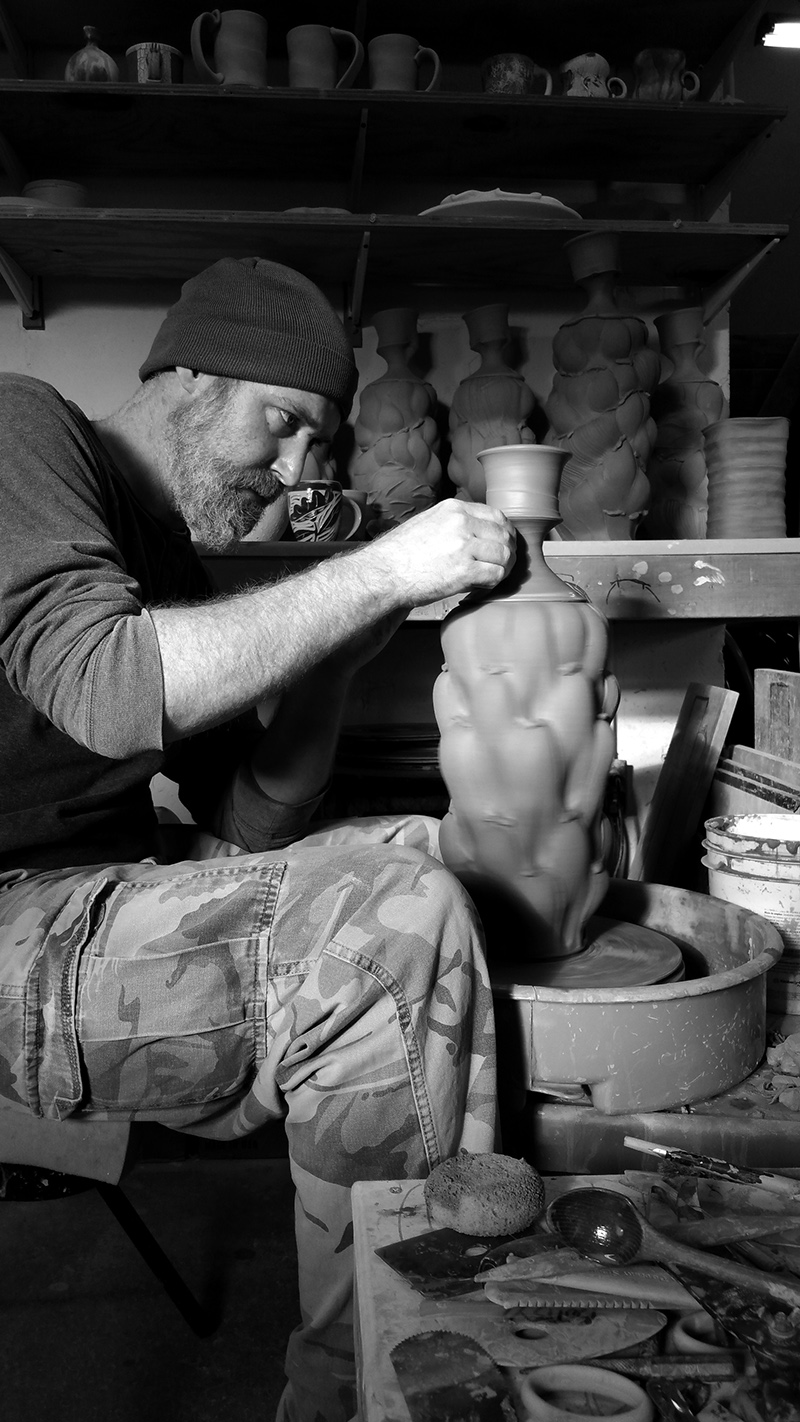 During each stage of the process, I photographed what was happening in the studio and posted images to Instagram with the hashtag #michianapotterytour. One day, it might be a shot of a group of freshly handled, leather-hard pots, the next day, a glaze unloaded. Steve, Troy, and Todd, along with everyone else involved with the tour, were posting under the same tag and it was exciting to see what everyone was working on. As the tour date drew nearer, lots of questions and comments came in. "How far are you from Dick Lehman's stop?" "I'll be there first thing Saturday morning!" "Save me a mug!" In addition to the exponential effect of our social media marketing, the MPT committee ran ads on local public radio and in newspapers leading up to the event. 
As I packed and loaded the pickup truck, I tried to prepare for every pothole I'd bounce over on the 560-mile trek. I used twenty-four-gallon Rubbermaid totes with self-latching lids. Pots were wrapped in foam and packed tightly into the totes, which were lined with three-inch layers of foam to cushion the pots from every jolt and bump while traveling. As they say, there are two seasons in Michiana…winter and construction. 
Todd and Anna's home is nestled on two-and-a-half acres in north Goshen, directly off County Road 29. A concrete driveway leads directly to the studio, a 1200-square-foot building with a metal roof, high ceilings, and lots of natural light. Behind the studio is a 500-square-foot kiln shed with neatly stacked cords of seasoned oak, large tables for staging pots, and ample room for the firing crew to work. Beyond that, the property opens up into a large space for parking and a beautiful garden. 
There was a flurry of activity in and around the house. Both Todd's and Anna's parents had come to help, and everyone was busy. Hors d'oeuvres were being prepared, windows cleaned, and walkways swept. The lawn had been mowed, and pansies, pumpkins, and mums were freshly planted alongside the stone path leading up to the back porch.  
After receiving a warm welcome, I unloaded my booth and began to set up. As I put my ladders up, I quickly realized that the lawn was not even and the tiny shims I had brought along would not even be close to sufficient. Having anticipating this, Todd handed me a stack of four-inch-square risers cut from three-quarter-inch plywood. I had the booth plumb and level within an hour.  
As I unpacked the pots, I tucked the foam neatly inside the totes under my wrapping table, for quick and easy packing of purchases later on. One tote was full of four-foot strips for wrapping cups and mugs, another tote was filled with eight-foot rolls for large bowls and pitchers. Anna graciously kept me supplied with water, coffee, and samples from the kitchen. Steve and Troy arrived with their families by early afternoon, and we were all set up by 5 p.m.  
After that the potters from every stop gathered at Moey and Kim Hart's property in Goshen. Moey is the owner of Northern Indiana Pottery Supply and a barbecue master. Collectors who want to visit all the stops on the tour can manage it comfortably over the course of the two days, but the stops are spread out enough that it's difficult for the participating potters to sneak away and visit each other during the actual tour. The Friday night barbecue was born out of a desire to meet and socialize with everyone involved.  
On Saturday morning I drove to Todd's, passing several orange-and-black MPT signs and hundreds of acres of corn. I'll admit, as I sipped coffee in my booth that morning, I questioned the wisdom of staging a pottery sale in the midst of a thousand corn fields. The tour was scheduled to begin at 10 a.m., and in perfect, punctual Midwestern fashion, the first car pulled up the drive at 10 a.m. on the dot. Todd's dad directed the steady stream of patrons to the large clearing behind the kiln; Pletcher's was their first stop. We greeted customers and talked about our work. By noon my sales had exceeded my expectations.  
I have a clear memory of green grass, blue skies, tent tops, booths full of smiling faces, and food: crostini with pear, blue cheese, and honey; pumpkin cheesecake; salted caramel apples; and barbecued chicken sliders, all served on handmade plates. Fresh coffee, lemon ice-water, sangria, and local beer on tap flowed all day. I greeted people, made introductions, and answered questions as I steadily wound and unwound bubble wrap. Van Morrison wafted over the whole scene.  
We had made pots and come together, and folks came to buy our pots. This scenario never fails to amaze me, even after twenty-one years of my doing shows. In an age of Styrofoam, paper plates, and red Solo cups, people still see the value of buying handmade pots. 
Throughout the afternoon, I was also amazed by how many college students showed up, explaining that they followed my work on Instagram and had come to buy a cup or coffee mug. As I spoke with people and wrapped pots, I was surprised to hear how far people had driven to take the tour. Many attendees were locals, but many had driven from Detroit, Chicago, and Indianapolis. Wherever they had come from, I made it a point to look them in the eye, shake their hands, and convey my gratitude.  
At 1 p.m. on Saturday we unloaded the train kiln. Everyone gathered around as Todd told the story of the kiln's design and the fundraiser he'd done to build it. Pulling pots from the kiln, he described what was happening on the surface of the pot and how it had fared in the firing. Deeper into the kiln, I picked up where he left off. I expressed my thoughts about each pot and handed it to a guest at the far side of the kiln shed. The pots passed from person to person until each pot had been laid in the grass. To our delight, people began to pile up "keepers" in front of them, and questions came flooding in. "Does this shell stay like this?" "Where does this green come from?" "What makes this crackle effect?" 
It had been an excellent firing, and our excitement about it was contagious. The people there had become part of the history of those pots—they were invested. We sanded feet, polished rough bits, and washed each piece before wrapping up their purchases.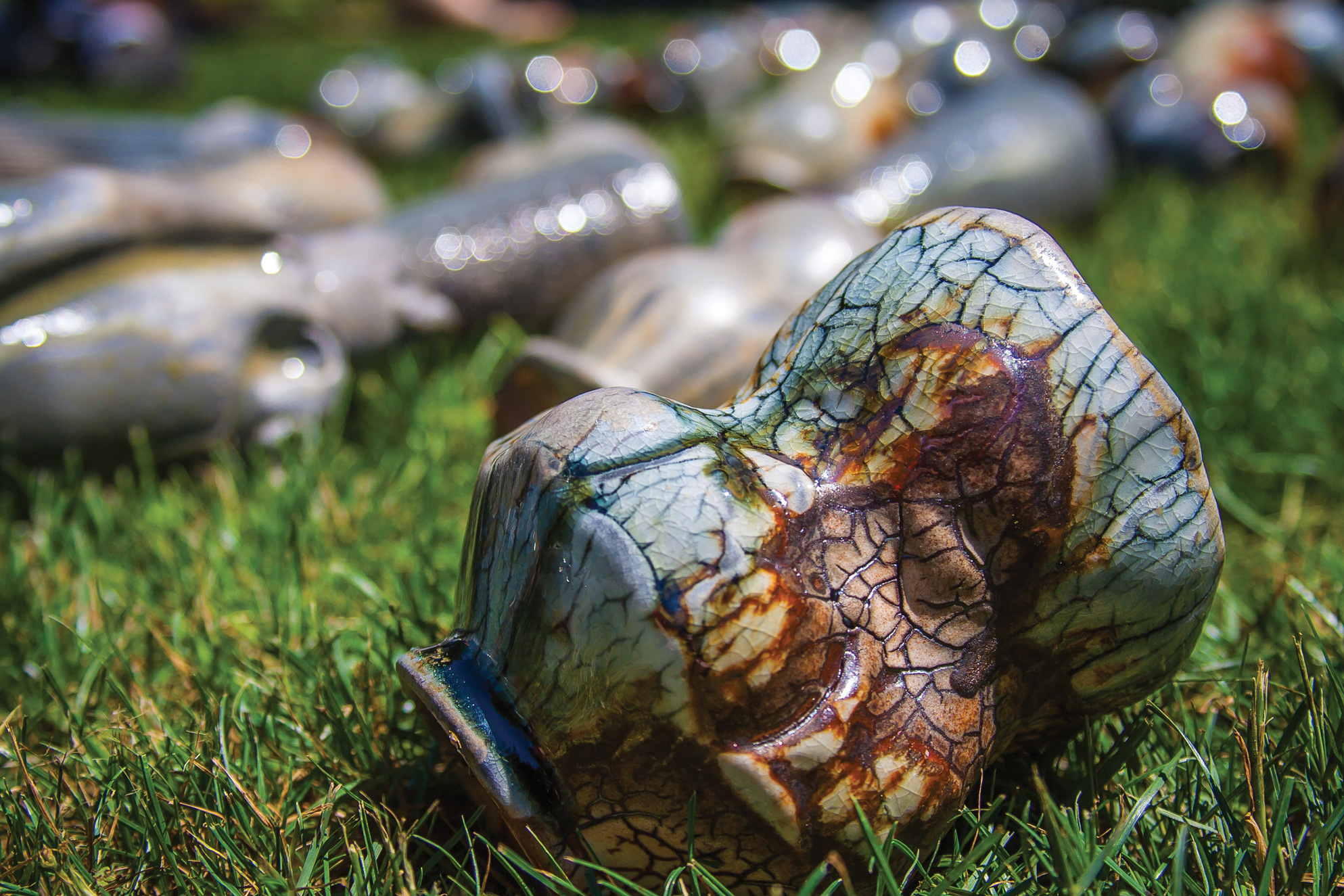 On Sunday morning I took an excursion to Dick Lehman's place before heading to my post. Dick had just finished building his new studio at a new location. Stephanie Craig, Todd Leech, and Mark Nafzinger were Lehman's guest potters from Ohio. Dick greeted me with a hug, made me an espresso, and gave me a tour of the new property. Because the MPT is an important part of Dick's schedule each year, he designed his front yard to accommodate traffic flow and customer parking. After poring over all the pots, I selected a beautiful oval bowl by Stephanie Craig and a double-faceted vase and a wood-fired cup by Todd Leech. They both wanted to trade these pots rather than sell them to me, so I headed back to Pletcher's feeling like I'd won the lottery. 
Sunday traffic was lighter, which we all welcomed after the Saturday rush. Customers trickled through steadily, and sales were still respectable. In between visitors I rearranged my display, organized the checkout station, and spent as much time as I could talking with Troy and Steve. There are not many potters in the town where I live, so I welcome the opportunity to talk shop with other makers whenever possible.  
When the tour ended at four o'clock, we had a celebratory beer, toasted an unforgettable weekend, and began the arduous task of packing up. On Monday morning I drove out of Goshen, grateful for the experience and grateful for ten hours of solitude, introspection, and reflection on the highway. I had previously participated in many outdoor arts festivals and craft shows, but none this far from home, and none organized completely by artists. It had been a successful trip by financial standards and, more importantly, a meaningful one because of the friendships started and strengthened.  
The following month Jill and I hosted Todd Pletcher in Humboldt; he taught a workshop at our studio and had a solo show at Companion Gallery. In December we welcomed Dick Lehman to the gallery. In March 2016, Matt Schiemann, Todd Pletcher, and I roomed together at the NCECA conference in Kansas City. Troy Bungart invited us to participate in a pop-up show in his hotel room. My sales at that show paid for the trip to Kansas City and led to many more friendships and opportunities. For example, Jillian Cooper bought a cup—and invited me to teach a workshop at Collin College, in McKinney, Texas, that fall. Matt, Todd, and I were surprised by how many potters told us we should teach a workshop on making handles. We thought that sounded fun, so in June 2016 we fired Todd's train kiln and taught the first Handle with Care workshop at his studio in Goshen. To our absolute shock and delight, twenty-four participants from thirteen states joined us for a weekend of demonstrations. Todd and Anna relocated to Sydney, Australia, soon after, so we fondly remember that workshop as the last waltz with the train kiln.  
I was invited back to the MPT in 2016 as a guest at Moey Hart's stop. After the 2016 tour, I drove north to teach a workshop at the Buchanan Arts Center in southern Michigan, at the invitation of a wonderful group I had met at Todd's the year before. We have since hosted shows and workshops at Companion Gallery for Justin Rothshank, Steve Hansen, and Todd Leech. The first Handle with Care workshop led to more invitations, most recently, a wood-firing and week-long, hands-on workshop at STARworks in North Carolina. The circle continues to widen. 
An introvert at heart, I spent years in solitude, head down, steadily working at the wheel. When I reflect on the course my life has taken over the past few years and the opportunities I've been given, so much has stemmed from simply packing up and going somewhere. Potters, on the whole, are open, generous, hospitable, and eager to reciprocate. Casual introductions around the firebox of one kiln or another have grown into deep friendships, and the ripple effect from traveling to the MPT seems unending.