Funding Apprenticeships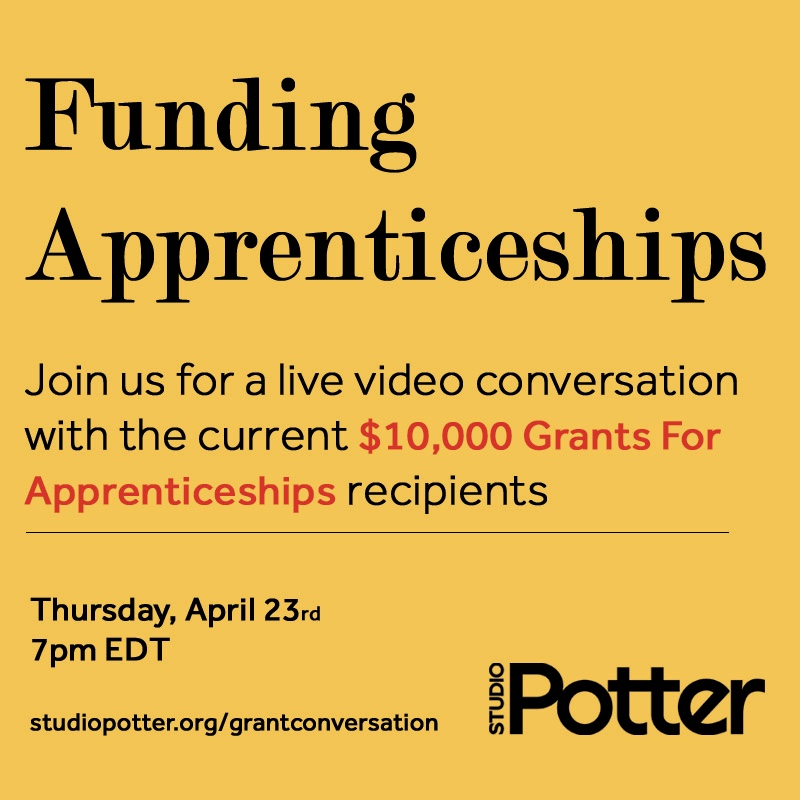 Interested in becoming an apprentice? Or have you considered taking on an apprentice? Curious about funding for sustaining or building your apprenticeship? Come hear the recipients of Studio Potter's Grants for Apprenticeships Program talk about their experiences together in the inaugural year of this program. Jon McMillan will lead a dialogue touching on the highs, lows, complications, and nuances of this important and unique relationship in the ceramic art world. Viewers are invited to particpate in the chat during the talk and ask questions of panelists. 
Click here to see the 2019 grant recipients. 
To join us, you will need the Zoom application on your computer, tablet or phone, and you will need a zoom account (making a zoom account is free and very quick!) Viewers will be able to see & hear our panelists, but will not have their video or audio enabled. 
Watch the video on our facebook page using facebook live. You do not need a facebook account to watch the video. Click here to go to our page: 
facebook.com/thestudiopotter
 (Previously, this page listed Zoom as the program for this. We have changed to facebook live.)
A recording of this discussion will be posted on our site. So, if you can't make the live talk, you'll still get a chance to watch. If you have questions or concerns, contact Jess Detweiler at director@studiopotter.org.