The West Kootenays in the interior of British Columbia, Canada, thrives on its reputation as a most appealing place to live and marketable destination to visit. At the centre of this region, the town of Nelson maintains its reputation as the "number-one small-town arts community in Canada," according to the book The 100 Best Small Art Towns in America.1 This comes as no surprise to the large and diverse artisan community that lives here. Nestled in mountainous terrain and bordering the pristine waters of a tributary of the mighty Columbia River, this heritage town is home to an established community of artists, makers, and people who appreciate handcrafted objects.  
Perhaps Nelson's artistic sensibility has something to do with the long history of arts education in this relatively isolated mountain town. Kootenay School of the Arts (KSA) at Selkirk College has maintained its reputation as a leader in arts education for more than sixty years, offering a curriculum with an intensive studio focus and an emphasis on preparing students to make a living through their art and craft. KSA is one of the few programs in western Canada that offers this focus on developing strong studio skills; other arts programs include more academic course offerings in their foundation curriculum.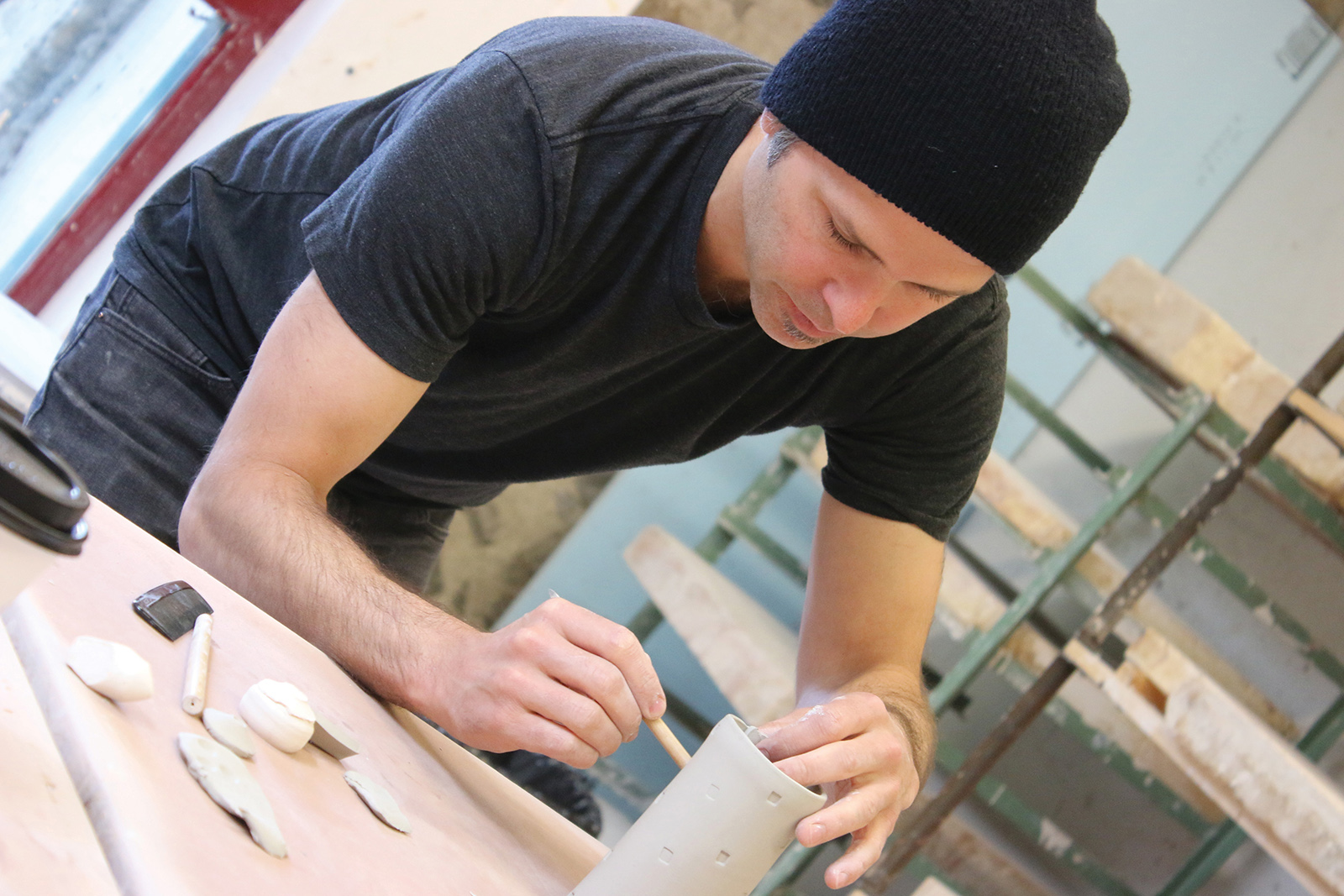 Robin DuPont is a beneficiary of KSA's studio focused programming. Having attended KSA in the early years of his training, Robin went on to study at four different institutions in three different countries, but he was eventually drawn back to the Kootenays to set up his full-time studio practice. The former student is now an adjunct faculty member at the school in the ceramics department.  
KSA's tradition of offering a program that celebrates functional pottery has resulted in a steady stream of makers emerging from the school, but the realities of making a living wage from selling fine craft inhibits the majority of graduates from going on to become full-time practicing artisans. Fortunately, the students who choose other means of making a living still retain their appreciation for fine craft, which is evident in the purchasing habits of the community.  
In 2008, an extensive culture-tour initiative was created by the Columbia Kootenay Cultural Alliance. Funded by the Columbia Basin Trust, which supports social, economic and environmental initiatives, the Columbia Basin CultureTour began as a means of raising public awareness of the quality and diversity of arts and heritage in the region. This annual self-directed tour has become an excellent way for artists to open their studios to the public and for the Trust to promote the rich artisan culture in the valley. 
Economically, the Tour contributes significantly to the annual income of many artisans, who otherwise incur costs selling their work outside the region. The West Kootenay region is home to only ten thousand people, which can be restrictive in terms of an arts market. Local sales opportunities, such as the culture tour, then, are always welcome, ensuring more money remains in the artists' pockets. 
The two-day tour, celebrating its tenth anniversary this year, takes place every summer in August. Over the years the number of attendees has grown. Seen as a "behind the scenes" type of event, the tour attracts a diverse audience. Patrons include those who schedule their holidays each year to attend, as well as many first-timers, and vacationers who spot the tour signs as they drive around and decide to take a look. The local community is by far the most supportive among the tour-goers; a number of residents visit their favorite artists each year to add artwork to their collections. And while the marketing and signage for the tour is centralized, the demographics for each venue seem to vary depending on each artist's own efforts to promote the tour through their own mailing lists. 
Robin's studio has been a tour venue since its inception. His studio is not regularly accessible to the public because he travels extensively to teach workshops throughout the year. His reasons for participating year after year include income, education, and community development.  
"[Because] I'm a potter that fires atmospheric kilns, it is really valuable to be able to explain the process and the tools to the general public when they are standing there in front of me. When people visit our property and can tour the kilns and witness the twenty cords of stacked wood on hand, the explanation behind the surfaces I create is so much more meaningful. Even some locals that come for the first time exclaim that they had no idea that these types of kilns are right 'in their backyard.' For many people, it is the first time they have ever seen or heard of a wood kiln. I value this opportunity to educate more people about contemporary ceramics, and I'm excited to shift their preconceived ideas about what pottery-making is all about."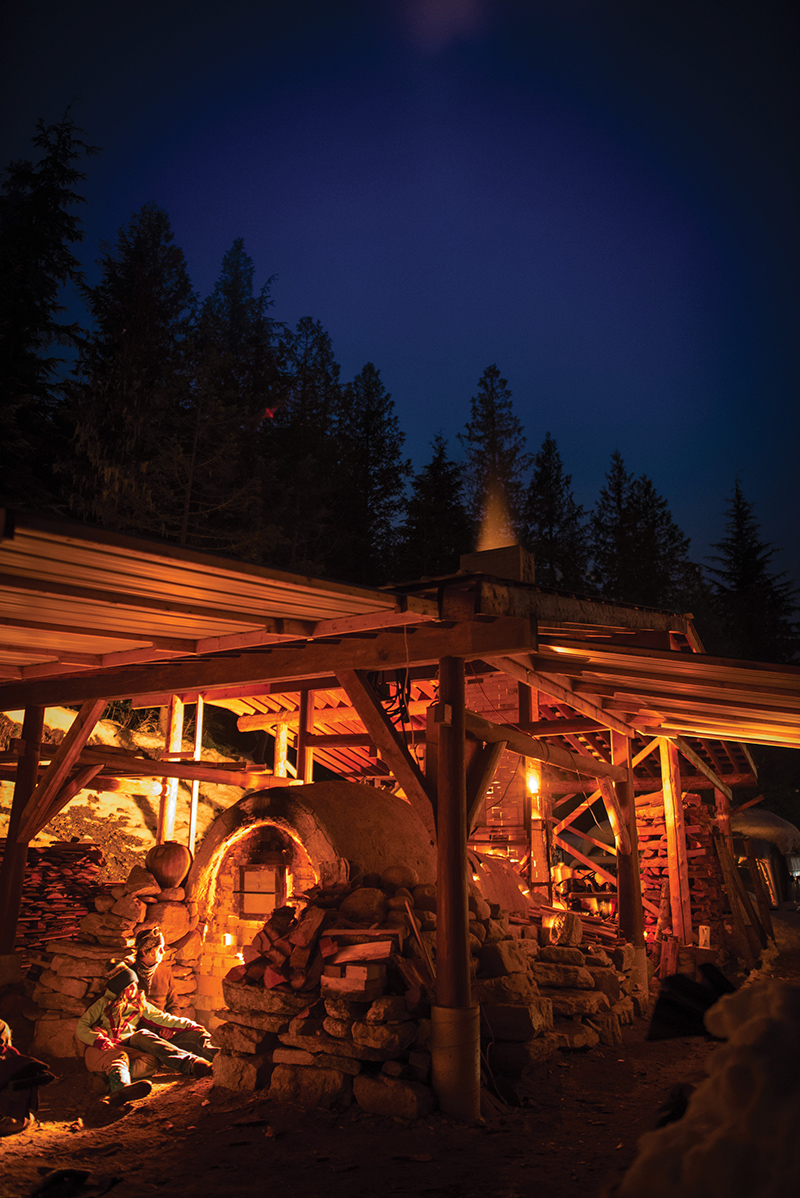 In his role as an adjunct faculty member at KSA, Robin encourages students to attend the tour each year as an educational experience. Visiting studios and talking with the artists themselves is integral to understanding the varied approaches to making a living as a craft artisan. The list of potters who have benefitted from KSA programming is vast; Katy Drijber, Kalika Bowlby, Christopher Watt, Maggie Finlayson, and Kaitlan Murphy are just a few who are establishing solid careers in the field of ceramics. And for every student who goes on to open a studio, there are dozens who instead become craft aficionados, and their role as enthusiastic appreciators of craft is equally as important. Selling functional ceramics in this day and age has its challenges, but it certainly helps when the local market is knowledgeable and the community is supportive.
---
1. Villani, John. The 100 Best Small Art Towns in America: Where to discover creative communities, fresh air, and affordable living. Santa Fe, NM: John Muir Publications, 1998.