Introduced by, and interviews conducted and organized by, Sophie Cornish-Keefe 
Brooklyn has long held allure for young, somewhat transient creatives. Whether it is because of the palpable legacy of artists who hatched in its neighborhoods or the certainty of rubbing elbows with countless outside-the-box types in everyday interactions, Brooklyn is a place where people come to be inspired, where it seems impossible not to be inspired. When I chose to relocate to Brooklyn after a short stint in rural New England, I knew the practical sacrifices I would be making in terms of space and money (there would be less of both). I had other misgivings, less quantifiable and therefore harder to reconcile, about the move.  
I had often observed the raised-eyebrow reaction to Brooklyn-bred artworks by the greater (and, in my opinion, "old-school") ceramics community. Well-meaning friends and family shared countless articles on social media that declared Brooklyn and other sites of urban claymaking as "having a moment." Like many others, I reacted to these articles with an eye-roll.  
The authors' voguish fascination with the medium both repelled and intrigued me. Free from the vernacular of what I might call "academic ceramics," Brooklyn ceramicists were making work untethered from tradition and receiving hugely positive support from their communities. Notwithstanding its obvious Instagrammability, the work was being declared an "antidote to all the electronics."1 Despite often breaking all the rules of a formal education in the medium, the artists and their work were creating a broad interest in ceramics, which by extension, could surely benefit anyone working in clay. And so what did these authors, and presumably their readers, see that we formally trained potters with our nose-upturned dismissal did not? Was I blind to the merit of this work because of my own material literacy? In moving to Brooklyn, I wondered if I might find answers to these questions, and more. What I sacrificed in square footage, I posited, I would make up for in being a part of a dialogue that demands a certain daring. For, living in the penumbra of New York, it would be impossible to exist in isolation. I'd share my space, intimately, with eight and a half million others, who would breathe their energy into mine.  
As I prepared to move, I faced with trepidation a much trickier dilemma for the artist-newcomer: the trope of the Brooklyn interloper. As a New York State native, I was not a total outlier, I told myself. But it would be culturally negligent not to consider my role as a clay artist more broadly in terms of its effect on the local culture that preceded me. Clay is a universal material, with an ancient history and on the one hand a capacity to encourage inclusivity. At the same time, all too often it becomes a symbol of elitism. To what extent, I wondered, was there mobilization to be found in the Brooklyn clay community? In other words, how were residing artists using the power of the medium to increase meaningful civic engagement in their neighborhoods?  
In my first week in the borough, before I had found work or a permanent place to live, I learned about the Brooklyn Clay Tour from one of its founding members, Nicholas Newcomb. Having visited several established New England clay tours, which inspire a fairly traditional following, I was curious how this Brooklyn-based event in its inaugural year, set in a place that I thought to be so loosely tied to ancestral American pottery, would fit into the tradition of the pottery tour. As I followed the progress of the upcoming Clay Tour, I discovered that there is much more to the Brooklyn clay community than the fawning, fad-profiles lead one to believe.  
Brooklyn is no stranger to clay, I learned. In the early nineteenth century, an influx of ambitious potters and craftspeople from the Staffordshire Pottery, among others, chose Brooklyn as a home for their endeavors, after making the transatlantic leap in search of greater opportunity. Brooklyn, particularly Greenpoint, attracted claymakers for a variety of reasons, including its docks, the relatively low cost of space, the abundance of superfine white sand on the eastern riverbed, and its proximity to Manhattan, which was quickly becoming a focal point of international commerce. By the end of that century, Brooklyn had become the cornerstone of porcelain production and pottery manufacturers in the Northeast.  
Today it is not so different. The preponderance of handmade ceramics is visible at coffee shops and storefronts throughout the borough. Community studios, like the newly opened BKLYN CLAY, boast an impressively long waiting list for new members. This tangible interest in ceramics, as well as its often-overlooked regional importance, is what led founding members of the Brooklyn Clay Tour to recognize a climate ripe for this sort of event. Brooklyn artists could come together to organize and participate in a series of community-focused events, centered around the diverse and growing ceramic arts scene in their neighborhoods.   
The tour itself took place September 8 to 10, 2017 and included more than 250 artists who organized more than thirty events, exhibits, demonstrations, artist talks, workshops, and art sales. As its name broadly suggests, the Brooklyn Clay Tour welcomed participation by all who have a connection to the medium; the traditional potter and the multimedia artist, teachers, students, patrons. Modeled on other regional clay tours, such as the Hilltown 6 tour in Western Massachusetts and the St. Croix Valley Pottery Tour in Minnesota, the founders of the Brooklyn Clay Tour, Nicholas Newcomb, Demetria Chappo, and Jessica Perelman, sought to showcase the work of local artists and craftspeople, inviting the public into the working spaces of their neighborhoods. Beyond this, however, they also sought to create a platform to engage the manifold complements to the clay community in Brooklyn: shops, galleries, restaurants, educational and community spaces, gardens, and countless individuals who work in tandem with ceramicists.  
The tour kicked off with a borough-wide "Finders Keepers" treasure hunt of 100 ceramic objects, hidden across Brooklyn for the finder to keep. Ceramic artist Helen Levi organized an ice cream social, which raised awareness about social and political issues by offering artists, residents, and visitors the opportunity to purchase a handmade bowl and donate the proceeds to the Center for Constitutional Rights. The community studio Clayworks on Columbia invited the public to join with artists to create a mosaic mural at the Amazing Garden; participants were able to learn mosaic-making techniques at this community garden, while recycling their own broken ceramics. These events and many others were designed not only to generate interest in urban ceramicists but also to encourage appreciation of the work artists do and of the communities that back them. The tour's success came out of how it elevated the artists as community members rather than as individuals—a testament to their conscious efforts to build unanimity among artists, local businesses and industries, and long-time residents.  
I invited several people who participated in the first Brooklyn Clay Tour—artists, gallery owners, and community organizers—to speak to their experiences as members of the Brooklyn clay scene and the growing voice of the community in the wake of the tour.  
---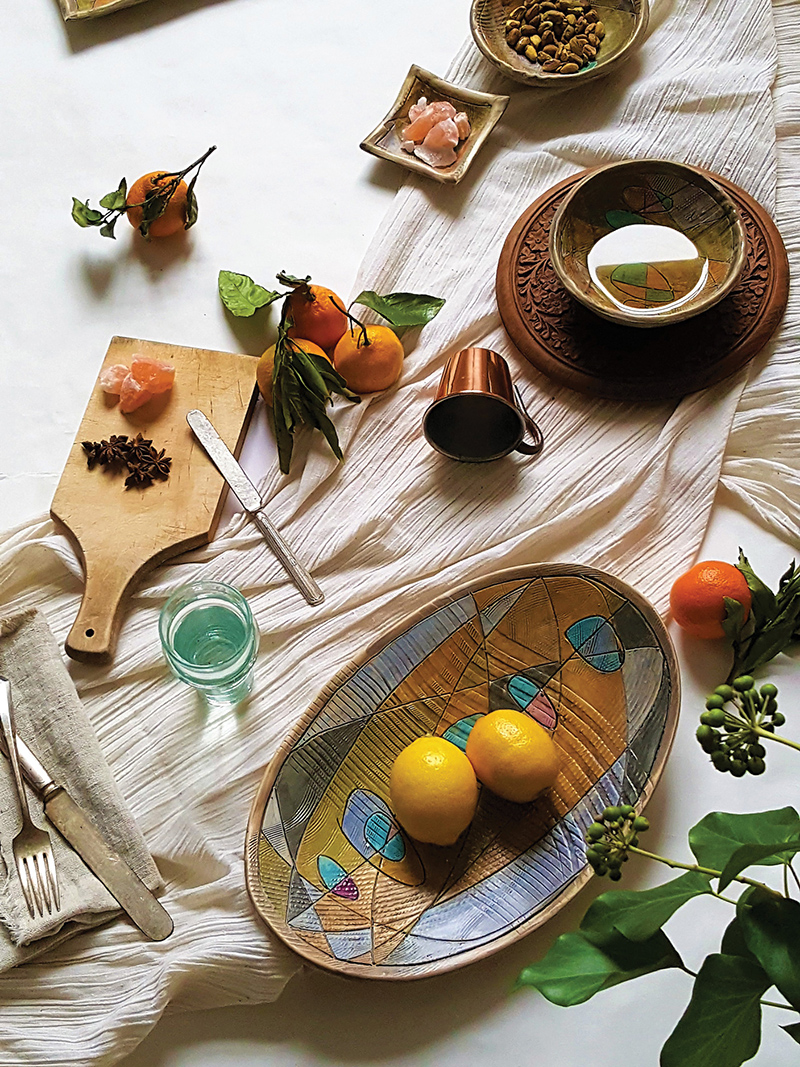 Janine Sopp 
Sopp is the founder of Clay Space 1205, and hosted the Clay Space 1205 Open Studios, Greenpoint, September 9-10.  
After leaving my career in menswear design in Manhattan, I started a career in clay in my hometown of Syracuse, New York. The cost of living was cheaper, and I was amazed that such a small city could foster so many ceramic makers, but in some ways, I was a big fish in a small pond. I missed the grit of the city and wanted a warmer climate. Brooklyn, I decided, is where I would start my new life with clay; it was where I belonged personally and professionally.   
I found a space in the Greenpoint Manufacturing and Design Center at the very beginning of its establishment. Serendipitously, the space was furnished with a full studio's worth of equipment through a member of the Syracuse Ceramic Guild. I ran my production business from this space, but eventually, my vision to create a community unfolded. The disadvantages were purely economic, because renting space in the city, particularly in Brooklyn, is probably more expensive than in any other place in the country. The advantages, however, cannot be created elsewhere; the charge of the city and its residents, and what folks do here is unique to this place. That's what keeps so many of us here, in spite of what we could afford to do and have outside the city. 
When Clay Space 1205 was created, I was not fully aware of how many studios were already in existence, and I moved mostly by intuition. I knew of studios that had a strong teaching component, like Greenwich House Pottery, and others that were functioning more like a communal studio, such as Tribeca Potters. Clay Space 1205 grew organically into what was needed to support emerging artists—a studio that offered membership at various levels. 
Clay Space 1205 is a ceramic collaborative whose mission is to foster creative ceramic production in a group environment where artists share materials, tools, and education that promote their craft. Members have twenty-four-hour access to the space, allowing freedom to create in ways that cater to each member's needs. We offer work exchanges in the areas of studio assistants, studio techs, and web and social media positions. This allows members a deeper sense of commitment and opportunities to learn valuable skills that further their growth in and understanding of the medium, while providing Clay Space professional talents that help further its mission. 
---
Rene Murray 
Murray is an independent studio potter, and hosted "Sculpting a Life in Clay: Demonstrations and Discussions with Rene Murray," artist's studio, Gowanus, September 8-10.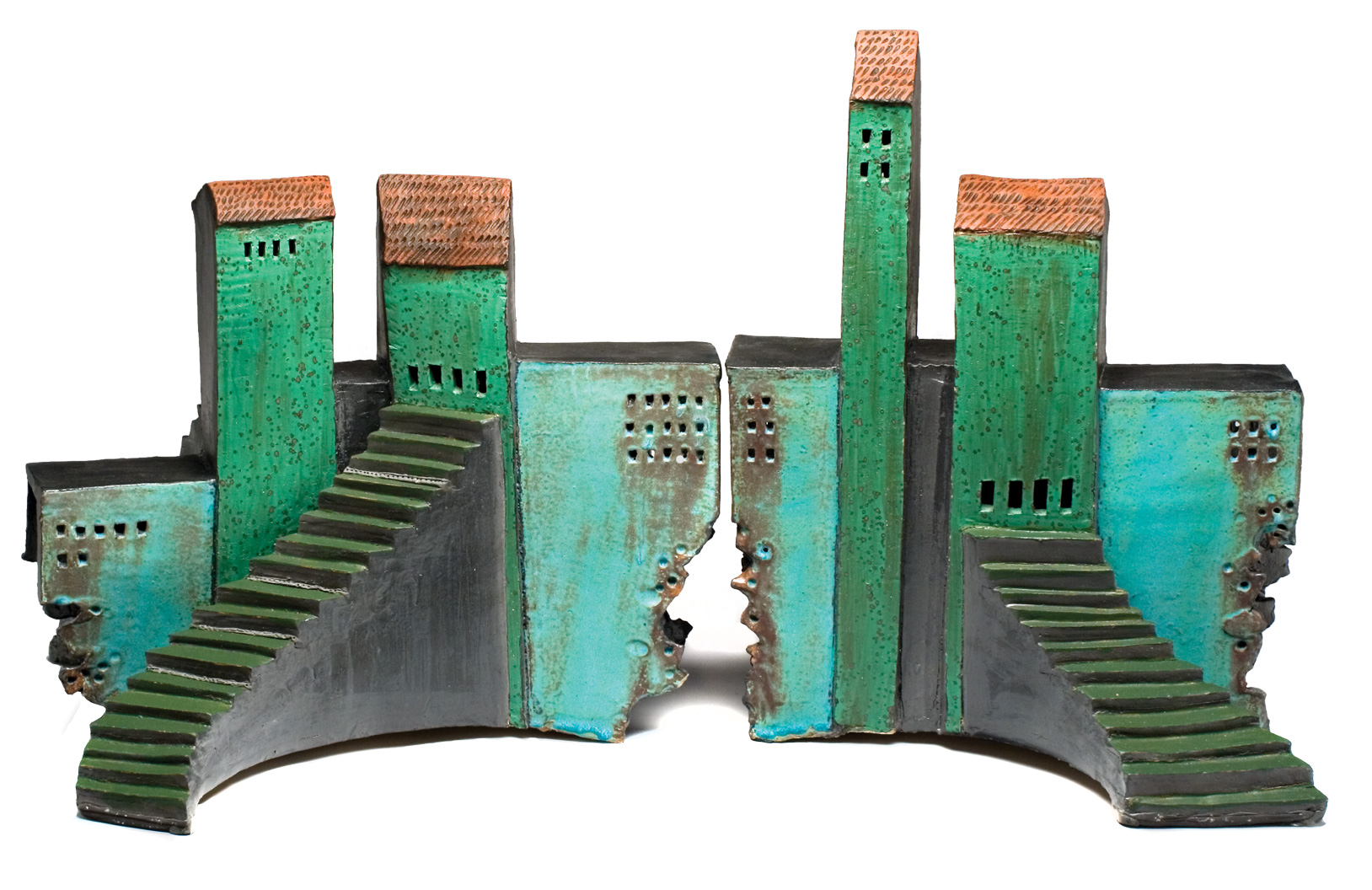 My first love is clay. We are suited to each other. With clay, I can work fast, without preliminary drawings, and use each piece as a model for the next piece. Several pieces form a series, and a broader vision for a body of work starts to take place. 
I have been working in ceramics for more than fifty years, most of that time spent drawing on my second love: architecture. In 1999 I took an inspirational trip to Tuscany. The architectural elements everywhere—endless staircases, multiple archways, soaring towers—moved me to translate all that I saw there into clay sculptures. But my love of architecture was nurtured well before that vacation. As early as 1971, I admired the industrial buildings while walking the streets of my native Brooklyn neighborhood; a water tower atop a housing project became a model for a series of long-legged covered jars. 
Brooklyn has always been my home, with the exception of the six years that I spent at the University of Michigan in Ann Arbor. After graduating in 1965, I spent eight years working at the Clay Art Center in Port Chester, New York,commuting back and forth from Brooklyn by train. In 1971, I purchased a small building in an industrial neighborhood of Brooklyn and have used this same building as my studio ever since. Because my roots are here in Brooklyn, this was a natural choice for a working space.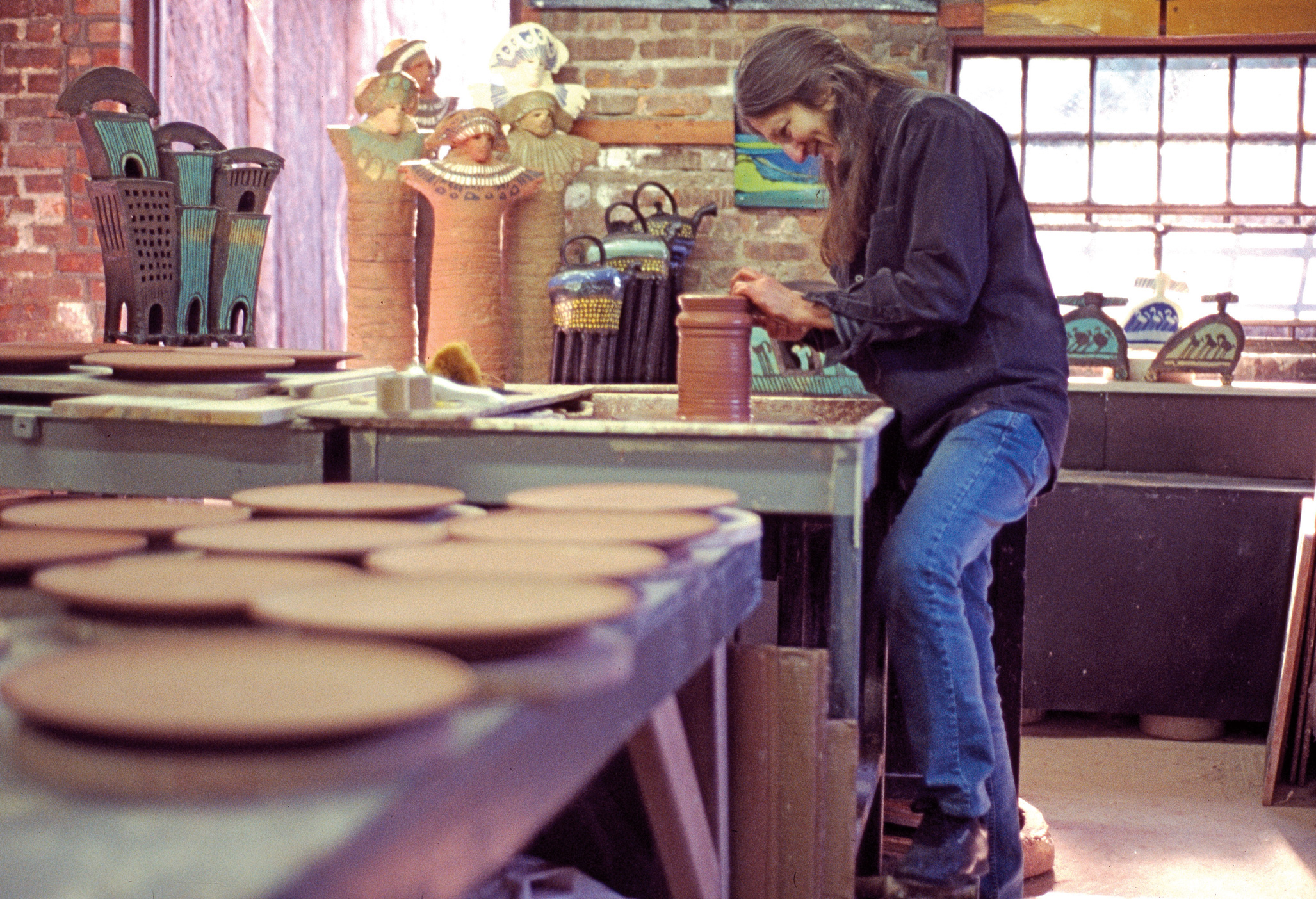 In the early Seventies, Brooklyn was considered the "outback" of Manhattan, and most people were loath to cross the Brooklyn Bridge. It was a very gritty place to live and work; my studio building block was home to drug addicts, prostitutes, and the homeless. But once I was behind my studio door, I built a world where I worked in almost complete isolation. It was a joyful time, and soon I sought out other potters, and became part of a welcoming community of clay artists. We were a feisty bunch. We worked hard, created beautiful work, and showed it in the neighboring stores and galleries. We even started our own wonderful support group known as The Brooklyn Potters, which lasted for more than thirty years. 
These days, things are very different in Brooklyn. My studio block is still very industrial, but mixed in with the car repair shops are an upscale hotel and an archery establishment. And of course, now everyone is racing over that Brooklyn Bridge to claim a piece of real estate here. Pottery still remains a vital part of the borough; some of us pioneers are still around, working and creating in clay, but there is a whole new force of clay makers, too. They are young, energetic, creative, and eager to continue forging bonds between local clay artists. Two of them initiated the first Brooklyn Clay Tour—perhaps they will restart the Brooklyn Potters Group. 
Failla is an artist and educator at Williamsburg Charter High School, where he organized "Top Shelf Ceramics," an exhibition of resident-artist and student work, and workshops focused on curriculum design, classroom management, and resources in a high-needs environment, Bushwick/East Williamsburg, September 9.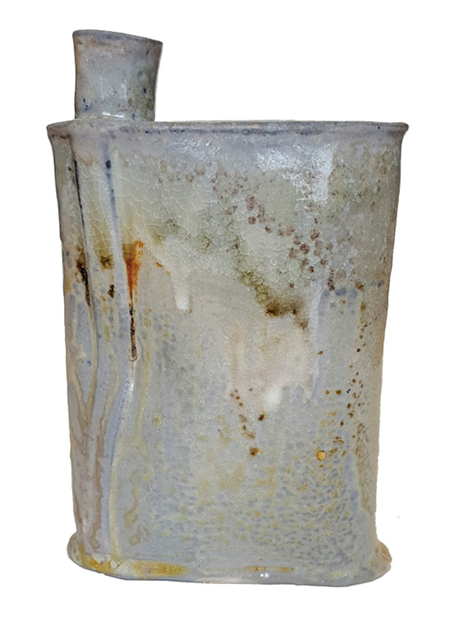 Twelve years ago, I was given the opportunity to create a collegiate-level ceramic studio at Williamsburg Charter High School. I can honestly say it has been a unique experience. I have seen and done so much. It took twelve years, and I am truly grateful every minute. The high school (grades nine through twelve) runs on a rotating block schedule of eight periods a day. We offer six different classes of ceramics, one open studio period, and a Ceramics Club that meets after school three days a week. The classes we offer are Ceramics 1, 2, 3, and AP Ceramics, which includes portfolio prep and submission to the College Board. All members of the WCHS school community, past and present, are welcome in the studio. The school also allows me to open my studio for community ceramics events. 
Working with the space you have as an art teacher is a necessity. When we first moved into the new facility, our studio was empty. The administration and I worked together to serve the needs of students and embarked on furnishing the space with my former studios at Nassau Community College and Adelphi University in mind. I started out small, rationing funds and acquiring piece by piece each year over the past five years. I prioritized acquiring big-ticket items to get us up and running as quickly as possible. To keep the space fresh and inviting, we set up a dynamic configuration of work spaces, tables and displays.   
I have always lived and worked in New York. Today, Brooklyn has become a destination for all, but especially for artists and craftspeople. Ceramics have infiltrated the mainstream arts scene within the past few years—the synergy is at an apex. As clay artists, we need to unite and serve our communities, our neighborhoods of Brooklyn. The ceramic studio experience can be transformative for the student and for the teacher. Within ceramic arts, you can experience all the elements of nature, senses of the body, and forms of art. The foundational skills in pottery and sculpture are extremely important for every young artist, as is the history that is told through ceramic antiquity and our long-term connections to clay. I want all my students to focus on the process, not the product, of creating with clay: There is beauty in a delayed gratification of creative work. 
---
Jennifer Waverek  
Waverek is the founder of BKLYN CLAY, which hosted "Potheads," a BKLYN CLAY member exhibition, Park Slope, September 7-9.
BKLYN CLAY is a community studio located in Brooklyn. It offers memberships with 24/7/365 access, classes with open studio hours, and one-time classes, parties, and private lessons.  It is important to me that members can work whenever they are able to come in so that the medium and their processes define their work, rather than the variable of time. 
When setting up the space, I designed it with modern, refined aesthetics.  While many community studios feel like your grandmother's basement, BKLYN CLAY feels like a modern gallery space.  It offers state-of-the-art facilities in a clean, organized, attractive workspace. This brings in artists who are established in their own fields but are new to clay, as well as existing clay-workers. Many ceramics novices join as members to experiment in clay, too. 
BKLYN CLAY's mission is to offer a space where members and students feel empowered to create and to lose themselves in the medium; a space where they can feel free to express themselves and explore their creative impulses. It is a community of ceramicists who share knowledge, working both independently and collaboratively. My hope is that BKLYN CLAY will continue to contribute to the clay community in the area by hosting events that welcome everyone and feature work from a diverse group of artists.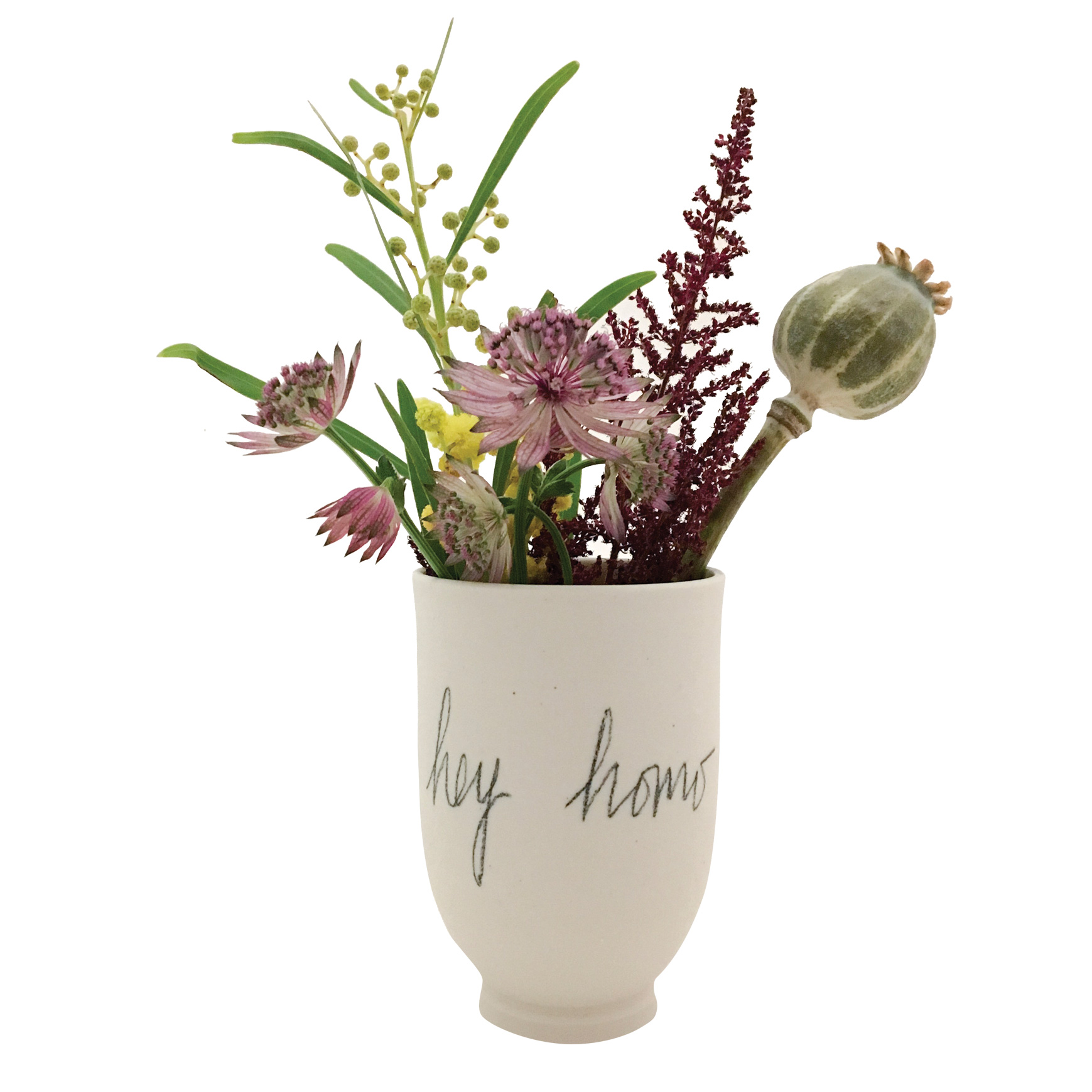 Yager is an independent artist and educator. His work was featured in "Brooklyn Pottery Invitational," Gowanus, September 8-10, and in "Potheads," a BKLYN CLAY member exhibition, Park Slope, September 7-9. 
Before relocating to Brooklyn in 2016, I worked in arts administration and as a studio artist in the Midwest for almost fifteen years. Some of my Midwestern colleagues and fellow artists had mixed feelings about the national press received by clay artists based in New York and L.A. Their complaint went: "What about the lifelong studio potters making historically rooted, technically masterful pots throughout the country?" In some ways I shared their perspective; there was a list of artists of all ages I might highlight, given the chance. I chose to see this phenomenon instead as an indication that artists want different eyeballs on their work. Makers, as well as the journalists who have highlighted these trends, have agency to define and pursue their audience. 
I make both sculptural ceramic artwork and a line of pottery that addresses contemporary social issues such as queer theory and popular culture. My education in the medium, however, was rooted in more traditional "potter's pots" of a national, craft-oriented scene. The types of work I associate with "Brooklyn pottery" range from compelling to safely commercial, and technically outstanding to poorly conceived and/or executed. I was and am drawn to the daring range of conversations and experiments that are amplified by the sheer size of the city: the number of artists working here, access to large potential markets with diverse income levels and ages, and the influence and energy of frequent and high-quality exhibitions. I was also inspired by the fluidity among communities of designers, potters, entrepreneurs, artists, and others. It is not unusual to find a potter who has their strongest relationships in interior design, or whose website is built around a photography practice, with clay a side project. Artists who license designs, collaborate with brands (not just individuals), and make decisions based on finances and scale have crossed my path more frequently, although perhaps not in greater proportion than I have previously experienced. 
What I'm more undecided about is the results of ceramics production, which often seems unaware or unconcerned with the traditional conversations of the field of ceramics. For better or for worse, these results reflect a limited interest in the foundational, shared language that is learned through tradition, academia, mentorships, workshops, community groups, and publications. In many cases, comparing the kind of dialogue I am familiar with from other pottery-centric events to the visual and verbal discussions in New York is like comparing apples and oranges—the material and form of each might be similar but the intent and meaning talk past one another. Casual discussions of construction details, visual conversations across space and time, and articulation of the subtleties of glazing and firing are much less prevalent than talk of commercial clays and glazes or social and commercial opportunities. Shifting my mindset to participate in this new dialogue has been difficult. 
As in any city, the logistical difficulties of working in this dense, urban environment make almost every part of the ceramic process a challenge, whether it is getting supplies, making shipments, building studio equipment, or finding appropriate spaces to make work. Developing networks in a new city is not an unusual challenge either, but the amplification of opportunities here creates intense competition, particularly in defining oneself and finding a niche in an increasingly crowded market. Perhaps as a newcomer I am not privy to the winks and nods that indicate hierarchy; it is hard to tell who is doing well, who is gritting their teeth and trying to pay rent, and who doesn't need to profit from their clay work. What has come to the forefront most rapidly for me—due as much to New York as to this transitional stage of my career—is thinking of my practice as a business and investing in learning new skills and finding the right resources that can patch me and my practice into the limitless potential ascribed to Brooklyn pottery.  
---
Lauren Snyder 
Snyder is the owner of The Primary Essentials, where she curated the group show "Grown This Way," Boerum Hill, September 7-10.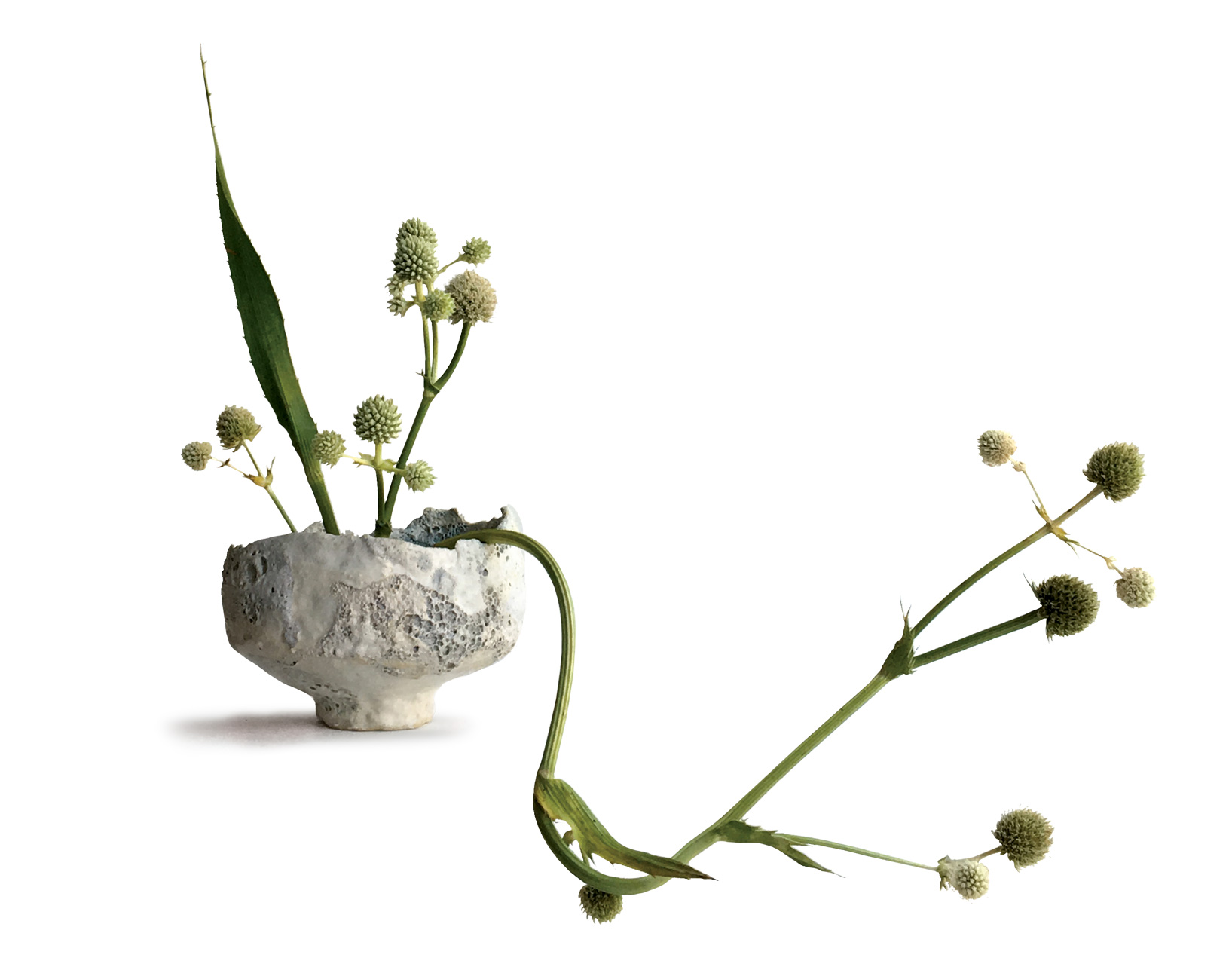 I grew up in Pittsburgh but moved to Brooklyn fifteen years ago to attend Pratt and never left. In 2013, I opened The Primary Essentials, a home and gift 
store with an emphasis on how people live their daily lives. When I opened the store, I never expected that ceramics would be such a big part of it, but it really checks all the boxes for what we try to achieve with our products; they all are unique, functional, and they have a story behind them about their maker. I always try to source items that are functional and unique at the same time; including ceramics has always been very important to me. 
Being in Brooklyn, I am really lucky to have customers who love the nature of handmade objects and want to buy them. Their attitude isn't unique to Brooklyn, but we feel fortunate to have a community that supports artists and the kind of shop that sells their work. I think that there is just such a huge amount of talent coming out of Brooklyn right now and that gets a lot of attention, but I think that there are people all over the place who love ceramics and have for a very long time.  
---
Lois Aronow
Aronow organized the first annual "Brooklyn Pottery Invitational," a pottery sale featuring demonstrations, lectures, panels, and studio tours, Old American Can Factory, Gowanus, September 8-10.
I coproduced the Brooklyn Pottery Invitational with my longtime friend Ryan Greenheck. Ryan has made it his mission to help others build clay communities in their areas. We often talked about doing a show in Brooklyn, where there are plenty of potters, collectors, and art lovers, but few major clay events. In fact, Brooklyn potters have become a bit of a stereotype. What we don't have, though, is an anchoring institution or event. We were hoping to create an even that would be attractive, insightful, and draw the community together.
We produced a high-end showcase and sale, featuring potters whose work and work ethics we respect. We chose to invite some East Coast friends who are highly regarded in the clay world and who we enjoy spending time with. Our split was five Brooklyn artists and five East Coast artists, all functional potters who make very different work. 
Education was a component of the event. We held a series of workshops and panels on two days, free of charge and open to the public. On opening night, Roberto Lugo gave a demonstration, and local ceramicist Beth Katleman showed her installation-based artwork and opened her studio to visitors.
The lack of affordable work spaces is one of the realities all Brooklyn potters face. Space is expensive, so it's common for potters to rent space in a cooperative studio. There is a gorgeous event space in the building where I rent my studio, which we were able to rent at a fairly reasonable price, along with an adjacent empty studio. 
It was a happy coincidence that our event took place on the same weekend as the Brooklyn Clay Tour. Ryan and I are excited to make the Invitational an annual event and find new local talent every subsequent year. We feel we're really on our way to building something great in Brooklyn.
---
Adams Puryear
Puryear represents  FPOAFM Nomadic Art/Craft Collective, and was a participating artist in "Plate Party," Greenpoint, September 8-9.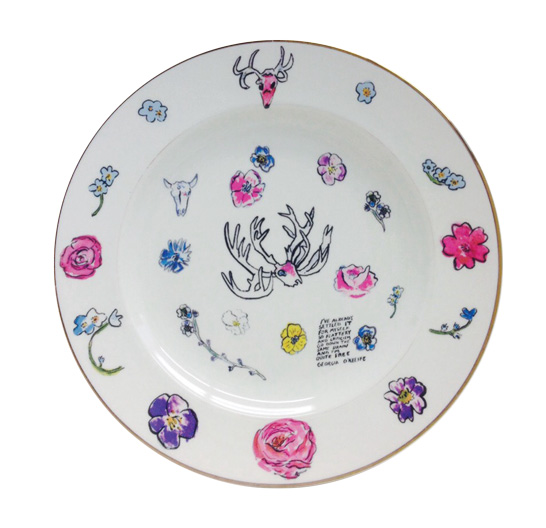 FPOAFM (pronounced "Poem"—the F's are silent) was started several years ago by a group of artists as a way to focus on experimental methods of making functional pottery. It was and is a fun and intriguing way to think through the kinds of work that don't necessarily fall within each of our individual art practices.  
Early on, we collaborated on exercises focused on absurdist utility, producing ceramic stools, camping wares, and power objects and exhibiting them. But since then, FPOAFM's orientation has shifted toward social engagement artworks incorporating functional ceramics in a way that maintains our original intent to balance craft seriousness with reckless humor. For example, we have done teahouse pop-up exchanges, setting up a structure in which unique handmade cups are filled with green tea and then exchanged with visitors. In return these visitors leave various things for display—thoughtful responses, objects, or anything else—except money.  The exchanged items become the archive of this event and are documented and displayed on our website. FPOAFM's projects aim to use a traditional form or methodology, such as a ceramic cup, teahouse, vending machine, or commemorative plate, and add a performative layer, usually interactive or collaborative. The result is a greater degree of visitor engagement and interest.  
Our various clay heroes include the Memphis designers (think Eighties-style bright solid colors, geometric elements, and squiggles), Ken Price (we're inspired by his early terrible mugs), Fat Lava Pottery designers (whose postwar West German art pottery, particularly from the Sixties and Seventies is especially influential) and Ron Nagle, creator of the 1970 Bad Rice LP. We love it all.  
Lately we have been looking at the Austrian collective Gelitin, a group of artists known for their sensational art events, who became well-known in the art world in the early to mid-2000s. Distinguished by an admirable sense of humor and worldview, the collective has incorporated clay only recently into their practice. Our non-clay heroes are outsider artists, such as Mary Nohl, Harry Smith, and Fletcher Hanks, who make better art than we ever will. 
Developing a single project with equal input from everyone who wants to be involved is a delicate and difficult undertaking when working as a group. It can easily happen that one person becomes a manager and relegates others to the roles of low-level employees or actors. But projects work best when everyone contributes and comes together on the same plane to form a unique strategy or idea that no one person could have developed individually.  
Brooklyn has a culture that we identify with. The galleries that commodify art largely still don't come here, which is fine. That lack of interest (even with all the gentrification, housing shortage, crazy rising rents, other usual NYC urban things) produces a scrappy, resourceful Brooklyn artist (or collective) who, through personal competition and city-fed drive, can create really moving artworks. And, engaging with all of these people is really fun. I think the growing interest in ceramics is not unique to Brooklyn; it's everywhere. The fact that clay is fun and cool and satisfying to work with is a secret that many of us have known for a long time. What's changing now is that more people know it.
---
NOTES: