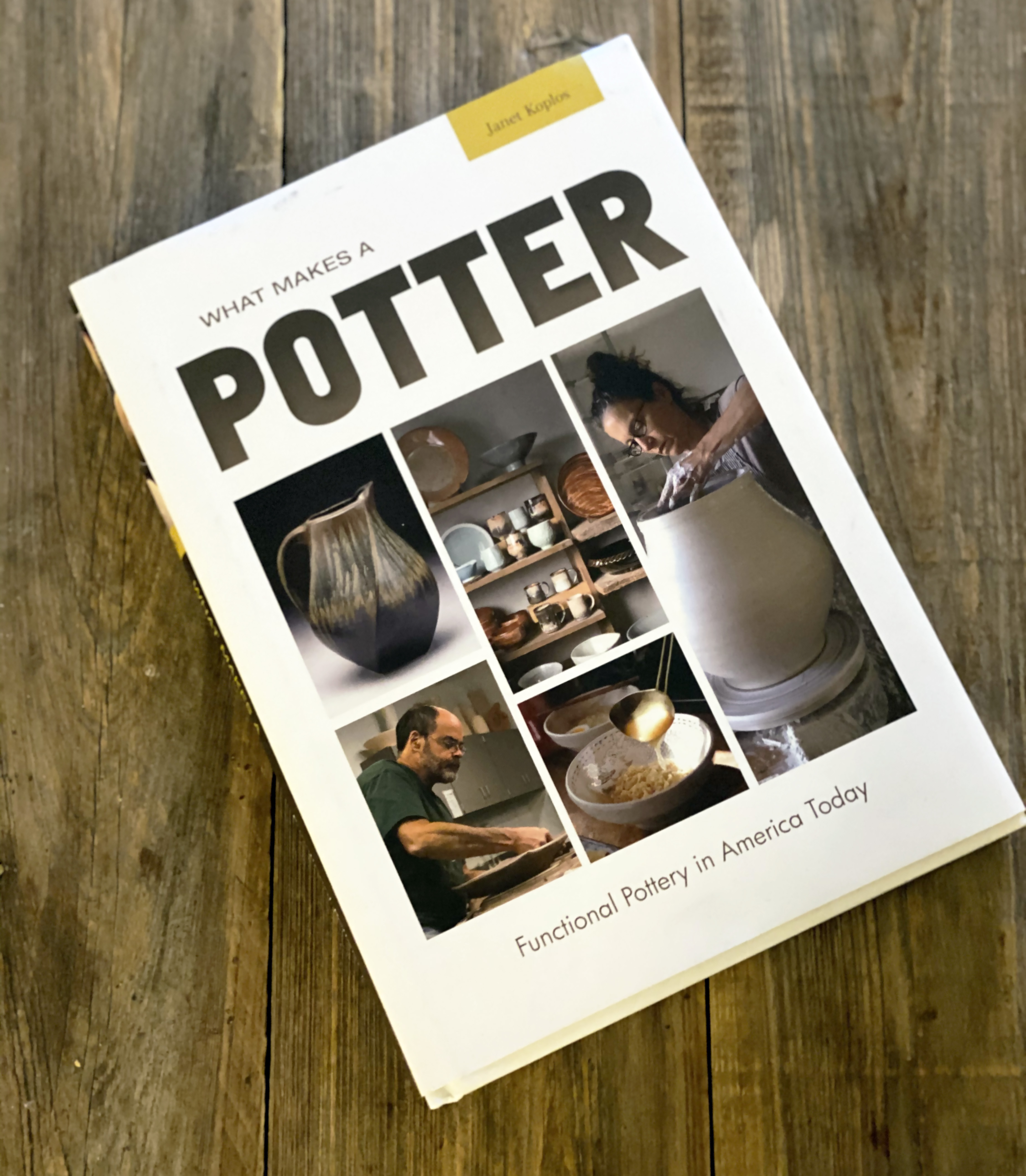 What Makes a Potter. Functional Pottery in America Today, by Janet Koplos
Published by Schiffer Publishing Company, 2019. Hardcover, 241 pages. $39.99
This book, its coy title a declarative sentence absent a question mark, compiles interviews with fifty individuals who make utilitarian pottery their life's work – a vocational option that didn't exist fifty years ago. Many were born in the 1970s, and represent an excellent cross-section of the current milieu, all sharing a familiar story told fifty different ways. "These are not the fifty best potters," Koplos writes elsewhere. "That's not my point. Each comes to pottery from a different angle and offers unique wisdom. Their stories show the richness of meaning and motivation that makes functional pottery still worthwhile in our postindustrial age."
Koplos dedicated this book to Warren MacKenzie (1924–2018), "Indefatigable promoter of the philosophical, emotional, and practical values of functional pottery." There is no better-qualified writer to take on this subject; she has lived with handmade pots for five decades, written more than 2500 articles for some two dozen periodicals, and received awards for her critical writing.
Trigger warning to vegetarians and vegans – this is a meaty book; chewy with authenticity and narrative nutrients. As Koplos states, "In the words of the potters you will meet in these pages, the philosophy and aesthetics of the age-old art form are made new for our time." Four brief chapters comprise the first thirteen pages – "Pottery Persists" and "Current Conditions," paired with "Why Handmade Pots?" and "How to Read a Pot," which concludes with this poignant observation by The New Yorker art critic Peter Schjeldahl: "Painting exercises the eye, sculpture echoes the body, but pots express and are addressed to the hand. They acquire their full meaning within arm's reach, in the confiding zone – the ambit of embraces – where the sovereignty of sight blurs into that of touch."
Her chapter, "Role models," briefly summarizes contributions to the field by MacKenzie, Robert Turner, Karen Karnes, Betty Woodman, John Glick, Byron Temple, Cynthia Bringle, and Michael Simon. (No one from the West Coast? No Bruce and Marcia McDougal at Big Creek, or Marguerite Wildenhain at Pond Farm? No Jugtown?) Of Temple, she writes, "[his] work was self-effacing but elegant, reserved but entirely open to the intimacy of use. As such, it was a quintessential example of the philosophy of the functional, which puts the user ahead of the maker and does not strive to make pottery live by the rules of painting or sculpture." 
...