In the early 1980s, I was teaching a ceramics class at the School of Visual Arts (SVA) in New York City and living in the neighborhood of Gramercy Park. After four years of carefully wheeling my daughter in her stroller around potholes, high curbs, and worse, I was free to look up once again. The buildings in those areas were the subjects of my first investigations into ceramics in architecture. What I saw made me question the cliché of the city as a "concrete jungle."
There was an abundance of bricks and stone, obviously, but also a great deal of ornament – some of it with strong colors. I started to notice the tiles in building facades and lobbies and realized that clay was very likely the material used for much of the architectural detailing. So I began to study the use of clay in New York architecture, and I discovered that my city and most others across the United States were, in significant part, built with fired clay.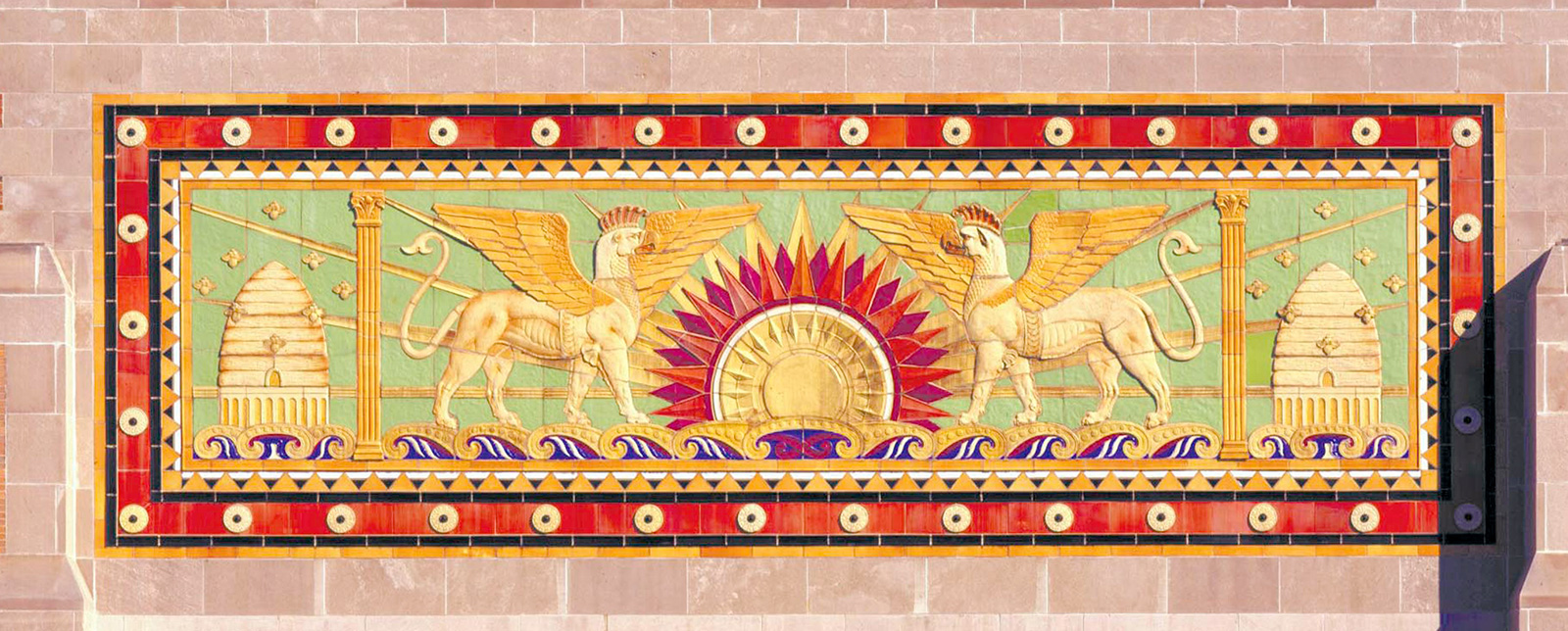 Fortuitously, in 1981, after a group of preservationists visited the one surviving architectural terra-cotta company in the United States, Gladding, McBean & Company, established in 1875 in Lincoln, California they formed Friends of Terra Cotta. Friends of Terra Cotta, a not-for-profit organization still active today, inspired me to learn all that I could about architectural terra-cotta. Curiosity was certainly behind this quest, but equally important was my desire to share with others working in clay the notion that this material was essential to some of tallest and most beautiful structures in the country.
Throughout my training in the arts, the ubiquitous attitude of professors, instructors, textbook authors, and others was that the fine arts of painting and sculpture were paramount, while the decorative arts, including the crafts of ceramics and pottery, were less significant. It therefore amazed me to discover this monumental clay legacy. This heritage of vast ceramic skyscrapers (the Woolworth was the tallest building in the world when completed in 1913) stood in stark contrast to the secondary status of clay in the fine arts universe.
When artists described the visceral impact of New York's buildings, clay didn't enter the picture. Even Peter Voulkos showed no awareness of the role terra-cotta played in shaping New York's structures when he said:
My scale comes out of what I see. I always liked large things. Take New York skyscrapers. Those are more awesome to me than mountains. You take a mountain for granted, but a skyscraper just blows my mind . . . Manmade is a different trip – like even those spaces between buildings in New York – they're fantastic.[i]
As I continued my research, I began to look very closely at building ornaments, their materials, and their deterioration. With funding from several grants, I was able to have many of New York's finest terra-cotta buildings professionally photographed. This led to my advocacy of preservation through the Friends of Terra Cotta. In addition, I lectured, wrote articles[ii], and in 1997, published a book on the subject, Terra Cotta Skyline. All my time spent in the field observing buildings has strongly influenced my own work in ceramics.
The parameters of site-specific projects helped to shape my approach to various commissions for the New York City subway, Hudson–Bergen Light Rail (New Jersey Transit), and schools in New York City and elsewhere. In doing private commissions involving nature and landscape, I thought about the changing light and weather conditions in which the work would be viewed.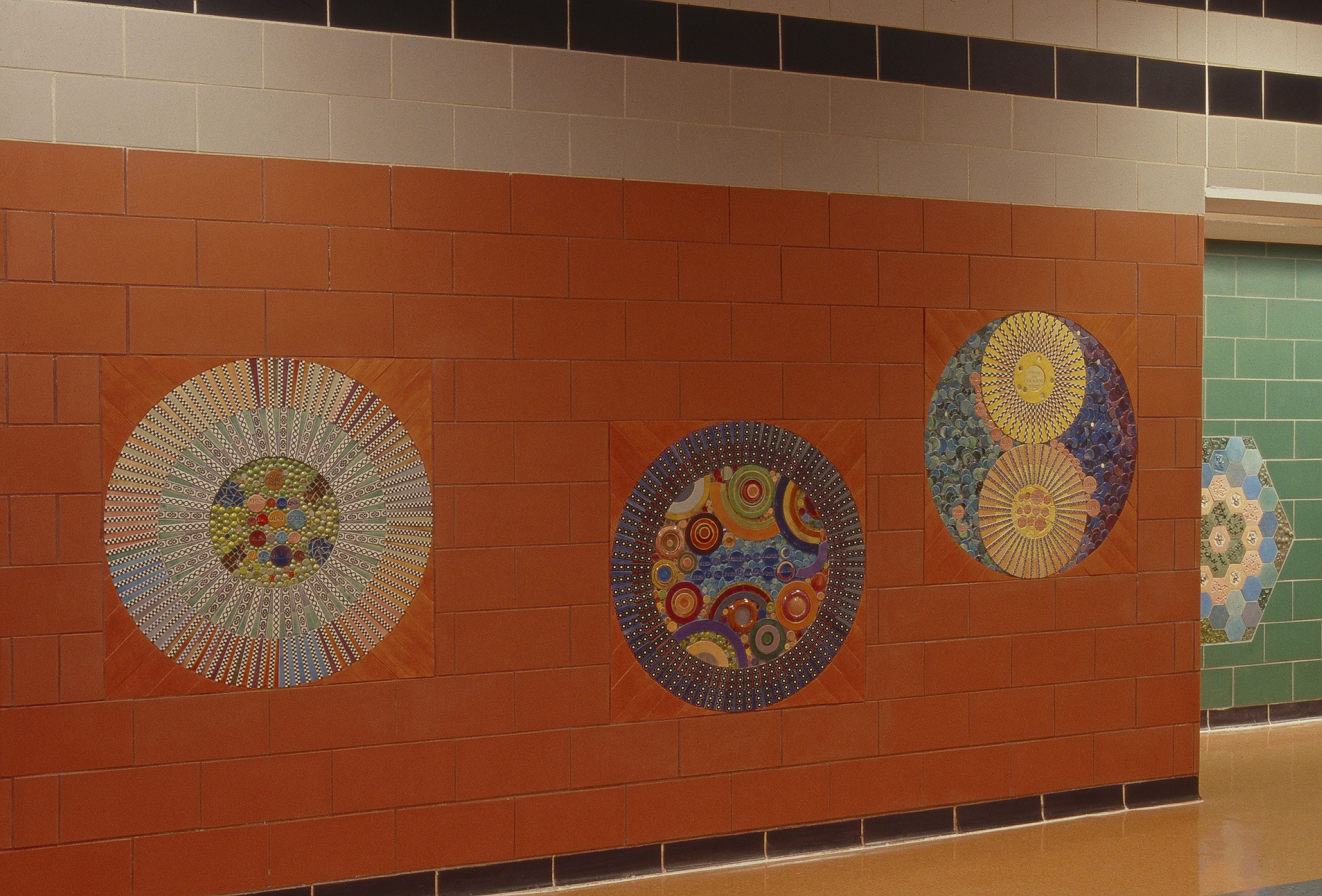 As much as I enjoyed working with ceramic tile and mosaics, I was also drawn to the unrealized potential of brick for use in contemporary architecture. A centuries-old clay product that had been used to create magnificently colored and textured monuments, this construction material has had its power and beauty degraded by the increased scale of modern buildings and the introduction of mass-produced jumbo brick.
Collaboration with other artists, architects, and clients proved to be a rewarding and broadening way to work. Dutch artist Christine Jetten expressed feelings about brick similar to mine when we met in 1999. We began to collaborate on developing more interesting bricks, sometimes together at each other's studios, and at other times across the ocean via the Internet. In 2007 our work intensified when we were chosen to participate in the European Ceramic Work Centre's (EKWC) Brick Project in the Netherlands. Our exploration focused on using bricks to create sun screens (open walls and partitions).
Ultimately, we decided on an unusual approach: to create bricks that can be stacked rather than being laid in a traditional fashion using mortar. Our bricks have holes so that they can be threaded onto a framework of rods. This allows them to be moved and positioned in various three-dimensional patterns rather than just forming a flat wall.
Using a single-extrusion die, we produced a brick with a number of cutouts. This single, shaped brick can be combined with others to form many varied arrangements. Our research has led to the development of open yet sculptural walls that can readily be altered, depending on the patterns used, the glazes, and the lighting.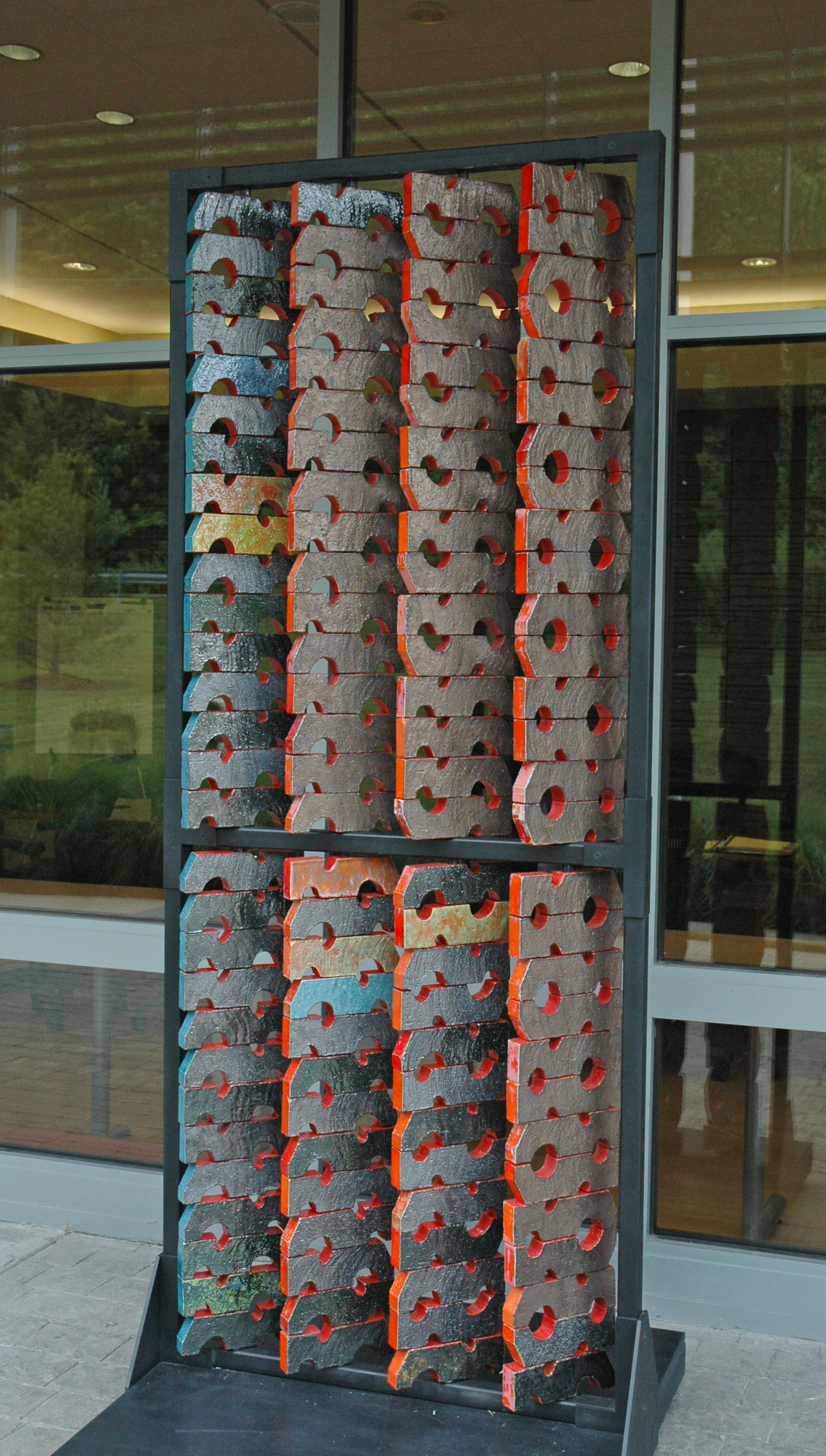 In the 2010 exhibition, Brick, which was organized by the EKWC at Groot Handelsgebouw, Rotterdam, we exhibited several pieces, one of which was a steel-framed panel using the threaded bricks. Threaded bricks are appropriate as components of wall dividers in open office floors and between the gardens of city houses. They provide varying degrees of privacy, depending on the openness of the brick wall perforations. A panel of threaded bricks can serve as a grill or a fence, an ideal solution for spaces that need to be ventilated, such as parking garages and stairways. Many additional interior and exterior possibilities exist for these panels.
Christine and I have continued to develop our threaded bricks. In the relatively brief time we worked at the EKWC, we weren't able to work with glazes, but since then we have made an intensive study of the impact of glaze color and texture on these bricks. In 2012, we exhibited a large brick screen in Simply By Hand at Pewabic Pottery in Detroit. Our collaboration continues, as we explore numerous possibilities, including scale, glaze, and clay colors; the sculptural quality of the brick arrangements; various lighting conditions; and unconventional methods of installation.
This summer (2016), in the Ceramic Assemblies Workshop at Boston Valley Terra Cotta, located near Buffalo, New York, we will have another opportunity to explore our brick ideas as well as different innovative uses for architectural ceramics. An international group of about twenty clay artists, architects, engineers, and facade specialists will come together for a week of brainstorming about future uses for clay in architecture. The chance to work in Boston Valley's factory, with its highly skilled workers and multiple means of production, will allow us all to investigate the unique properties of clay, and I hope it may lead to the creation of more dynamic, colorful and durable buildings.
---
[i] Rose Slivka and Karen Tsujimoto, The Art of Peter Voulkos (Japan: Kodansha International, 1995), 60.
[ii] In Studio Potter, see "Architectural Terra Cotta: 1900-1990," Vol. 17, No. 2, June 1989, pp. 40-48.