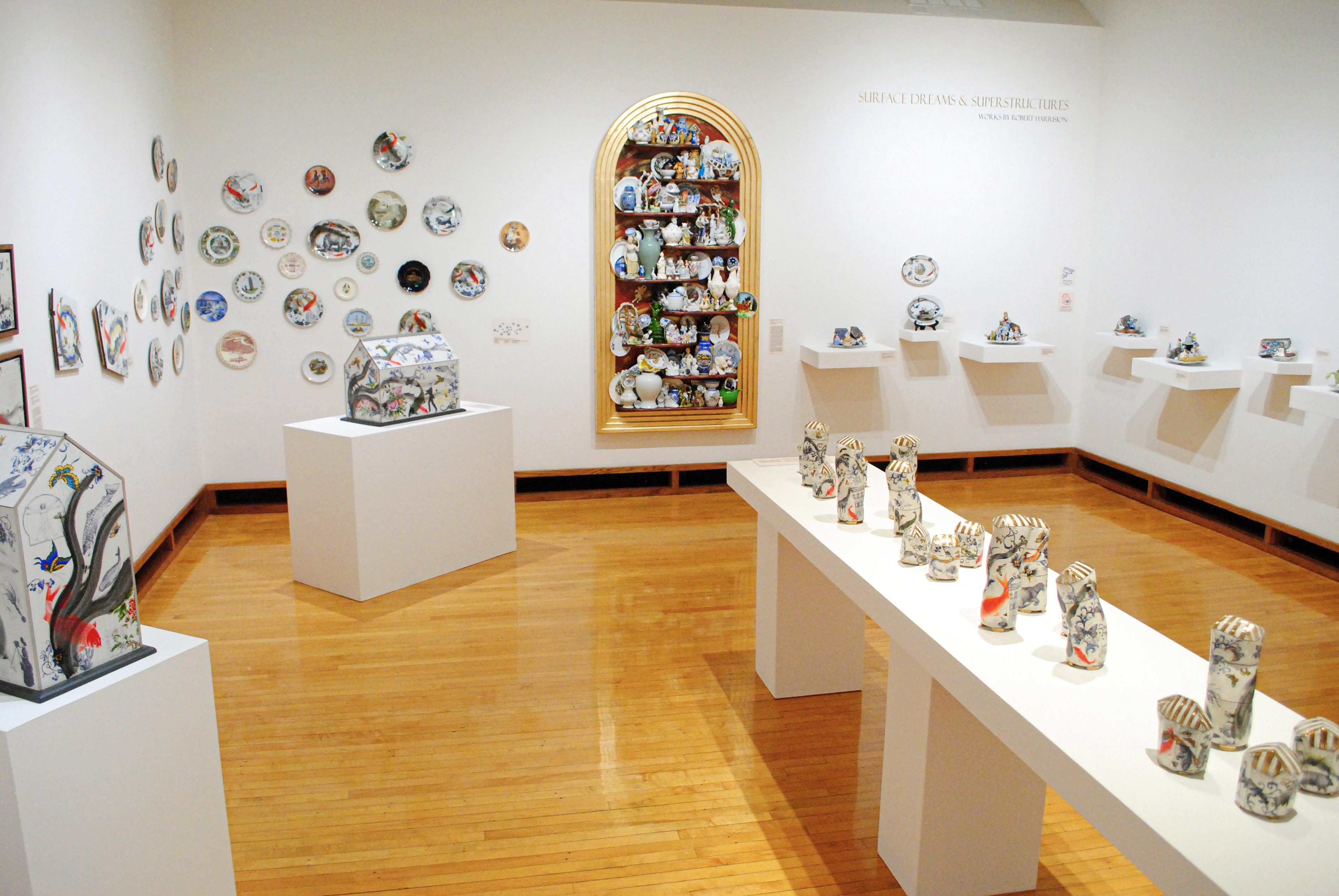 Surface Dreams and Superstructures, Works by Robert Harrison, on view from June 30th, 2023 to January 12th 2024, highlights selected and new works by artist Robert Harrison, who is globaly celebrated for his ceramic sculptures and architecturally inspired site-specific installations. The work is presented by the Paris Gibson Square Museum of Art and is showcased within the Wylder Gallery as well as the museum's Sculpture Garden. The exhibition explores interactions between the built environment and interior domestic space – real, implied, and imagined. The intent of the exhibition is to address intermingling dichotomies of meaning between the swirling decal dreamscapes, agglomerations of objects, architectural forms, and space. All while emphasizing society's relationship with wealth, waste, and history.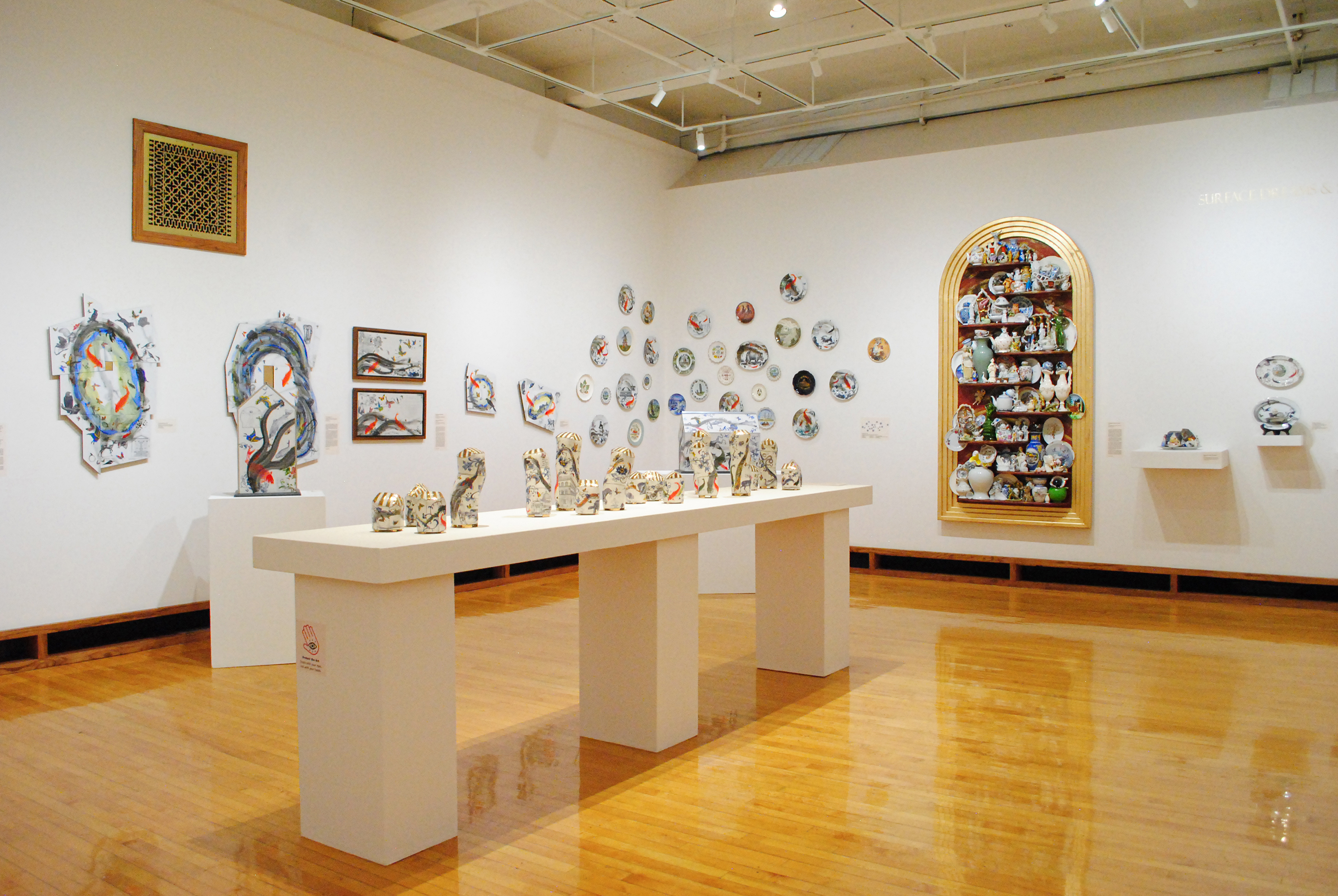 Curator of Exhibitions and Collections, Nicole Maria Evans, points to Robert Harrison's work as evidence of his dedication to invention, innovation, and sustainability within the field of ceramics. His enthusiasm for researching the historic precedents of fine China, brick making, ancient structures, functional, and technical innovations in ceramics or architecture goes beyond appreciation. Harrison's deep connoisseurship and practice reinvigorate appreciation of discarded creations or materials, with a critical yet humoristic tone that has transformed the field of ceramics in Montana and the United States.
---
Excerpt from the essay "Robert Harrison - Brick by Brick," in the Surface Dreams and Superstructures exhibition catalogue. 
By Randi O'Brien 
The Archie Bray Foundation campus teems with Robert Harrison's sculptures; his work is an icon of the Bray landscape and appears in every book, catalog, and tourist snapshot. Though Harrison has received acclaim for his sculptures, he has yet to be actively contextualized as a figure who, brick by brick, set the steadfast foundation for site-specific experimentation in the 1990s and program stability throughout the Bray's continued growth. Although Rudy Audio was the first to explore architectural ceramic by means of tiled murals on the Bray campus in 1952, Harrison was the first to explore actual architectural structures, towers, walls, and arches freestanding from conventional buildings. Harrison is the first Bray resident to unite his art within the surrounding environment, and Harrison has set a visual legacy and the literal foundation for the next generation of artists to experiment on the Bray grounds.
From the onset of his sculptural career with his first site-specific architectural installations, Tilex (1985) and Potters Shrine (1985-1987), and his commissioned work for the Paris Gibson Square Museum of Art (1993), Harrison embraced the geographic and communal dimensions of his sculptures. A career bolstered by the freedom of space and connectivity of community in Montana; as Harrison describes it, "Montana has been so incredibly receptive." Although living in urban city centers might offer exposure and visual inspiration for architectural sculptures, Harrison was intentional in his decision to call Montana home: "Being in the country is an entirely different experience from being in the city; there is a connected experience between people when they are dealing with the reality of the land."
Art itself – and, by proxy, artists – is not ancillary solutions to the ecosystem of dysfunctional relationships such as consumerism or environmentalism. By contrast, Harrison has repositioned himself as a laborer, listener, and educator. Harrison's site-specific sculptures become conduits for the community's experience, wherein he witnesses, listens, and feels the reality taking place around him and applies regionally specific materials to create a socially responsive work of art.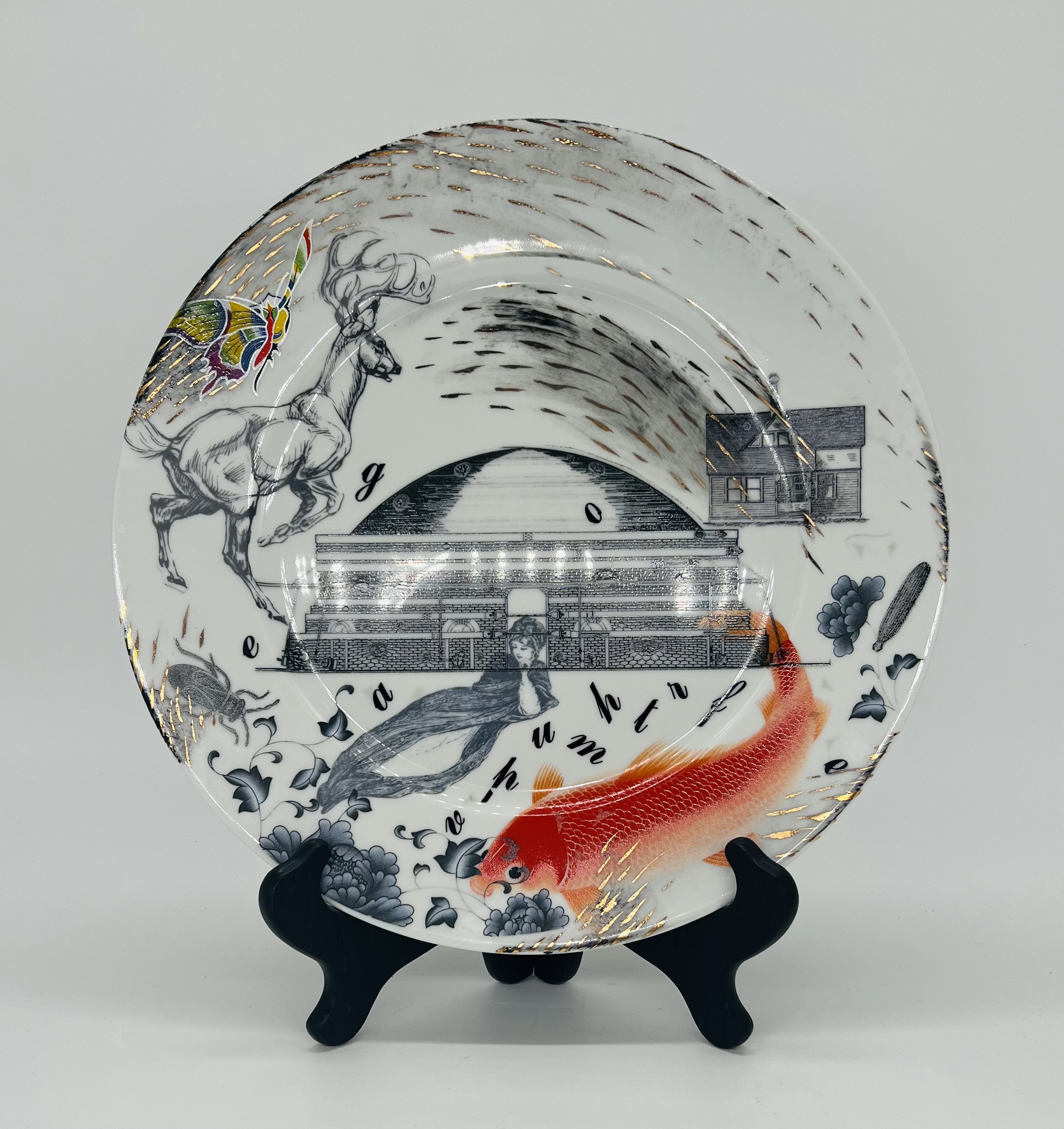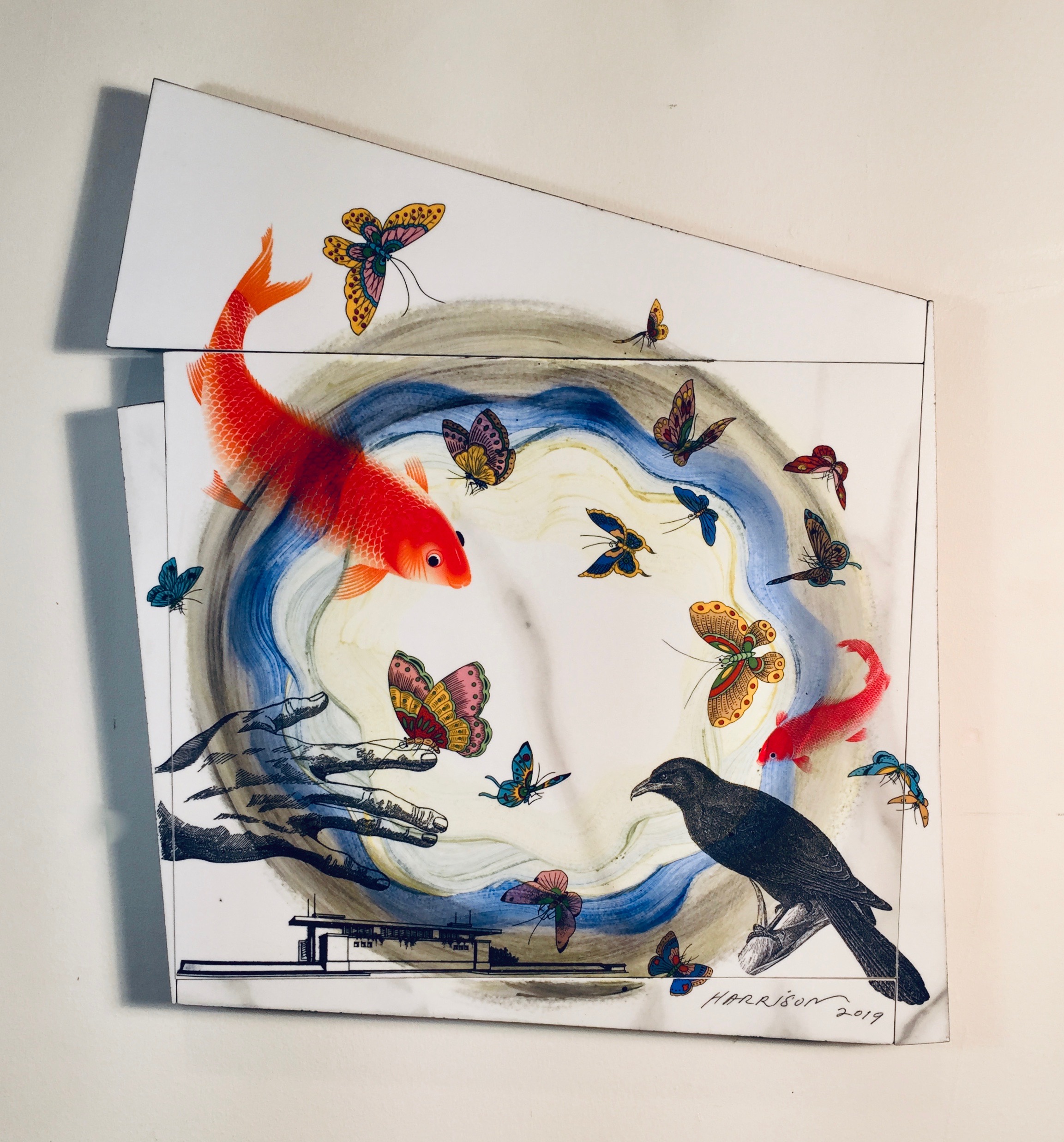 ---
Excerpts from Robert Harrison's essay for Surface Dreams Exhibition catalogue. 
Formative development
I am fortunate to have been born into a family that embraces the arts, culture, and nature. My childhood home was filled with music, musical instruments, and all types of visual art.
The 1950s seemed like an era of endless possibilities, quite perfect for dreaming about life's possibilities. In the following decade, young people embraced the concepts of love and peace along with rock and roll, which were pivotal to my development as a young artist.
I came from a working-class family with grandparents who had immigrated from Northern Europe. I stood on the shoulders of immigrants who, like so many others, worked incredibly hard to provide for their families and improve their lives for their children.
The greatest gift my generation was given was the gift of choosing a direction in life. I have many family members who chose a career in the arts, including musicians, actors, and visual artists, so the idea of pursuing a career in the arts seemed natural for myself and my family.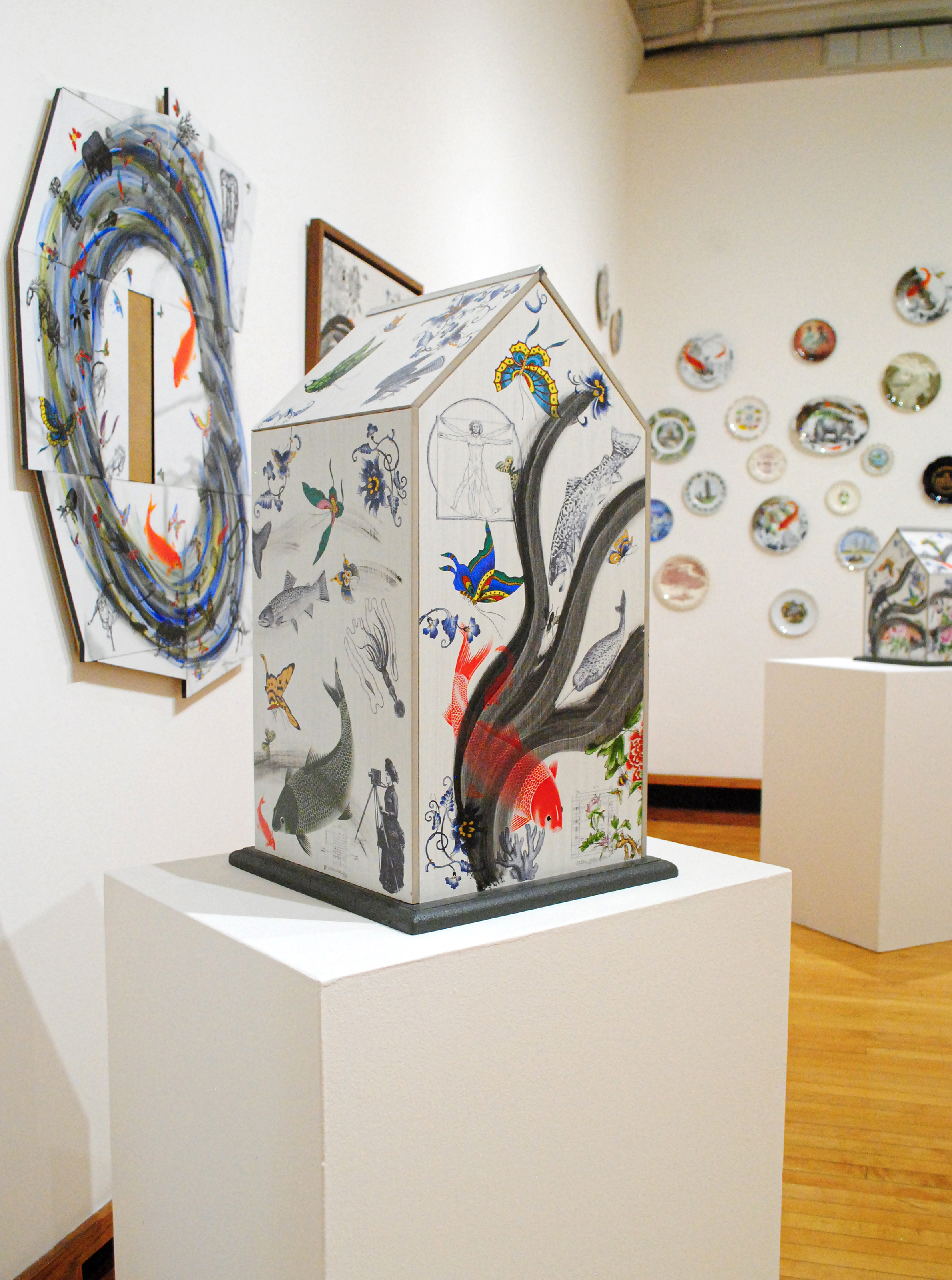 Surface Dreams and Beyond; Linking my Large-Scale Outdoor Works to the Studio Works
The work in this exhibition at the Paris Gibson Square Museum of Art was created in my Granitewood Studio west of Helena, Montana, over the span of the last decade. The works range from large-scale arch pieces for the wall to small, hand-altered pieces. There are also extruded pieces designed to be presented as a tabletop grouping, porcelain plates, three-dimensional collage pieces, architecturally based porcelain tile wall pieces, and large porcelain tile Houses.
My love of architecture and the influence of classical Greco-Roman architecture to Post Modern architecture are ongoing and an elemental aspect of my work. I made a conscious decision years ago to strengthen the relationship between my large-scale outdoor work and my studio activity. The change of scale and use of materials creates ongoing challenges that continue to help my ideas and work evolve, one scale often feeding the ideas and forms in another scale.
I am continually searching for art-making materials. The porcelain objects I utilize often come from thrift stores and Ikea-like box stores that contract with industrial designers and facilities globally to produce some very fine and relatively inexpensive objects. I have collected ceramic decals since the 1970s and recently had an amazing gift land in my lap. Judith Schwartz, a long-time friend from New York City, is the executor of the estate of Howard Kottler. She was putting together a donation of a portion of his vintage ceramic decals for the Smithsonian Institution, and knowing the influence Howard had on my early ceramic development, she generously offered to send me a number of his collected decals. Needless to say, I was excited beyond belief but also felt a real responsibility to honor Howard with some porcelain plates made in my own style using both china paint and his vintage decals. I recently finished this series of plates and will have them on display at my Granitewood Studio this summer.
Big Red House and Silver Shadow House
The indoor exhibition at PGSMOA coincides with the installation of two new permanent outdoor sculptures gifted to the museum collection. Fabricated in Helena earlier this year, the Big Red House and the Silver Shadow House were designed specifically to complement the beautiful Montana sandstone entrances on the north side of the museum. Architect William White's 1896 Great Falls Central High School is one of the crown jewels of historic architecture in Montana, and my goal was to bring renewed attention to this part of the building.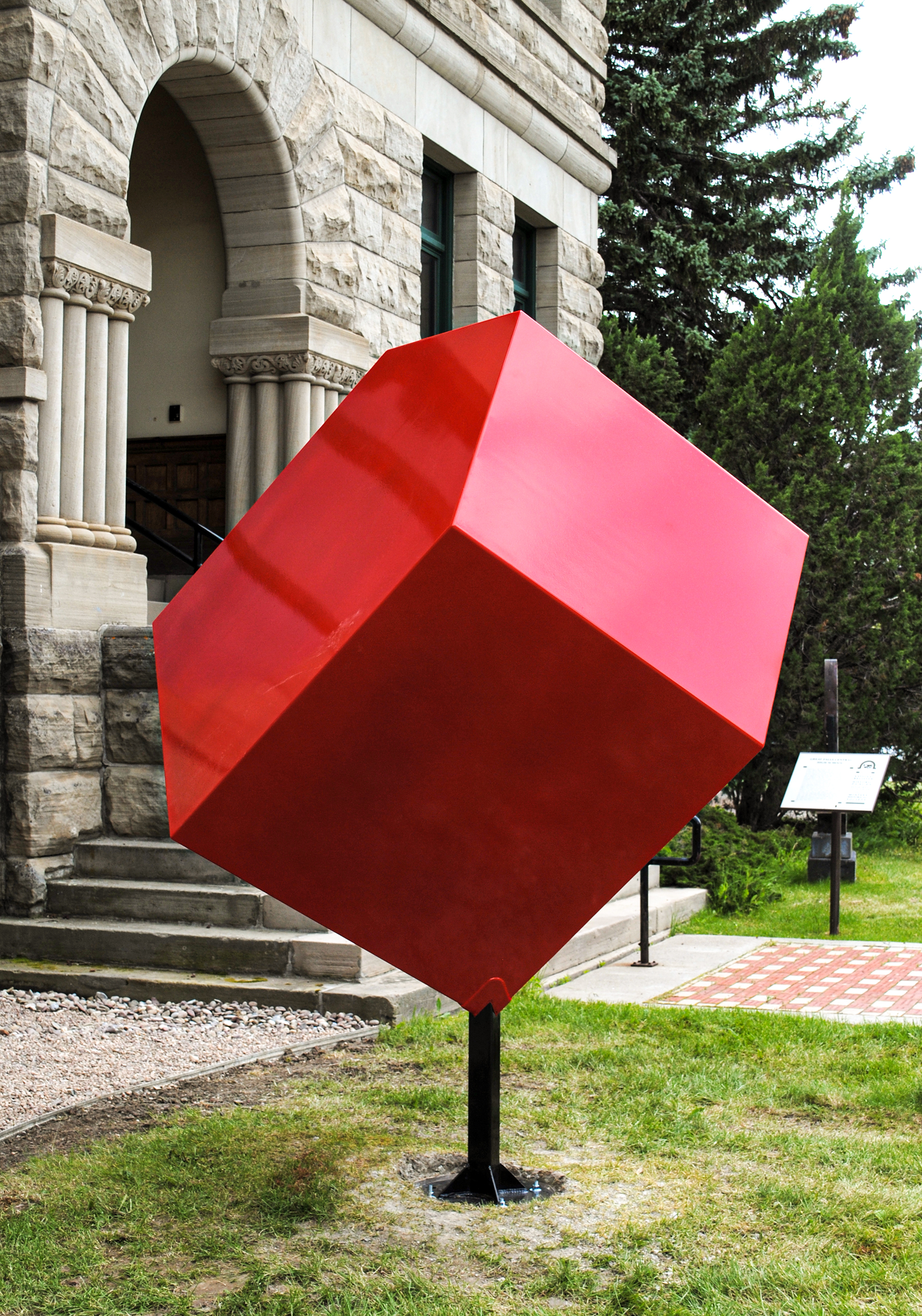 ---
Programming for Surface Dreams and Surface Structures, Works by Robert Harrison includes:
1) An artist discussion with Robert Harrison, Nicole Maria Evans (Curator of Exhibitions and Collections), and Randi O'Brien (Associate Professor at Irvine Valley College and Editor of Studio Potter Journal), on September 15, 2023 at 5:30pm;
2) A museum catalogue featuring essayettes by Robert Harrison, Nicole Maria Evans, Randi O'Brien, Nicolle Hamm, Eliza Weber, and Forward by Sarah Justice (Executive Director). The catalogue will be available on September 15, 2023 at the artist discussion and reception;
3) Artist Workshop led by Robert Harrison titled Storytelling with Robert Harrison: China Paint and Ceramic Decals Workshop, organized by Eliza Weber, Director of Education, September 22-24, 2023 at Paris Gibson Square Museum of Art.  
---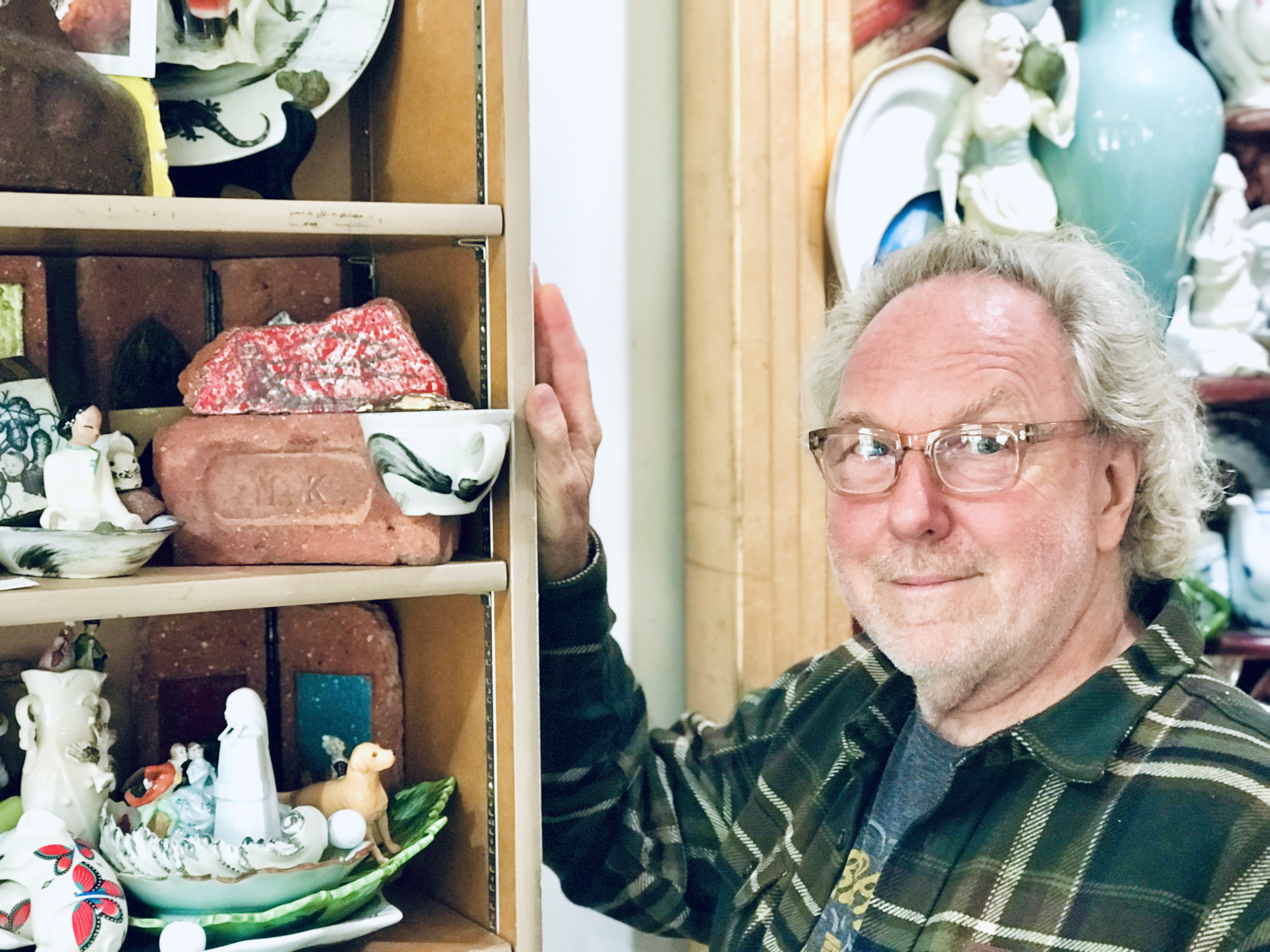 About Robert Harrison
Robert Harrison is a practicing artist who lives and works in Helena, Montana, USA. He has built his forty-plus year career in the site-specific large-scale architectural sculpture realm along with smaller-scale studio activity. He holds BFA and MFA degrees in ceramics and is a member of the International Academy of Ceramics, Geneva, the World Association of Brick Artists, and the Royal Canadian Academy of Arts, and is a fellow of the National Council on Education for the Ceramics Arts. His exhibition and installation record is extensive and global.
Harrison's book Sustainable Ceramics: A Practical Guide was co-published by Bloomsbury (London) and the American Ceramic Society (Ohio) in the fall of 2013.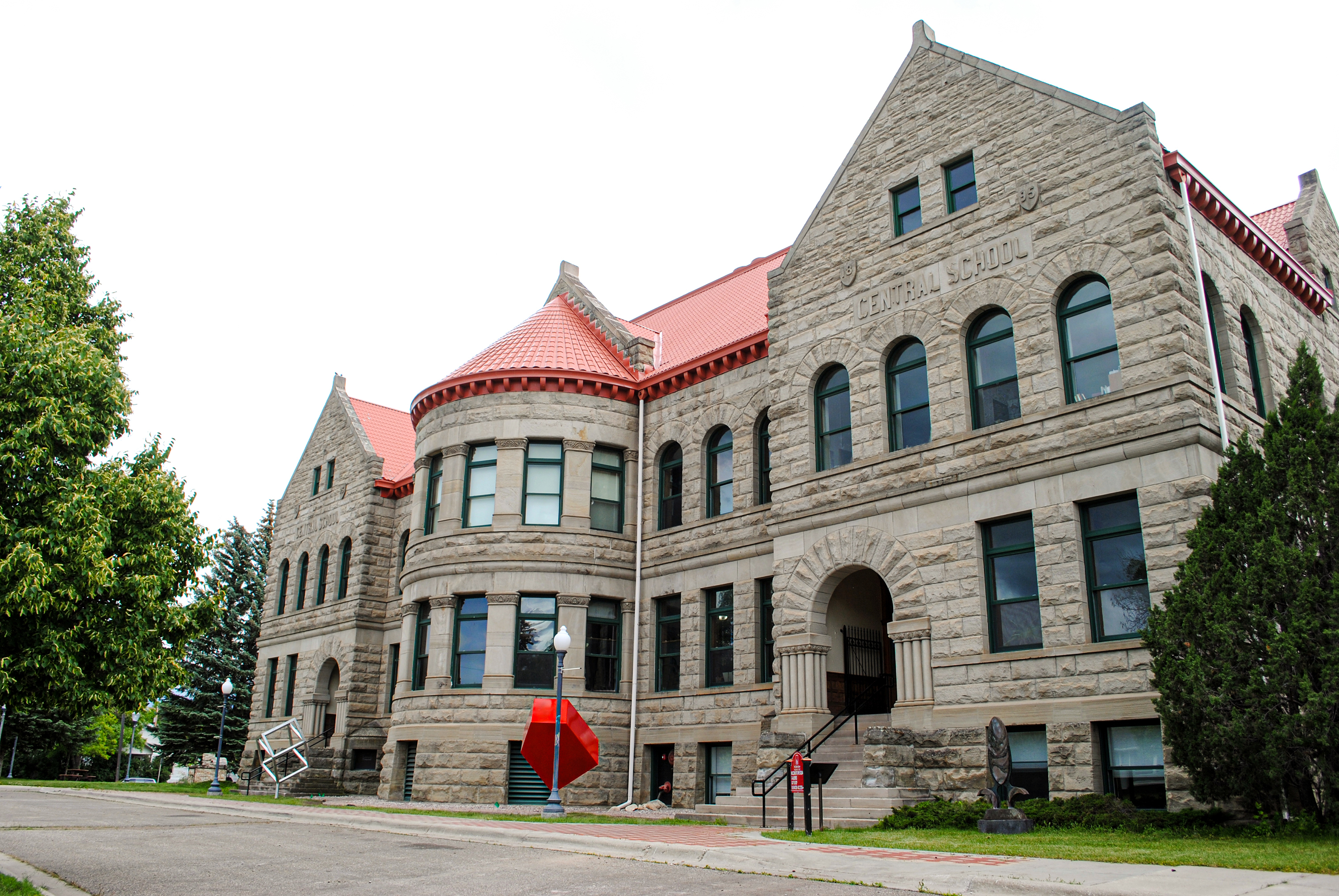 About the Paris Gibson Square Museum of Art
Paris Gibson Square Museum of Art is north central Montana's only contemporary art museum. Founded in 1977 and located in Great Falls, Montana, the museum resides in the original 1896 building of the historic Central High School. The Square is known for exhibitions that feature intriguing visionary and contemporary living artists, in conjunction with offering exciting exhibition programs and studio art classes for the community.
---
This story was brought to you through paid content opportunities. Studio Potter presents potters in their studios rather than objects in galleries. We are a journal that specializes in human-interest stories, social critiques, and historical and contemporary features. While Studio Potter avoids exhibition and workshop announcements, we understand that our partnering organizations also have stories to share. If you have an exhibition or workshop to announce – that is uniquely bound to a story – paid content may be a perfect fit to share both your advertising and story. Reach out to editor@studiopotter.org for more information.