Welcome Randi O'Brien as our new Co-Editor
Studio Potter is pleased to welcome Randi O'Brien as a Co-Editor. Beginning in January 2022, Studio Potter will have not one but two editors! The co-editors will publish in four-month blocks. Randi will bring us into the new year with a fresh, thoughtful selection of articles from January to April 2022. 
---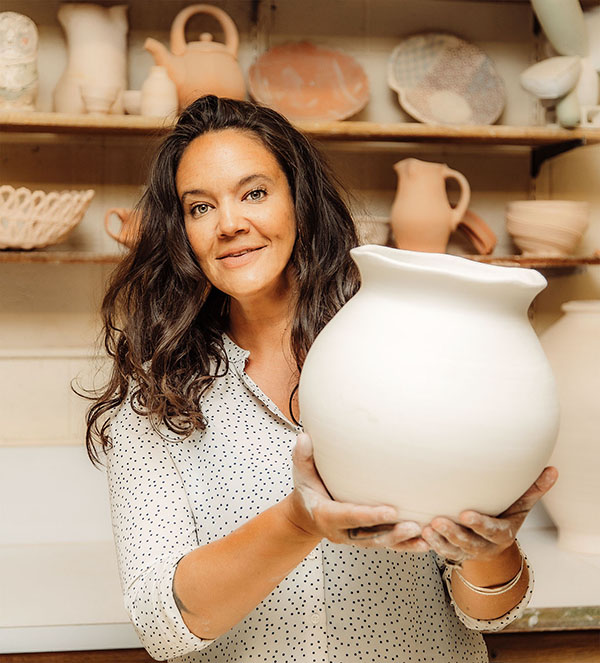 A Few Words from Randi, the New Co-Editor
It is my sincere pleasure to partner with Jill Foote-Hutton, who will continue to curate authentic scholarship for Studio Potter. Jill brings a breadth of coverage to Studio Potter, and it is a tremendous honor and privilege to parallel in her efforts to encourage and nurture scholarly contributions that broaden our journal's engagement.
As a multiracial woman from the Rocky Mountains who loves the outdoors, I inherently lean towards a mindset of stewardship. As co-editor and steward, I am unwavering in protecting and honoring places and traditions while critically reflecting on and responding to current and future socio-political movements. I, along with Jill, will work to secure a place for intellectual diversity, a place for shared meaning-making, and a place for you to tell your story.
Thank you for welcoming me into Studio Potter's collaborative scaffolding and for the opportunity to be in service to you.
-Randi O'Brien
---
Randi O'Brien is a ceramic artist, historian, writer, and educator. O'Brien's degrees include an MFA in Ceramics and an MA in art history from the University of Montana, a BFA from Montana State University in Bozeman, and a BA with K-12 teaching licensure from Fort Lewis College in Durango, Colorado. O'Brien is currently the associate professor of ceramics for Montana State University in Billings.
Beyond education and teaching, O'Brien was the gallery director for the School of Art at Montana State University in Bozeman. Her directorial experience further includes serving as the gallery director at the Rosalie Steiner Art Gallery in Western NY while simultaneously serving as head of the art history department for Genesee Community College.
O'Brien has curated numerous exhibitions across the United States and has presented her research at conferences and for organizations, including: NCECA, the National Cowgirl Hall of Fame, The Women as Change Makers Summit, Montana Education Association, Xuchang International University, Ceramics Ireland's International Ceramic Festival, among others.
O'Brien's research and writings have been published in Ceramics Monthly, Ceramics Art and Perception: TECHNICAL, Ceramics Ireland, and in many catalogs.
O'Brien exhibits internationally and across the United States; selected locations include Kilkenny, Ireland; Valparaiso, Chile; Alberta, Canada; Xuchang, China; and numerous US states.
"I am a sculptor, potter, and video artist who chose clay and ceramics as my medium. While I navigate multiple modes of ceramic production, the narrative intention of a fable is the moral fiber within all my work. I cherish the cycles of yearning and atonement, which reveal a character's personal discovery."
 -Randi O'Brien
A descendant of early Hispano settlers and Indigenous American ancestry (Apache) on her maternal side, paired with a paternal heritage of 18th century English settlers, O'Brien celebrates the different expressions of what it means to perpetually move between cultures and her multiracial identity.
While O'Brien has an extensive background in the field of ceramics, she is also the mother of an ambitious teenager and wife to an expat who lives and works internationally. She is a former fly-fishing guide, rafting guide, and ski instructor; she continues to spend her evenings on the rivers and often winters in the backcountry.
---
Studio Potter is actively seeking submission for articles. If you would like write for SP click here to learn more.