Upcoming Events
Here are a few not-to-miss events going on this holiday season in Studio Potter's neck o' the woods (New York and New England):
NOVEMBER 11, 2017 - APRIL 15, 2018
From Funk to Punk: Left Coast Ceramics at the Everson Museum of Art, Syracuse, New York. 

This exhibition brings together an eclectic group of artists whose varied aesthetic and conceptual styles capture the evolution of ceramics in California, Oregon, and Washington. The exhibition is organized by Peter Held, a longtime curator in the field and acknowledged expert in West Coast ceramics.
SUNDAY, NOVEMBER 19, 1P - 5P 
Harvard Artist-in-Residence Forum at Falmouth Art Center, Falmouth, Massachusetts 

A lecture with Harvard University's 2017-2018 Artists-in-Residence; Stuart Gair, Seth Rainville and Mark Burns- three ceramic artists at the top of their field, but at very different stages of their careers. Moderated by Kathy King, OFA Harvard Education Director. Followed by a wine and cheese reception.  Click the link above, or visit the Facebook event page for more info. 
FRIDAY - SUNDAY, DECEMBER 1 - 3
43rd Annual Pottery Sale at The Art School at Old Church, Demarest, New Jersey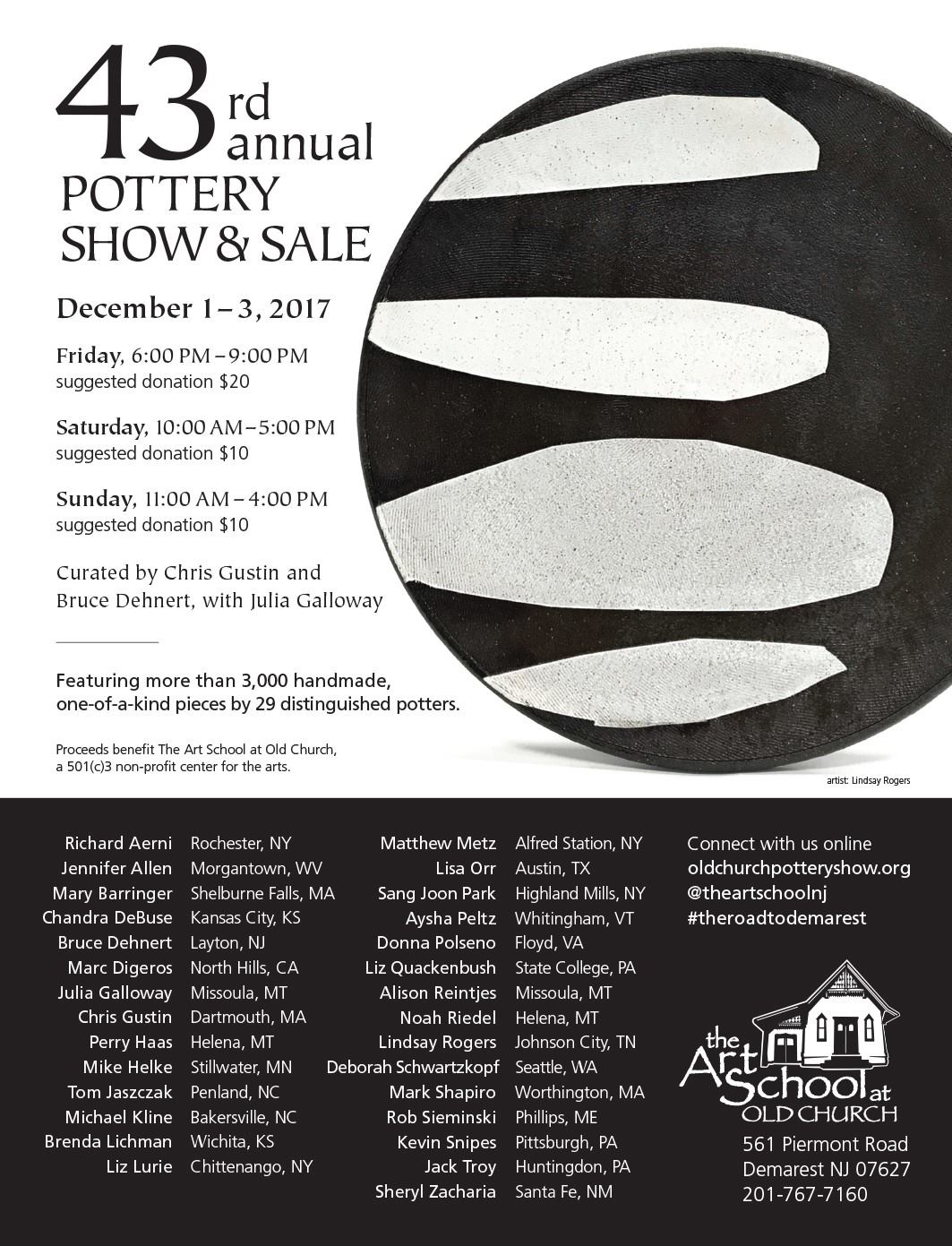 The Old Church Pottery Show and Sale began in 1975 as a fundraiser for The Art School at Old Church by long-time friends Karen Karnes and Mikhail Zakin, Art School founder. They wanted to bring together their vibrant community of potters with the local community to offer an opportunity to purchase one-of-a-kind works of art while supporting the newly-established cultural resource. The show has grown to include 30 national and international artists and offers more than 2,000 pots for sale over its three-day span. For more info, including open hours and tickets: oldchurchpotteryshow.org
FRIDAY, DECEMBER 9, 3P - 5P
Mark Shapiro + Sam Taylor, Two For The Road at Lacoste Gallery, Concord, MA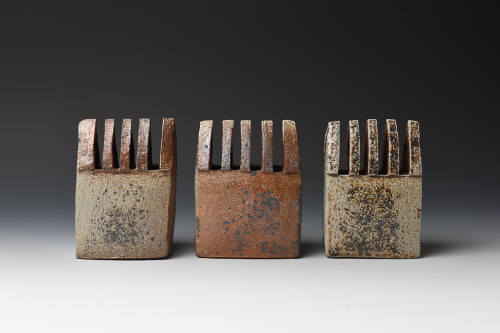 Exhibition runs December 9 - 31, 2017. More information at lacostegallery.com
THURSDAY - SUNDAY, DECEMBER 14 - 17
Craft Boston Holiday presented by The Society of Arts and Crafts at Hynes Convention Center, Boston, Massachusetts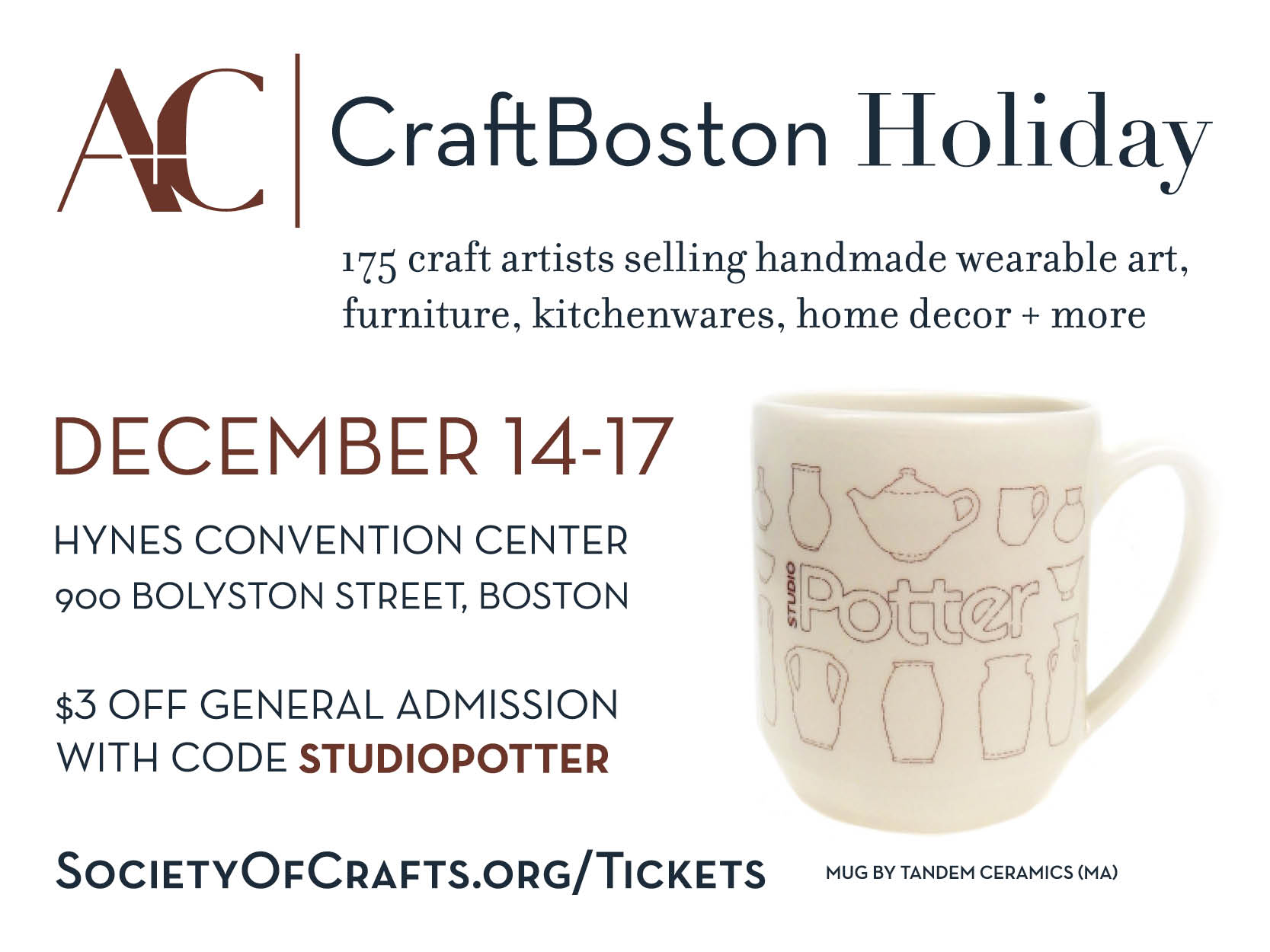 Twice a year, SAC hosts craft artists from all around the country for the region's premier, juried exhibition and sale of contemporary craft. Guests meet and interact with the artists who make handmade goods using centuries-old skills in mediums like ceramics, fiber, glass, metal, and wood. A ticket to CraftBoston Holiday supports its presenter, Society of Arts + Crafts, the nation's oldest craft nonprofit. Studio Potter will sponsor the "Emerging Voices" award for excellence in clay and ceramic work by emerging artists. Winners will have the opportunity to write a short article to be published in a future issue of the journal.