Studio Potter Attends a Roberto Lugo Lecture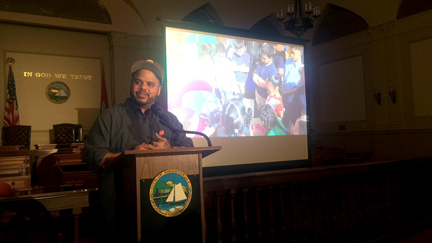 On Friday, November 30th, Studio Potter's Executive Director Anthony Stellaccio and board member Ben Eberle attended a lecture by Roberto Lugo, hosted by Bailey Pottery, and held in the city of Kingston, New York. This is what Anthony had to say about it:
A Bailey Pottery party and a Rob Lugo lecture should both be bucket list events for any ceramist. Lugo's lecture was as compelling and heartfelt as it was entertaining and that rings loudly as Lugo recounted his rise from poverty to art student, and to the recognized artist that he is today. Lugo laughed, rapped, and managed to open a lot of eyes to the truth of something that many of us don't see everyday: economic struggle and the power of art to elevate. This is a complex guy that you can try to assess from a number of angles, one of them being as an artist, but in whatever you come up with, at the core, Lugo is a powerful and punctual advocate. Top that off with conversation between Rob, Jim and Anne Bailey, Arnie Zimmerman, and others, and you are in for some profound conversation, great spirits, and a wealth of stories and insight into the ceramic arts.       
(Photos courtesy of Anne Bailey.)