November Local Shows and Openings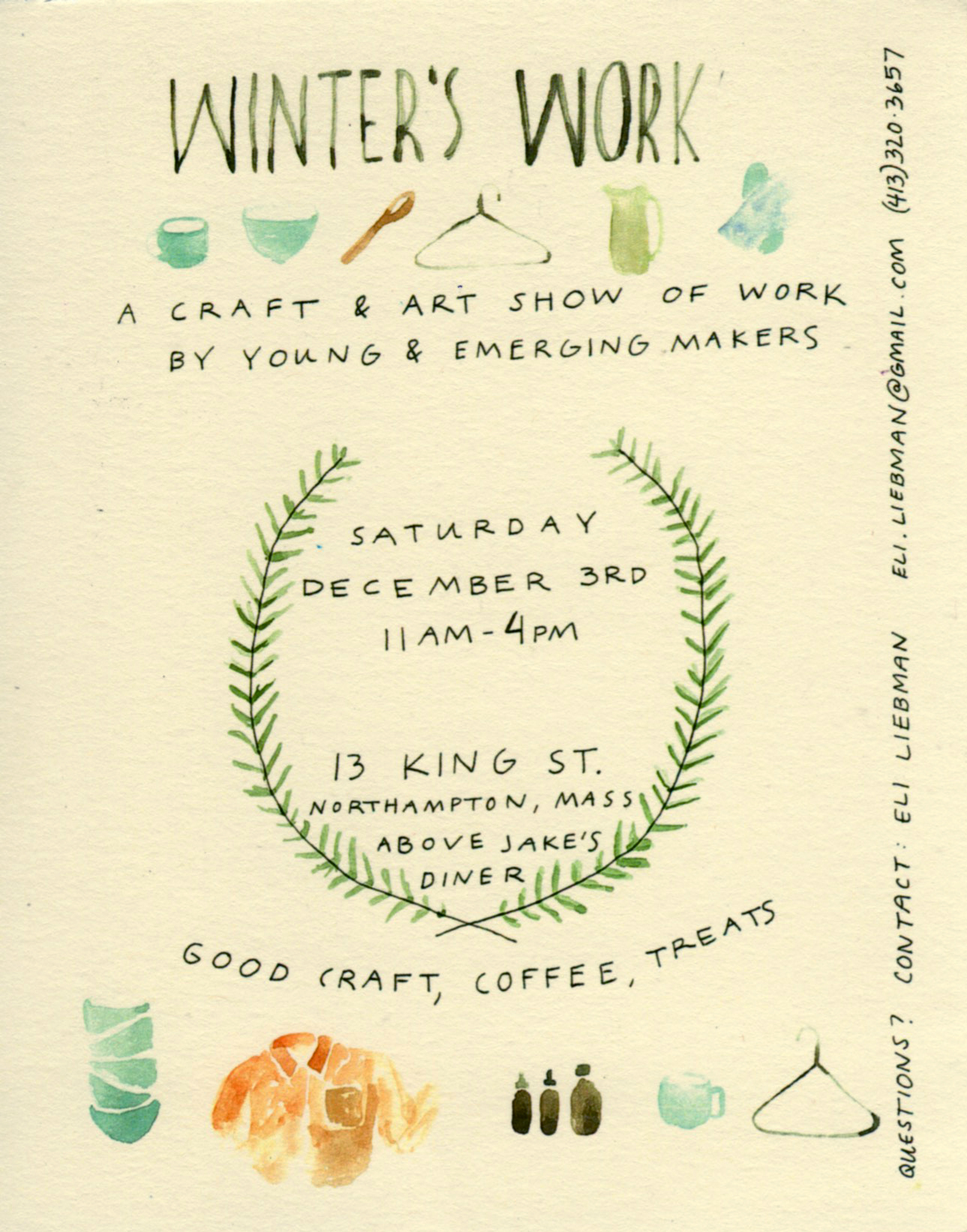 Since Western Massachusetts is our home, the staff members at Studio Potter take special pride in supporting the rich and varied community of artists here. We make a point to fill our homes with pots from local ceramists, and attend shows, gallery receptions, and open studio events as much as possible. Here are a few upcoming local events: 
Wednesday, Nov. 16
Strange 'Round Here: A Collaborative Exhibit in Ceramics opens at the Lavender Door Gallery on the campus of the Austen Riggs Center. This show features work from Northampton artists Michael McCarthy and Benjamin Z, and runs Nov. 16 to Dec. 2. The opening reception is Wednesday, November 16th, 5:00 - 6:30 p.m. 37 Main St., Stockbridge, MA
Saturday - Sunday, Nov. 19 - 20
The annual Makers Market is taking place. Makers Market is an invitational craft show featuring contemporary, one-of-a-kind goods and gifts. Buy local, handmade, original art and crafts from a talented group of artists offering unique, affordable, high-quality pottery, jewelry, metal work, and more. Saturday 10:00 a.m. - 5:00 p.m., Sunday 11:00 - 4:00 p.m. 32 Masonic St., Northampton, MA
Friday - Sunday, Nov. 18-20 and Nov. 25-27
Snow Farm, The New England Craft Program is hosting their annual Seconds Sale. 150 craftspeople from across the country are represented at the sale. Snow Farm opens its spacious grounds to visitors for an early holiday outing, which can include making your own glass ornament in the glassblowing studio, a stop at the cafe for hot drinks or a light lunch, and excellent shopping. Glassware, pottery, wooden bowls and cutting boards, scarves and bags, jewelry and much more are for sale.  10:00 a.m. - 4:00 p.m. each day. November 18th, 19th, 20th as well as November 25th, 26th, 27th. New work is put out each weekend so don't be afraid to go back again. 5 Clary Rd., Williamsburg, MA
Saturday - Sunday, Nov. 26-27 & Dec. 3-4
Sideways Studio Holiday Show + Sale 2016. Studio Potter board member and potter extraordinaire Hayne Bayless is hosting four guest artists at his studio and home in Ivoryton, Connecticut. His guests include Mara Lavitt (textiles), Liz Pagano (monotypes, mixed media and jewelry), Sam Taylor (pottery), and B. Lucy Stevens (paintings). Get more info at sidewaysstudio.com. 56A Pond Meadow Rd., Ivoryton, CT 
Friday - Sunday, Dec. 2-4
The Art School at Old Church hosts its 42nd Annual Pottery Show & Sale in Demarest, New Jersey. Curators Bruce Dehnert and Chris Gustin have brought together a group of the country's master ceramic artists who are pushing limits in functional and decorative, contemporary pottery and sculpture.  This year's sale is dedicated to the original curator, Karen Karnes, who died peacefully earlier this year, and who was a beloved and mighty force in the pottery community. Get more information at oldchurchpotteryshow.org. 561 Piermont Road Demarest, NJ
Saturday, Dec. 3
Winter's Work: A Craft & Art Show of Work by Young & Emerging Makers is taking place in downtown Northampton. The first show of its kind in Northampton, Winter's Work seeks to highlight the work of early career artists who call the Pioneer Valley home. Potters, print makers, fabric artists, and jewelers will be showing their wares. Good craft, coffee, and treats sound like a winning combo. December 3rd, 11:00 - 4:00pm. 13 King St., Northampton, MA (Above Jake's Diner)
If you have local events you'd like to see published on our News page, please contact Josh at membership@studiopotter.org.