In This Issue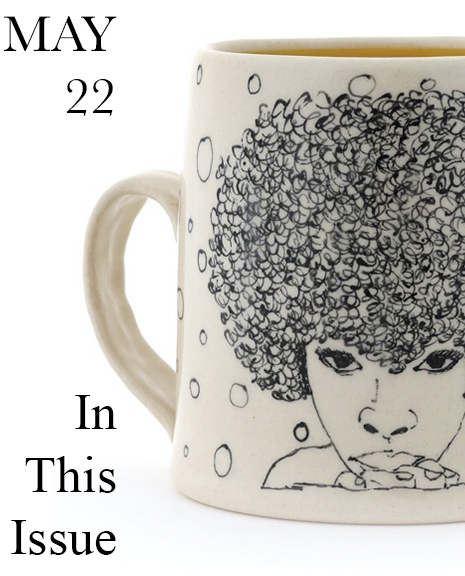 Last month, Studio Potter asked readers what they felt were the most relevant issues for ceramic artists in 2022. We received over a dozen responses, and one reader, @dominicpottery, commented, "balancing survival – from making pottery to artistic exploration and growth." This theme, in many ways, has been a long-running series for Studio Potter. A quick Studio Potter keyword search for "survival" will offer up over seventy archival articles: surviving a crashing economy; surviving cultural valuation, i.e., craft vs. art; surviving racism in the field of ceramics; surviving graduate school; surviving the transition to full-time studio potter. Dare I continue to list the multiple modes of survival and articles about artists on the creative frontlines that endow Studio Potter's legacy? As a community of ceramic survivalists, we should be proud of the progress that our collective efforts have brought to bear over so many years. 
While sharing in our universal ceramic struggles is cleansing and cathartic, I believe what contemporary readers want are mindful and practical solutions to the varying forms of ceramic-related struggles. In this issue, we are pleased to share three stories that address the thoughtful and realistic steps contemporary ceramics artists are taking to find solutions to their individual experiences. Adam Shiverdecker explores the struggle between practicality and absurdity, finding creative solutions in models of disruption where he challenges norms in the form of "Absurd Mugs." In our second article, Susannah Israel documents how the potters wheel has been her respite and anchor during the most challenging times in her life. In our third and FREE article Michele Ettrick shares her journey out of homelessness and into a career as a ceramic professor and emerging artist.
In the spirit of solutions and artistic growth, Studio Potter announces the opening of the Grants for Apprenticeships Program, which offers annual grants of up to $10,000 to support apprenticeships in studio pottery. This grant is a unique solution for potters seeking non-academic training. GAP supports emerging artists who want to become full-time studio potters and mentor-potters who wish to take on apprentices. Studio Potter celebrates equality, diversity, and inclusiveness. Applicants from all races, genders, identities, ethnicities, and religions are encouraged to apply. The application opens May 1st, 2022, and is due June 1st, 2022. 
Studio Potter will continue to address our readers' requests and thoughts on the most relevant issues for ceramics in 2022. We welcome your feedback and encourage you to submit your article ideas to editor@studiopotter.org. We are currently seeking writers to address themes of accessibility in ceramics.
-Randi O'Brien