Giving Thanks Sale
Studio Potter journal is thankful for you, our readers.
To express our gratitude this year, we are offering a free, one-year gift membership with every regular ($70), multi-year ( 2-year, 5-year, 10-year or lifetime), or renewal membership purchased between November 20th and November 27th, 2018. Buy your membership and gift one to a lucky recipient on us! Who will you give it to? Perhaps a friend, colleague, neighbor, or studio buddy that you keep borrowing tools from?
---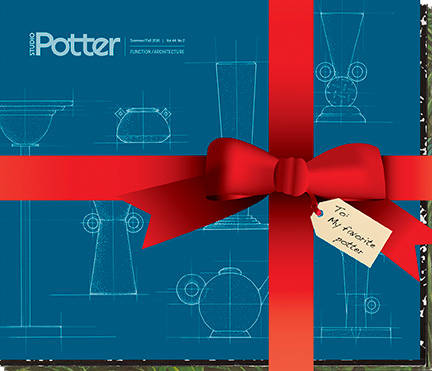 To participate, renew your membership online or by mail. (For mail-in: download the printable renewal form; be sure to date your renewal, and note that you want the gift membership promotion; postmark on or before November 27th). Then, choose one of the two options below to give the gift membership.
1. Gift via the internet. Email membership@studiopotter.org the name, email, and full mailing address of the person you would like to give a membership to. We will mail the gift issues along with a card that says the gift is from you. Let us know if you have a special message to include in the card. Easy peasy, we do the work!
2. Give the membership in person. Email membership@studiopotter.org to request the gift membership be sent to you along with your first issue. We will send you the first issue and free back issue of the gift membership, along with a membership card for the receiver to fill out and send back to us. This way, you can wrap up the membership and give it when the time is right! 
The fine print: This promo only applies to new and renewal regular, digital, international, and multi-year memberships. Excludes Student, Young Professional, and any other discounted membership. Due to high international shipping costs, the gift membership can only be sent to an address in the USA or Canada.
If you have any questions, concerns or feedback please email Jess, membership@studiopotter.org.