Education: The Marks Project & KCAI
Studio Potter congratulates two fellow ceramics-community organizations on their recent awards: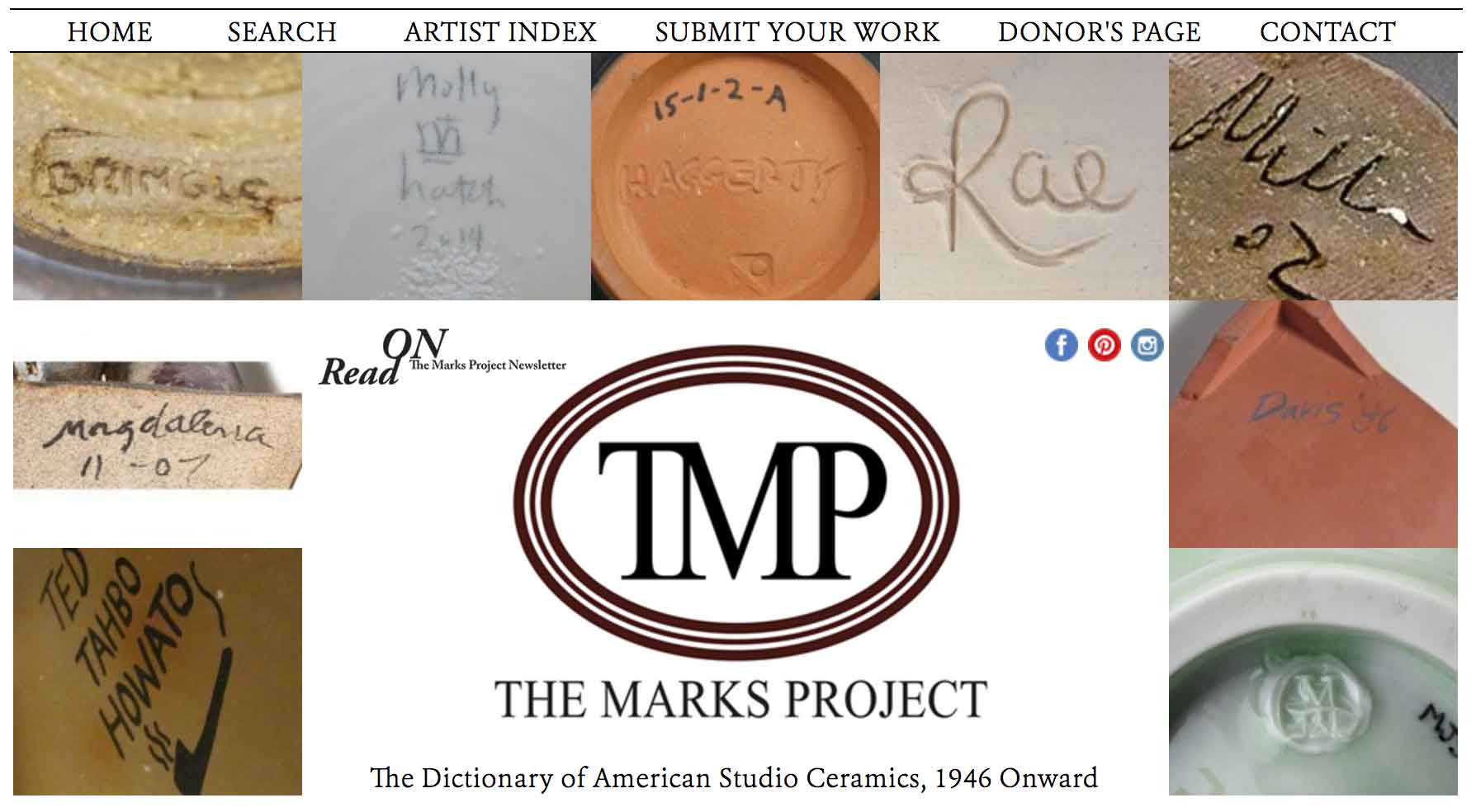 The Marks Project (TMP) recently received a $10,000 grant to further their efforts to document the distinct marks, signatures, and stamps of American ceramicists in an illustrated and searchable online database. This Craft Research Fund grant from The Center for Craft, Creativity & Design, Inc. in Asheville, North Carolina, will allow TMP to document the clay artists of the Southern Highland Craft Guild.
The Southern Highland Craft Guild was chartered in 1930 and currently represents 900 craftspeople in 293 counties of nine southeastern states. One of the strongest craft organizations in the country, the Guild seeks to cultivate the crafts and makers of the Southern Highlands for the purposes of education and conservation by using shared resources and collective marketing.
Martha Vida, founder and executive director of TMP, says this grant "will make the artists part of the accessible record, broadly visible across the U.S. and internationally, and give them an increased presence in the larger marketplace of collectors, writers, researchers, and curators."
The Kansas City Art Institute (KCAI) received a $10 million donation to build a state-of-the-art student residence hall on its Kansas City, Missouri campus. The gift, made by an anonymous donor via the Greater Kansas City Community Foundation will allow for updates catered to the modern student. The current residence hall, built in 1963, was designed for a different generation of students before the age of laptop computers and the need for reliable high-speed internet. Founded in 1885, KCAI is a private independent four-year college of art and design offering a bachelor of fine arts degree with thirteen studio majors. KCAI is Kansas City's oldest arts organization. 
Web Editor's Note: Studio Potter interviewed Donald Clark, manager of The Marks Project, in Vol. 43, No. 2 Summer/Fall 2015.