From the Editor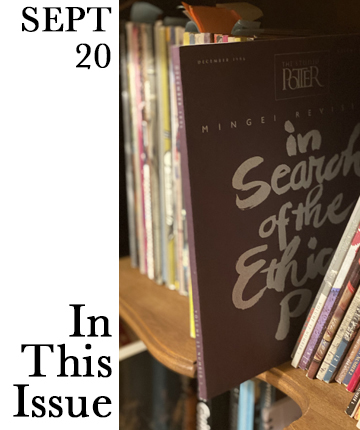 Welcome to September everyone. 
We've made it this far through 2020 – not unscathed, but we can see the year's terminating horizon with a strange combination of trepidation and hope. I can't imagine anyone would hazard a guess at this point about what lies around the corner, but we have been proving how adaptable we can be – some more than others, but all in their own time. I believe we can make the changes that so desperately need to be made. We did figure out how to turn mud into stone again after all. 
As always nature leads us; if we will only listen and observe. 
This is one of the times of year where I find myself eagerly looking to social media to see images of the seasons as they start to change around the world, marking time against time by geographic region. It sates my impatience as I wait for leaves to turn in my own backyard. These observations sit in stark contrast to watching a pandemic spread around the globe and Black Lives Matter protests unfolding in our streets; the former, a thing we didn't need; the latter, a thing we've needed for too long. And yet, while some of us may find solace in the beauty of a turning leaf or the curve of a well-thrown form, we cannot turn our eyes away from the work we need to do in our larger world. 
But, we can be gentle with each other, even when we need to be firm.
This month Studio Potter turns forty-eight. I'm actually beating the old gal to fifty, but it's nice, the kind of serendipity I like to indulge in, that we both celebrate our birthdays in September on the cusp of so many changes, on the cusp of a season. The article we are offering for free this month is written by Erin L. Shafkind. She/They examine our little niche of the world in conversations with Courtney M. Leonard and Paul S. Briggs and, in doing so, build a bridge for us to cross into this new conversation of antiracism. How do we reclaim this vessel of clay we are living in and move forward with a improved sense of utility? How do we create a better functioning vessel for the future? Feel free to share this story and use it to jumpstart your own conversations. Share the work of Briggs and Leonard with your networks. Let's get Studio Potter some new readers for her birthday.
Our intern, Michaela Corinne begins her series of three articles, wherein she interviews contemporary Black ceramists, seeking her own path by looking for faces that reflect her own from professionals who have walked, and are still walking, a path she is considering for her own life's journey. 
We get to hear from three more of our student submissions too. Shawn O'Connor shared Studio Potter with his students in the spring. He also gave them prompts to use in writing their articles to submit for publication. The result, as so many head back into uncertain classroom situations this fall, is a hopeful essay of three young voices considering how the pottery wheel has impacted their lives. Through their voices you can hear O'Connor's guiding hand. You might hear your own voice too.
In a continuation of the conversation we began in July, I pick up where we left off after speaking with Melissa Weiss and Danielle Carelock; remember they were part of the collaborative effort to write a letter ceramic artists could use upon invitation to participate in exhibitions and lead workshops? The letter is meant to challenge the status quo and encourage ceramic institutions to accelerate or begin their antiracist work. Now we get to hear from the institutions who might be receiving this letter. Leigh Taylor Mickelson, James Lobb, and Jill Oberman join me to discuss what work they have already been doing for years and how they are seeing that work in a new light. They share the revelations and difficulties of creating more room at the table. This one  – well, it's a long chat folks, but I think you'll learn a lot from it about how our ceramic organizations operate and hope to operate in the future. You may need to read it in shifts or get your favorite cuppa and tuck in for a deep conversation. 
Meanwhile, pots are still getting made – art marches forward. 
Zach Tate shares the evolution of Perry Haas's work, where centuries are colliding with deliciously disrespectful results. This new work is a great example of how new ideas are born when we tear down old rules. Studio Potter board member Ashwini Bhat interviews Kari Marboe about her project Duplicating Daniel. In this story we see a maker dealing with recreating a memory of another maker through the impressions he left, reaching well beyond the object to reveal the essence of a being. Finally, Richard Nickel has coordinated a collaborative graphic novel, pulling in the talents of Michelle Summers, Amelia Butcher, Sophia Capaldi, and Carole Epp with an intro by Mary Callahan Baumstark and a poem from Ceramics in America editor Rob Hunter.
Yes, it's September. It's time for a change of season. In the season of change the groundwork for growth is just beginning.
Be well everyone and thanks for reading,
Jill Foote-Hutton, Editor
Studio Potter