Asparagus Valley Pottery Trail Food Guide

Deceptively vegetable free, the Asparagus Valley Pottery Trail attracts shoppers and clay enthusiasts from around New England to our slice of Massachusetts every spring. But where to eat? As a local, these are my suggestions for the best spots for local fare along the trail.
Tiffany Hilton's frosting-like glazes make me hungry. Start at her studio in Florence then duck into the Florence Pie Bar. Started by Hampshire college graduates barely a year ago, the Pie Bar is a temple to all things pie. The people are always friendly (they let you sample!) and the high-top window table is a great spot for watching townspeople trickle by. The salted chocolate pie is unreal.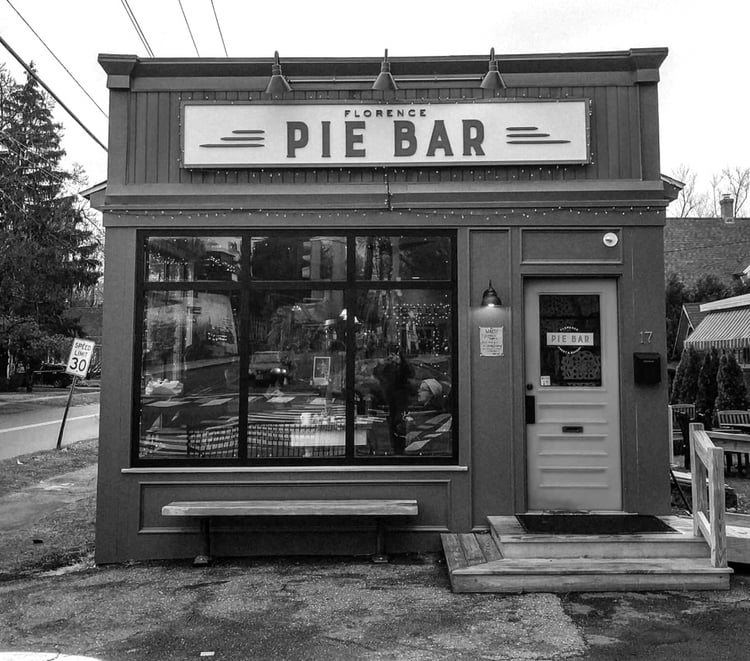 Next, go buy one of Francine Ozerko's striking black and white mugs (or James Guggina's) before getting coffee at Esselon Café in Hadley. When was the last time you had coffee beans roasted in a vintage 1969 Gothot natural gas fueled drum roaster? Bonus: Donna McGee's studio is practically across the street.
From Donna's, take the back roads on your way up to Tom White's place and pit stop at the Montague Book Mill (pictured, right). Sit on the porch of the Lady Killigrew Café with a beer and listen to the Sawmill River roaring from the spring thaw. The grilled tofu sandwich has a mean ginger sauce. The hardest part is leaving.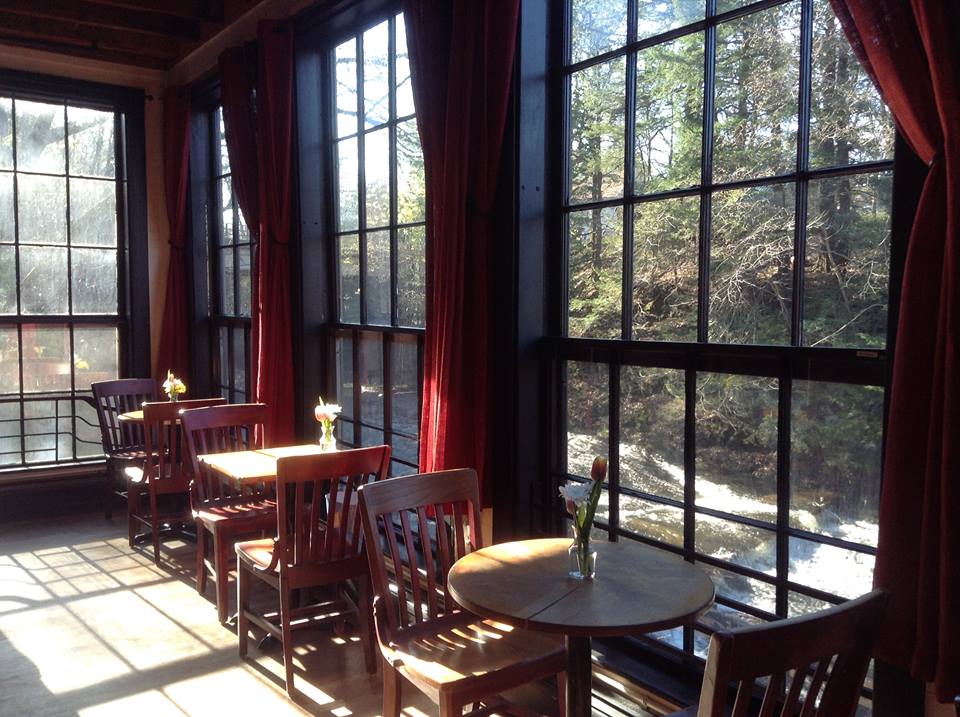 At this point there is no way you are still hungry, but that doesn't matter. As you head to Lucy Fagella's studio in Greenfield you must stop at the Brass Buckle. I dare you to find a better breakfast sandwich in the whole state. Nothing can top their egg and cheese on a homemade biscuit. Add local sausage or bacon for the full experience. Brave the Cowboy Sandwich if you have a second stomach. 
With Molly Cantor, Stephen Earp and Mary Barringer's studios all within a few blocks of each other, Shelburne Falls is an excellent place to end the trail. Go to Hearty Eats and order "The (413)" if you are feeling especially local. The horseradish-maple-miso dressing is East-meets-West(ern Mass.) and is uncommonly good. If you are actually looking for asparagus, this is your best bet. They also have an excellent food truck, making rounds in the summer months, that fills your fast food cravings while serving fresh, local, organic food.  
The 12th Annual Asparagus Valley Pottery Trail will take place April 30th and May 1st, 2016.
The Pottery Trail is a self-guided driving tour of clay studios in western Massachusetts. This year there will be 13 guests in addition to the 9 potters that will welcome visitors into their studios.  
Visit www.asparagusvalleypotterytrail.com for more information and driving directions.