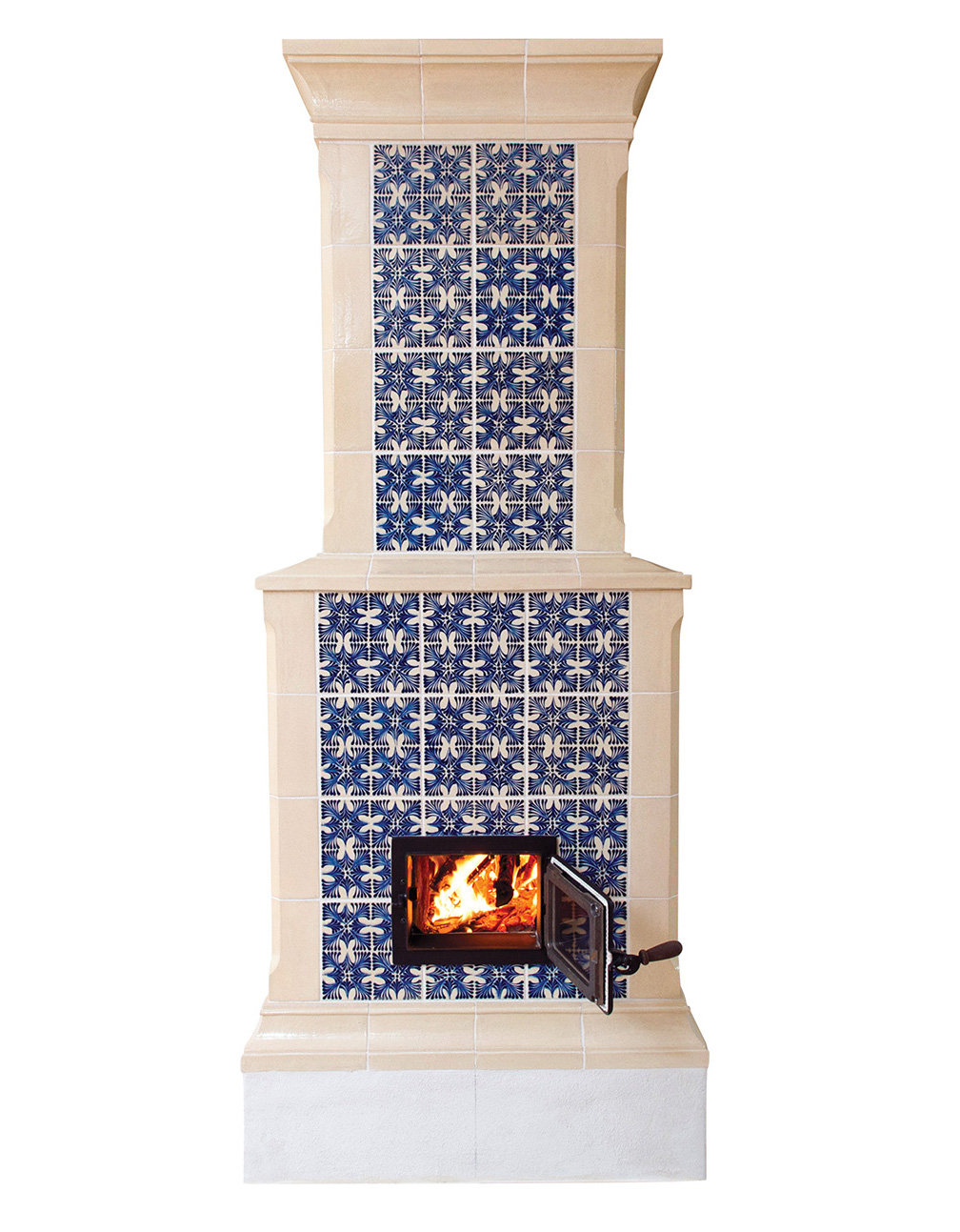 Like most worthwhile journeys, Jessica Steinhäuser's career as an award-winning ceramic artist began with a leap of faith.
At the age of twenty-two and looking for adventure, she emigrated from Germany to Canada, where she established Stonehouse Pottery in downtown Guelph, Ontario, an eclectic university town about an hour west of Toronto.
Nearly twenty-five years later, she took another leap, this time, choosing to stop producing the exquisite ceramic vessels and intricate mosaics that had built her reputation. Instead, she would devote her energies to breathing new life into an ancient craft that marries the beauty of ceramics with the function of sustainable home heating.
It was a huge gamble, and now she's busier than ever.
Steinhäuser designs and builds kachelöfen (kah-kel-low-fen), ultra-efficient wood stoves made from hollow clay bricks. She currently has two projects in progress for homes in Canada, plus another in the design phase for a client in California, and in December 2016, she met with an architect to begin work on a kachelöfen for 207-year-old barn in Duxbury, Massachusetts, near Boston. In the past decade, she's built twenty kachelöfen for clients across North America and as far away as Spain and Scotland.
"I never dreamed I would be flying all over," says Steinhäuser. "It's kind of crazy, you build about the biggest piece of ceramic you can imagine, and suddenly you're flying them all over the world."
Used to heat homes and castles in Europe for more than 500 years, kachelöfen were virtually unknown in North America until quite recently. Also called masonry heaters, kachelöfen are designed with a small firebox and a refractory brick interior that burns wood at very high temperatures and, unlike conventional fireplaces and woodstoves, with virtually no harmful emissions. The design forces the heat to rise through a winding, snakelike flue. The bricks absorb the heat and radiate it outward slowly, providing constant, comfortable warmth while the surface is never too hot to touch. Kachelöfen are so efficient that a few logs can provide heat that lasts an entire day.
"When I was a child in Germany, a kachelofen was literally the hearth and heart of our family home," she says. "I have many fond memories of the warm comfort it gave."
The diverse designs of kachelöfen in Germany inspired Steinhäuser to learn the craft and influenced her path as a ceramic artist. She had decided early in life to work with her hands after being diagnosed with dyslexia in grade school. She chose pottery as her medium and studied at the State School for Art and Design in Nürnberg. A three-year apprenticeship followed. She earned her Graduate Journeyman Potter certification from the State School for Ceramics in Landshut in 1988.
As an apprentice, she learned how to make kachel—the hollow bricks used to make the ovens—but had no clue how to put an entire unit together. Installing kachelöfen demands specialized skills and knowledge because the flue structure is custom-built for each oven. After a three-year apprenticeship, a would-be oven builder in Germany must complete additional training to become a journeyman and master of the trade.
Steinhäuser's dream was to introduce kachelöfen to North America and make kachelöfen of her own design embellished by her unique artistic sensibility.  In Canada, most people had never even heard of kachelöfen; there was no market for them and no qualified oven builders to help install them. So Steinhäuser put her dream on hold.
"When I first arrived in Canada, I didn't speak English very well, and I didn't think anyone would take me seriously if I tried to explain the idea."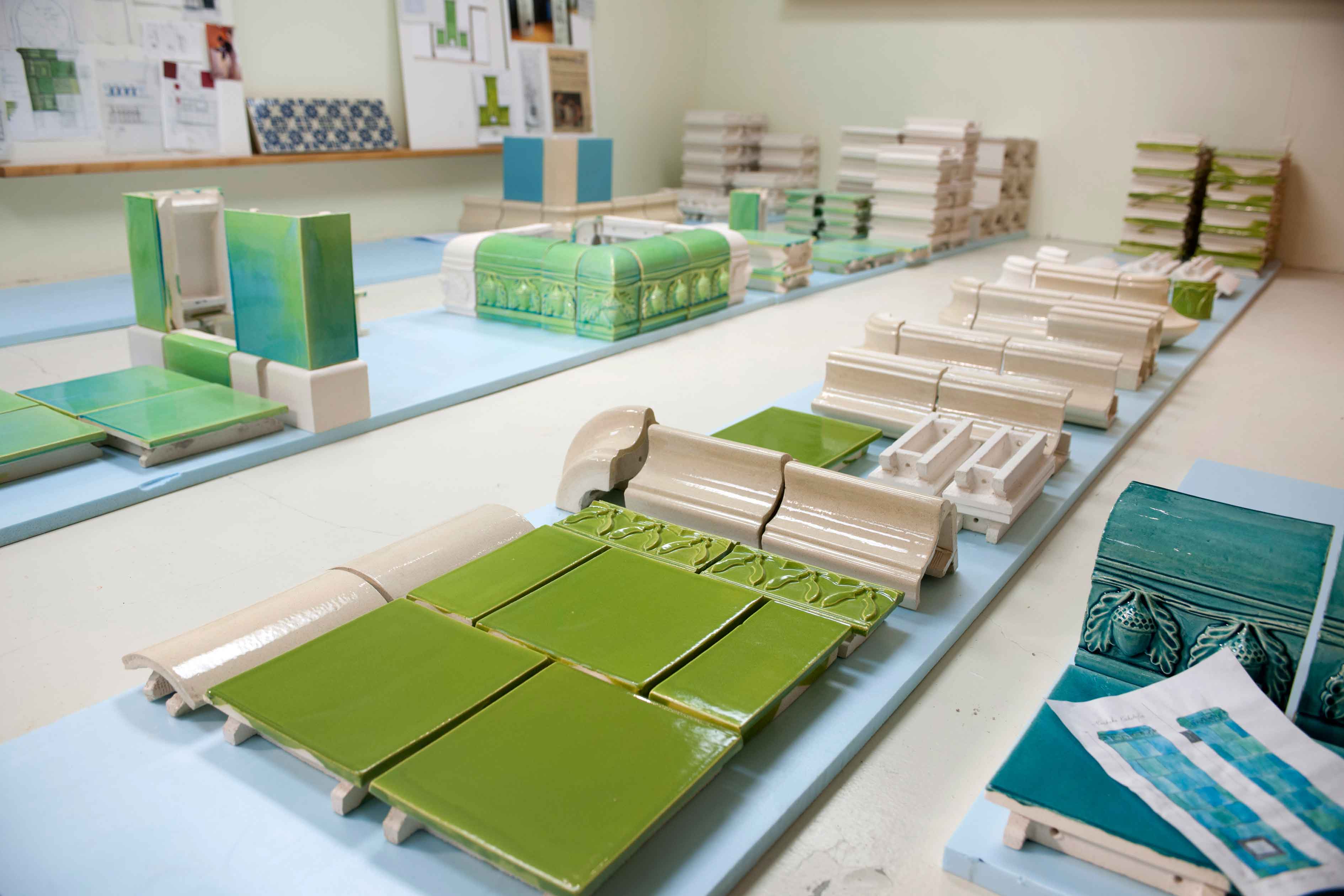 She poured her creativity into making ceramics, porcelain, and terra-cotta pieces, building her studio and shop into a local favourite, and taking on a leadership role in the Guelph arts scene. In 2005, she founded the Guelph Potters Market, an annual event that brings together potters from around Ontario to sell their wares and share ideas. She has been a mentor to many young artists, as a teacher of ceramics at the Haliburton School of Art and Design since 2007. Along the way, she married and raised a family.
But her dream of building kachelöfen never died, and about twelve years ago, Steinhäuser recalls, "I realized that if I wanted to sell this idea to people here, I would have to learn how to install these things."
That realization led her back across the pond for further study. In 2005, she travelled to Austria to work with Mario Zauner, a second-generation master oven builder who showed her how to install a functioning stove. They've worked together ever since; when one of Steinhäuser's ovens is ready for installation, Zauner flies in from Austria.
"Mario and I have a great working relationship," she says. "We're a smooth-running machine."
That machine designed and built eight kachelöfen in 2015, another four in the first half of 2016, and already has a few more in the pipeline for early 2017.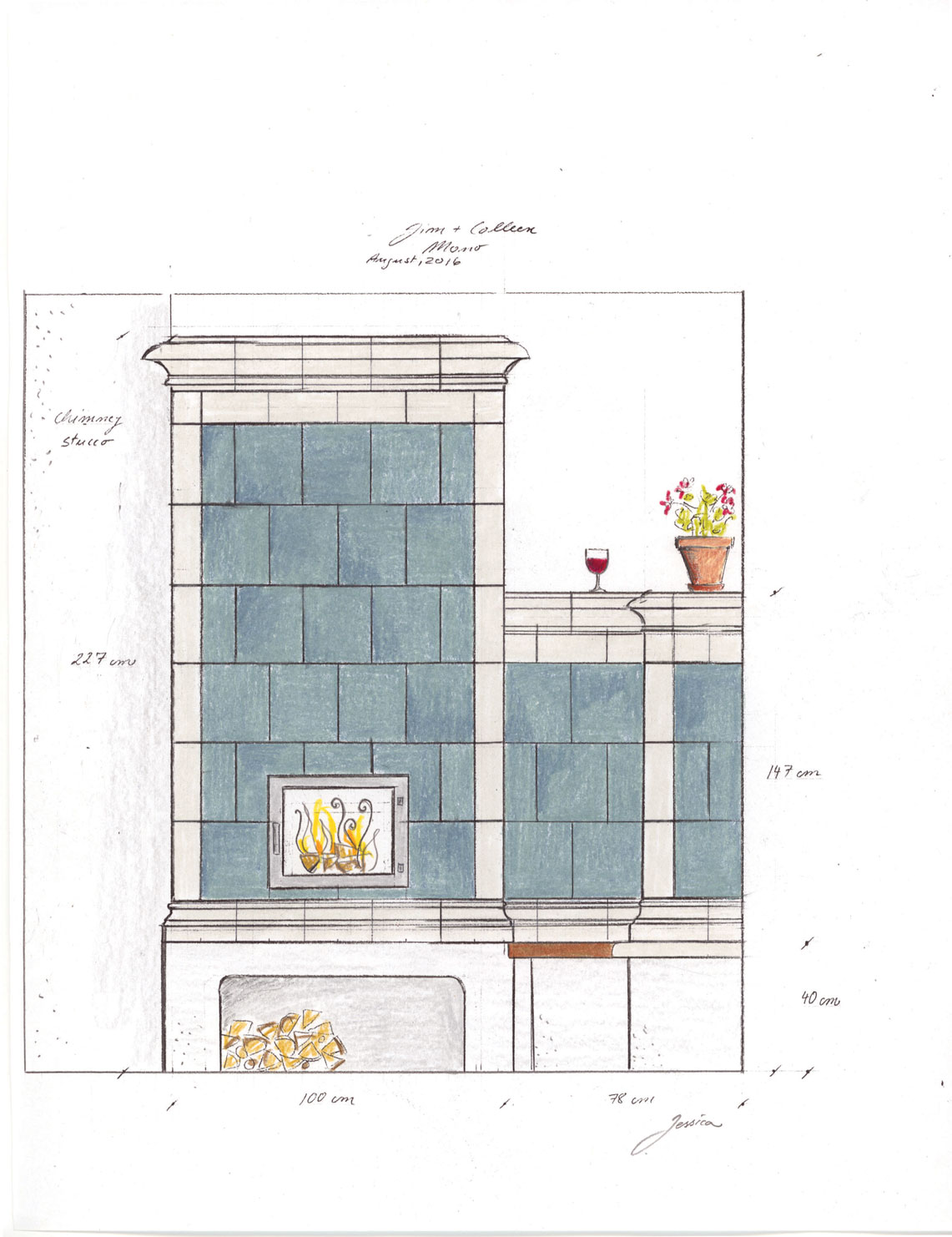 Built to last a lifetime, the production process for each oven takes a couple of months to complete. Steinhäuser uses a press mold to make the kacheln (German plural of kachel) by hand, then fires and glazes them. Once the kacheln are ready, assembling the oven takes about a week. The inner fire chamber and flue structure are built simultaneously with the finished exterior; using wooden spacers, the kacheln are placed in a double layer, two rows at a time from the ground up. The hollow kacheln on the inner layer are filled with refractory material, and the finished walls of the kachelöfen are fifteen to twenty centimeters (six to eight inches) thick. As the rows are completed, the spacers are removed, and the kacheln are then set in place with lime-and-sand mortar and wire staples. When the structure is completed, finishing mortar is applied to outside joints.
"It's amazing when you see it all come together, from a pile of flat bricks to a beautiful finished product," says Steinhäuser.
As a potter, she was always drawn to functional forms and shapes, and the forms of her kachelöfen are grounded in functionality. Each one is also unique, customized to suit each client's needs and the architectural setting. Vibrant colors, sophisticated, clean lines, inscriptions of poetry, fairy-tale sketches, and collaborations with other artists have become hallmarks of her work. The kachelofen she designed and installed for Three Glens—a contemporary "carbon neutral" house in Scotland, that won a Green Apple Environment Award in 2013 and a Scottish Design Award commendation in 2014—reflected the house's modernity. Current projects include a kachelofen with a built-in warming bench and a radiant wall behind to heat the adjacent bathroom shower; another with a cookstove and baking oven for a new sustainable home being built in Guelph; and still another that will be two stories tall and heat the basement and main floor of a house in Alberta, Canada.
"These stoves have been around since the fourteenth century and to make them both contemporary and timeless is a real challenge," she says. "It's very rewarding to create a beautiful, eye-catching piece of art that also blends into its surroundings and looks like it's been there forever."
The industry has recognized her ability to rise to the challenge: For the past six years running, Steinhäuser has placed either first or second in the design-and-build category of the Masonry Heaters Association of North America's annual awards. This year, she also received the Craft Ontario Volunteer Committee Fortieth Anniversary Award for her excellence in craft practice and a Women of Distinction lifetime achievement award from the Guelph YMCA-YWCA.
But the transition from clay-thrower to full-time kachelofen maker wasn't easy. Steinhäuser's first stove in Canada, originally intended for her own house, was "a disaster," in her words. She used the wrong kind of clay and more than half the kacheln cracked during glazing. (She kept the pieces in her gallery to explain the concept to potential clients.) It took two years, but she finally put the stove together with help from a local stonemason, and the finished piece, a rectangular cream-coloured tower, is on display in the Stonehouse gallery.
Her first kachelofen client was a Guelph city councillor who was renovating his heritage house and looking for a sustainable replacement for an old, heat-wasting, double-sided fireplace. That was in 2008.
Churning out mugs and bowls to pay the bills, Steinhäuser continued trying to raise the profile of kachelöfen as a sustainable option for homeowners, but by 2009, she was ready to give up. "We were so broke, and it really didn't seem to be going anywhere."
Then she got an e-mail from a Toronto doctor who was building a new home and was interested in installing "a few" kachelöfen to remind him of his native Croatia. "I thought he was crazy," she recalled. "There I was struggling to sell even one kachelofen, and this guy wanted three!"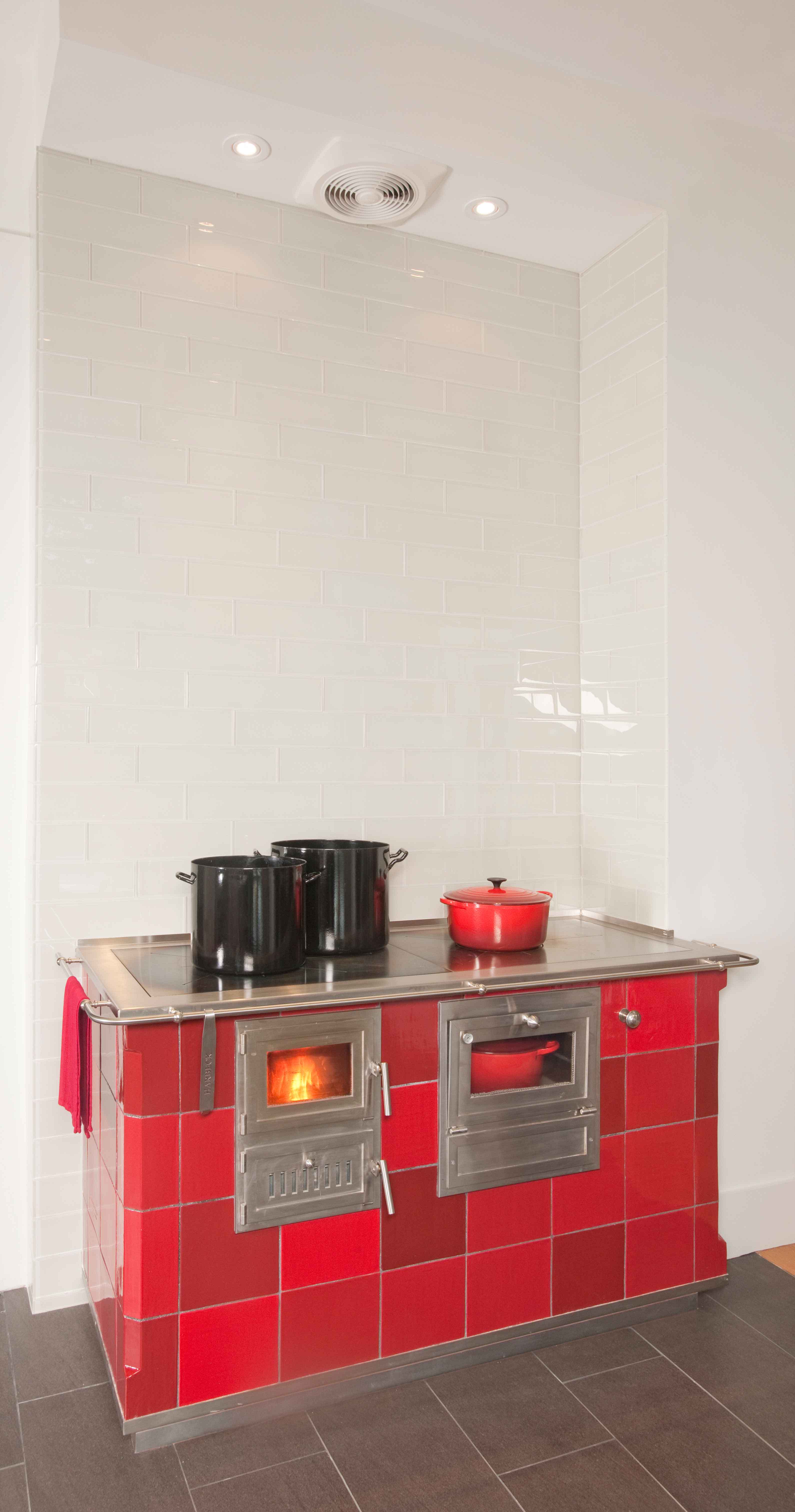 He wasn't crazy after all, though he did scale back his ambitions a little. Steinhäuser worked with the architect, and the results were a bright red cooking oven (called a tischherd) in the kitchen and, in the study, a towering sapphire-blue kachelofen, with the client's favourite childhood poem inscribed in Croatian on the crown. The project won first place in the design-and-build category at the Masonry Heater Association of North America's annual awards.
When she started building kachelöfen, Steinhäuser stepped into a male-dominated world. Even now, when she attends industry events and conferences, she's often the only woman in the room. But her gender has never been an issue on the job site, she says, and she's finally doing what she has wanted to do for a long, long time.
"Once they get to know me, I'm just another one of the guys," she says. "I feel very privileged to get to work with all the guys. I gain a lot of insights that I would never get to have otherwise."
And, as she likes to tell her students, there's so much more to working with clay than making mugs and bowls.
"It's very rewarding to be able to create something that is both functional and beautiful. I loved my career as a production potter for the same reasons. But I also love being challenged architecturally."
There is a freedom that comes from focusing on one product, moving from one stove project to the next, and being based in Canada has turned out to be liberating as well, enabling her to leave her mark on an ancient tradition.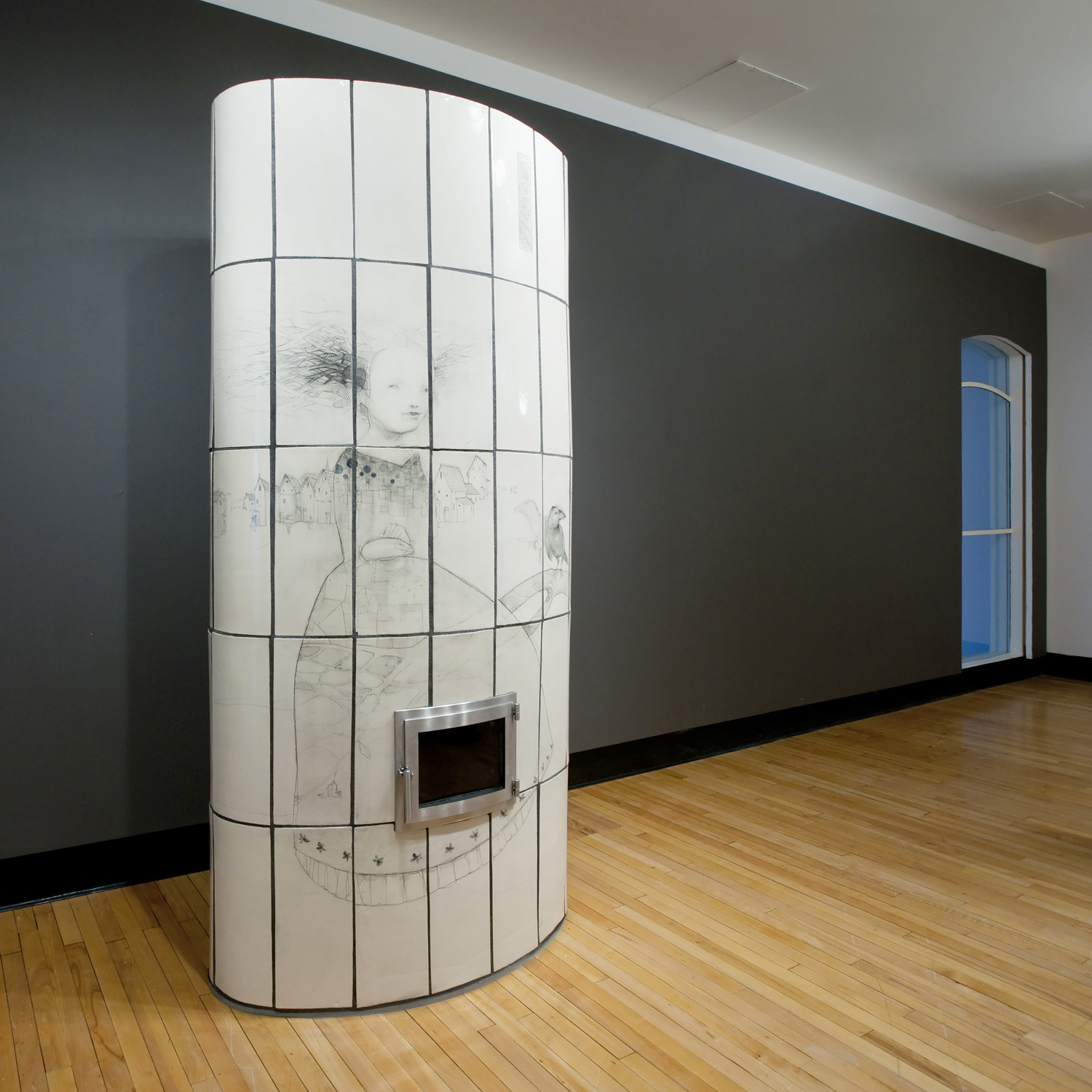 "If I had stayed in Germany, I don't think I'd be building the same kachelöfen that I'm building now. I'd be building what Germans want. And what they're building in Germany is not what I want to build."
Steinhäuser has also started a family tradition: Her seventeen-year-old son, Felix, wants to be a kachelofen builder. He spent last summer in Austria working with Zauner and accompanies his mother to job sites and conferences. Last fall, they worked together on a project in Spain, and in 2017 they're off to Guatemala as volunteers for Masons on a Mission, an organization that builds safe, properly vented masonry cook stoves for poor families in that country's western highlands. Many women there cook indoors over open fires. The lack of ventilation can cause serious respiratory problems and blindness, according to Steinhäuser. She learned about the organization four years ago, when she attended her first Masonry Heater Association of North America conference.
"I've been wanting to go ever since, and now I get to go with my son, which is so awesome!"