For the most part, our images of Japanese ceramics arise from books that have been published, collections that have been formed, and exhibitions that have been held in the years since 1940, when the first edition of Bernard Leach's A Potter's Book introduced Raku tea bowls by Koetsu and Kenzen and teapots by Hamada. We know the Shino, Karatsu and Bizen wares made by "Living National Treasures" and the Momoyama period (1568-1615) originals that inspired them. We recognize lmari, Kakiemon, and Kutani styles of decorated porcelain. We have a certain sense of color, texture, form, and cultural setting that seems to refleet the "truth" about ceramics in Japan.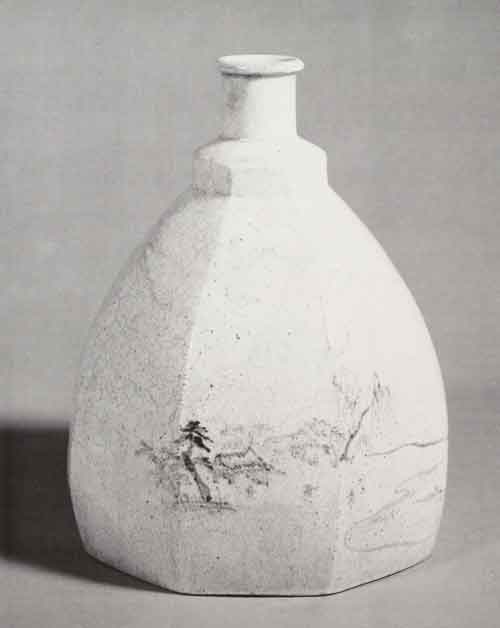 These images fracture when confronted with the evidence of the Japanese ceramics that were held in esteem by Americans during the preceding hundred years. By and large, American contact with Japanese ceramics began with the treaty signed in 1854 by Commodore Matthew Perry and the Japanese government that opened the way for trade and cultural interaction.1 During the second half of the nineteenth century, Japanese ceramics entered the United States in two guises - as items of commerce and as works of art. Commercial sales of Japanese ceramics were promoted at a series of international expositions, beginning with the Centennial Exhibition held in Philadelphia in 1876, and encompassing such notable events as the 1893 World Columbian Exposition in Chicago and the 1904 St. Louis World's Fair.
Collecting Japanese ceramics was a central element of the movement known as Japonisme that was underway in Europe and the United States by the 1870s. Some American collectors went to Japan to shop, but Japanese dealers also opened galleries in major cities on both coasts. Although many of those early collections were dispersed, some found permanent homes in museums including the Boston Museum of Fine Arts, the Metropolitan Museum of Art in New York, the George Walter Vincent Smith Museum in Springfield, Massachusetts, the Walters Art Gallery in Baltimore, and the Freer Gallery of Art in Washington, D.C. A look at those museum collections reveals that collectors at the turn of the last century operated with very different assumptions about what constituted quality and value in Japanese ceramics.
Notably, age that it is today, when many Japanese dealers and American collectors operate on the "Momoyama or nothing" principle that focuses on wares of that period (1568-1615) to the exclusion of almost all others, especially works from the nineteenth century. Then, many collectors confidently shopped at the expositions for pieces by living studio potters. Similarly, when they bought old pieces from dealers, age was usually subordinate to form, color, and decoration as a deciding factor in the purchase.
Indeed, the distinction between expositions and dealers was to as clear cut as that between a department store and a gallery today. Japanese studio potters such a Miyazawa Kozan and Itaya Hazan viewed expositions as appropriate places to present their work, and fine examples are now in the Walters Art Gallery and the George Walter Vincent Smith Museum.2 At the major expositions, antique Japanese ceramics and modern studio pieces supplie by reputable dealers alongside wares from Kyoto, Set, and Yokohama workshops promoted by Japanese local and prefectural governments. The dealers were not above appealing to popular taste as well. Mitsuki Bunko, who had a gallery in Boston and supplied influential collectors including Charles Freer, also operated a "Japan corner" in the major department store in Salem, Massachusetts. He imported a rickshaw in which the female shop attendants, dressed in Japanese costume, were pulled through the streets of the city as advertisement.
It is important to remember that this was also a time of flux in Japan. With the dissolution of the Tokugawa government in 1868, many holdings of ceramics were also disbursed. The regionally-based warriors (daimyo) who had governed the country no longer needed the elaborate residences that they had been obliged to maintain in the capital of Edo (now Tokyo). They sold off all but their most treasured antiques before returning to their own domains. The ceramics that flooded onto the market in Edo were a jumble of battered kitchen crockery and former heirloom utensils intended for refined activities such as tea drinking and incense guessing. Many of the men such as Matsuki who bought up such pieces and launched their careers as dealers had little or no training as connoisseurs. They simply sought success in the new market that opened up as diplomats, businessmen, and tourists began arriving in Japan.
Japanese potters, too, were in the process of redefining their roles. Until 1868 pottery-making was largely a hereditary occupation. Many potters worked under daimyo sponsorship, producing elaborate and technically refined pieces for private use in gift exchanges. With the change in government, such workshops lost their protected status and their work its original meaning. The urban wholesale is who became the new financiers for the ceramic industry capitalized on established reputations by turning the names of the domains (such as Hirado) or the crests of the former patrons (the blue cross within a circle found on Satsuma wares) into commercial trademarks. Fortunately, the ornate wares made to daimyo taste appealed to foreigners as well, with the result that many such workshops developed in the direction of even more virtuoso products featuring impossibly miniscule carved openwork or minutely-painted overglaze enamel decoration.
Other workshops capitalized on Euro-American fascination with unfamiliar aspects of Japanese life (also manifest in the popularity, among visitors to Japan, of studio photographs staging genre scenes) to make "cherry blossoms, Mt. Fuji, and geisha" the subject of decor on tea sets and chocolate pots. With decoration rather than shape the dominant source of appeal, independent work­shops sprang up to apply enamels to blanks bought from established ceramics centers. The 1876 Philadelphia exhibi­tion featured "flower vases made at Owari and Hizen and decorated at Tokio."3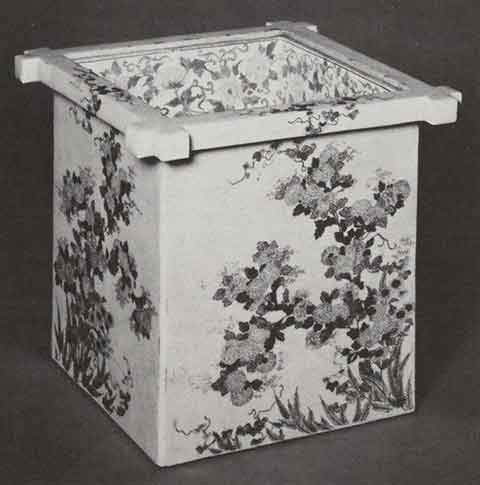 This was also the time when some of the first self-defined potters emerged to take up the role by choice rather than acci­dent of birth. Some were out-of­-work samurai who saw an opportunity for a new occupa­tion; others, such as ltaya Hazan (whose father was a small-town soy-sauce manufacturer) en­tered the field through studies at newly-established Western­-style art schools.
In short, the late nineteenth century was a time when categories of Japanese ceramics were not fixed. Japanese potters were redefining their positions. American and European pa­trons were groping toward defi­nitions of quality and trying to sort out the differences among ethnographic specimens, pieces aimed at the foreign mar­ket, and objets d'art.
This confusion among con­sumers found its epitome in a fierce battle waged in print in the 1890s between two promi­nent collectors, James Lord Bowes and Edward Sylvester Morse, over who had the cor­rect perception of "true" Japa­nese taste in ceramics. The Englishman Bowes championed the technical and aesthetic progressiveness of the finely­ decorated products of Satsuma, Kutani, and Kyoto. Railing against the "rude and undeco­rated pottery of the middle ages" that had "exercised a strange and unaccountable fas­cination upon the native mind," he condemned the apprecia­tion of dark-glazed, asymmetri­cal ceramics within the context of tea drinking (chanoyu). The American Morse, who during his years of residence in Japan had formed the famous collec­tions now in the Boston Mu­seum of Fine Arts and the Peabody Museum in Salem, Massachusetts, and had gained familiarity with Japanese cul­ture, claimed that ordinary do­mestic pottery and tea ceramics most truly reflected Japanese taste.4
Although Bowes and Morse each spoke adamantly for a competing "true definition" of Japanese ceramics - and Morse was a powerful influence partic­ularly upon American collec­tors - most surviving American collections formed in that era actually contain an eclectic sam­pling of "the Undecorated, the Decorated, and the Modern," as Bowes defined the major types, and they include in the "Unde­corated" category both tea wares and popular domestic wares.
The collection formed by Charles Lang Freer (1854-1919) between 1892 and 1917 is representative of those types. Of the approximately nine hundred Ja­panese ceramics now in the Freer Gallery of Art collection at the Smithsonian Institution in Washington, D.C., over six hundred were acquired by Freer himself.5 He made his earliest purchases in New York, but by 1896 he had begun buying from Matsuki Bunkyo and from Yamanaka and Company, first from its New York branch and later from the parent company in Japan, and they became his major sources. Many pieces were secured during lengthy trips to Japan in 1895, 1907, and 1911. From then onward, al­though he continued to make sporadic purchases of Japanese pieces, his interest (partly di­rected by a sharp rise in the prices of Japanese antiques) shifted to Korean, Chinese and Near Eastern ceramics.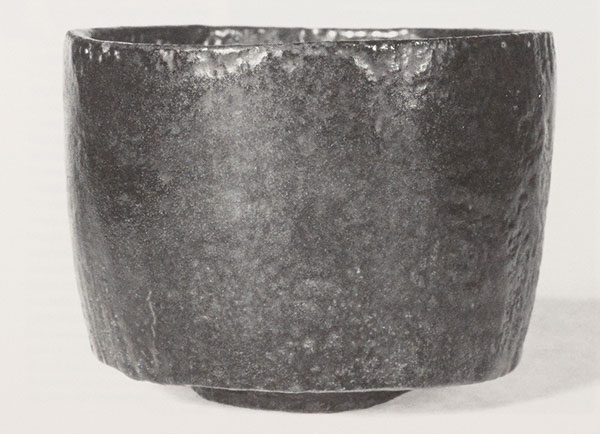 Freer considered himself to belong to Morse's side of the ar­gument about taste in Japanese ceramics. His meticulous notes on his collection, articulating his responses to pieces, show that he focused first and fore­most on color. The streaked and mottled coloration of Japanese stoneware glazes particularly delighted him. He enjoyed ar­ranging his ceramics in vi­gnettes in relation to American and East Asian paintings in his collection-creating color har­monies - and he made notes about possible groupings for display. He disdained porcelain and bought scarcely any; his purchases of stoneware deco­rated with overglaze enamels were also few. Although not particularly concerned about the age of objects, he appreci­ated the occasional opportunity to buy pieces said to have come from former daimyo collections. He prided himself on being a hard bargainer and avoided exorbitant prices except when he came under the spelI of Siegfried Bing, the famous mer­chandiser of Japanese art and art nouveau in Paris.6 Bing even persuaded Freer to buy one of his few examples of enameled Satsuma ware.
In 1907, having completed ne­gotiations to give his growing collection of Asian art to the United States and to establish the first art museum within the Smithsonian Institution, Freer invited Morse to examine and appraise his Japanese ceramics. (Subsequently, on the basis of Morse's advice and his own taste, he donated pieces to sev­eral university art museums, including those at Amherst College and Oberlin College.) Freer's notes show he accepted Morse's attributions for most pieces, even when they over­threw identifications supplied by Japanese dealers.
With hindsight it is possible to say that Freer was not unreason­able to trust Morse in many cases. Freer's collection in­cludes many pieces whose iden­tifications, supplied by the dealers who sold them, repre­sent sheer ignorance of a body of connoisseurship that had been built up during the Edo pe­riod (1615-1868) and then lost as social roles were reshuffled dur­ing the ensuing Meiji period (1868-1912). For example, tea leaf storage jars that would have been staples in daimyo collec­tions, and that any cultivated Edo-period Japanese would have been able to identify in­stantly as Chinese, were repre­sented to Freer as being Japanese.
When looking at Freer's col­lection or other similar groups of Japanese ceramics - even Morse's - with the benefit of al­most a century more of schol­arly research, archaeology, exhibitions, and publications, it is easy to feel smug about the lim­itations or failings of those early collectors. Yet they reflect a fascination with a new-found but ancient culture and an enthusiastic effort to make sense of it through attention to one particularly attractive aspect. Less knowledgeable than we are about Japanese ceramics (and culture), they were also in some senses less bound by stereotypes. They have left us col­lections rich in diversity and welcome surprises.
---
NOTES:
1.
Perry brought back ceramics among the gifts and souvenirs ac­quired in Japan; they are now in the National Museum of Natural His­tory, Smithsonian Institution, Wash­ington, D.C. Even earlier, in 1843, Captain Mercator Cooper, whose whaling ship entered Japanese wa­ters to return some shipwrecked Japanese sailors, brought back a few pieces; his so-called "ink pot'' and "spice tray'' (American terms for the unfamiliar Japanese vessels) are in the New Bedford Whaling Museum in Massachusetts. 
2.
The Freer Gallery of Art recently received a small group of Miyagawa Kozan, Royal Copenhagen and Rookwood ceramics acquired by Charles M. Kurtz, a painter and critic who helped organize the Colum­bian Exposition and the St. Louis World's Fair. Kurtz's notes on his col­lection indicate his deep interest in Kozan's flam be glazes. 
3. 
Official Catalogue of the Japanese Section (Philadelphia: The Japanese Commission, 1876, 16. 
4.
This confrontation of opposing tastes is presented in an excellent ar­ticle by Richard L. Wilson, "Tea Taste in the Age of Japonisme: A Debate," Chanoyu Quarterly 50 (1987), 23-39. 
5.
The numbers are approximate because of past changes of attribu­tion and continuing doubt about the identity of some pieces. The rest of the pieces have been acquired through gifts and purchases since Freer's death. 
6.
See Gabriel P. Weisberg, Art Nou­veau Bing: Paris Style 1900 (New York: Harry Abrams, 1986), 41-43.