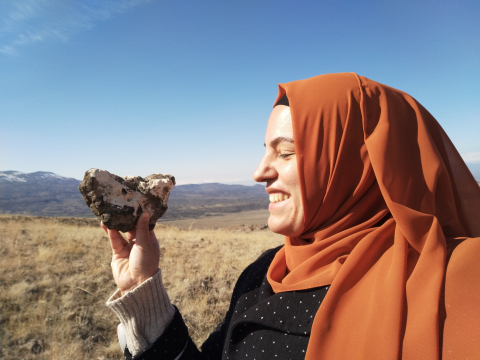 Author Profile
Elçin Telli
Elçin  was born in 1986 in Aksaray, Turkey. She earned her bachelor's and master's degrees at Anadolu University in Eskişehir in 2013 and 2019 respectively. At Mimar Sinan Fine Arts University in Istanbul she began her doctoral education in ceramic design in 2020. In 2015 she worked as a research assistant in the department of ceramics at Van Yüzüncüyil University in Van, Turkey. She has also worked as a ceramic artist in the restoration of architectural works in Bursa and began working as a lecturer in the ceramic and glass design program at Iğdır University in 2019, founding Iğdır's and Iğdı University's first ceramic workshop. 
She has participated in many group exhibitions nationally and internationally, with two solo exhibitions, Stairs (2013) and My Ceramics are on Mount Ararat (2020). Ceramic restoration, historical monuments, and raw soil materials are among her interests.
"When I think about the journey of humans, the earth embracing the soil comes to my mind. Actually, I feel it in my bones with every moment. As a result of this feeling, I meet and form a kinship with ceramics. This acquaintance, which dates back to my childhood years, has reached a completely different dimension. My education continues to evolve my relationship with clay. I put maximum effort into this journey, because I feel it deeply. I try to learn from the smallest detail by examining all the stages: design, forming, glazing, and firing my ceramics. I never want to lose the color of the ground. The leaner my work is, the more it tells about me. At first, I wanted to put a lot of meaning onto the objects I made. As time progressed, all the meaning turned into only one – I want to be covered in clay throughout my journey..."