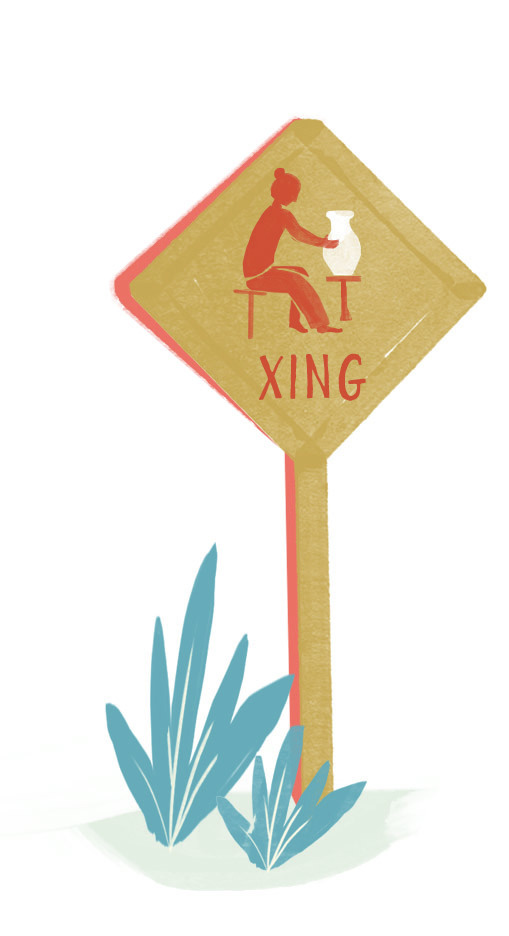 As part of our new Winter/Spring 2018 issue, Volume 46, Number 1, "Regional Perspectives and Pottery Tours," please join Studio Potter in celebrating and attending the range of self-guided ceramics and pottery tours in North America during 2018.  Tours are organized by country, then by state, then by date. If you'd like to add your event to the listing, please contact us.
UNITED STATES
National Clay Week Open Studio Tour
Concurrent locations around the United States
October 12-14
nationalclayweek.org/openstudio
@nationalclayweek
National Clay Week Open Studio (NCWOS) is a nationwide event that celebrates clay, community and creativity. Studios all over the country open their doors for demonstrations, lectures, exhibitions.
Ben Carter, 831-334-5431, nationalclayweek@gmail.com
ALASKA
Homer Pottery Studio Tour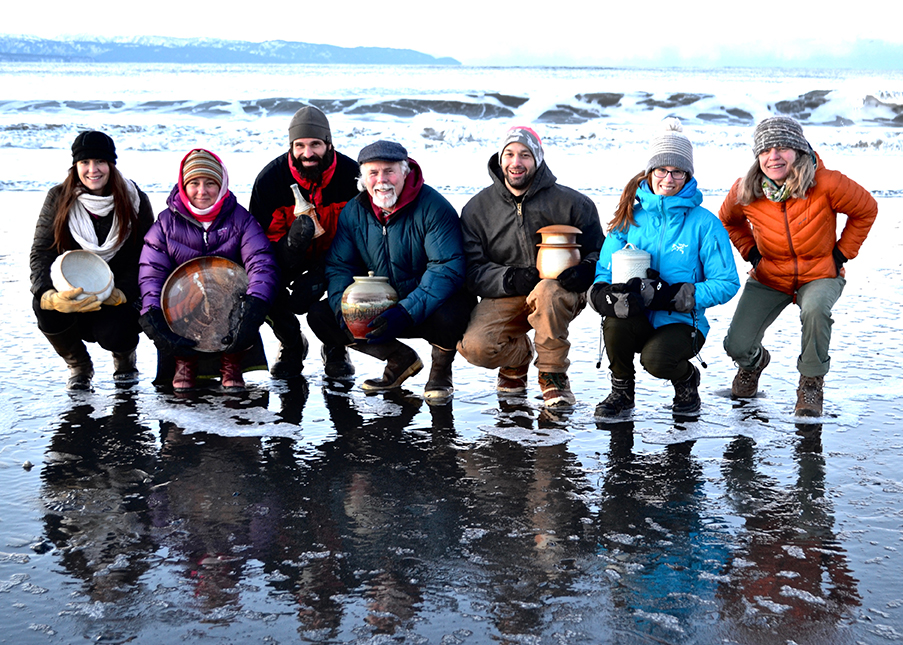 Homer, Alaska
Saturday May 19 - Sunday May 20, 2018
facebook.com/HomerPotteryTour/
Visit Homer potters and ceramic artists in this self-guided studio tour!
Cynthia Morelli, 907-235-2846, cmorelliclay@gmail.com
CONNECTICUT
ClayWay Studio Tour
Litchfield County, CT
October 6, 7, 8
Eighteen artists in and around Litchfield County at the start of the leaf color season.
Alison Palmer 860-927-4680, spoonrest@icloud.com, www.alisonpalmerstudio.com
FLORIDA
Tampa Tour de Clay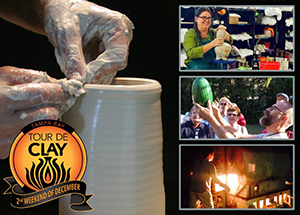 Tampa Bay, FL
December 8-9
Our 11th annual tour of five pottery studios featuring the work of over thirty accomplished local and national ceramic artists.
Michele Ginouves, 352-346-1855, michelegin@bellsouth.net
ILLINOIS
Shawnee Hills Pottery Trail
Southern Illinois
May 5-6
potterstrail.wixsite.com/pottery-trail
Nine Potters, One Great Weekend!
Steve Grimmer, 618-697-4258, potterstrail@gmail.com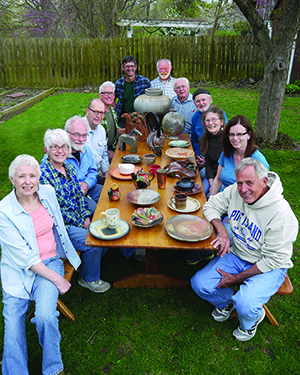 Twenty Dirty Hands
Galena + Elizabeth, IL
October 12-14
twentydirtyhands.com
Tour the studios and delight in the work of these makers. The potters of Twenty Dirty Hands love clay.
Paul Eshelman, 815-858-2327, eshelman@eshelmanpottery.com
INDIANA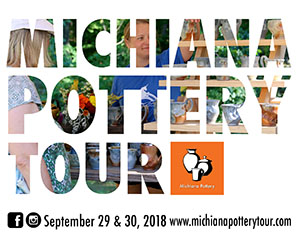 Michiana Pottery Tour
Goshen, IN
September 29-30
@michianapotterytour on Instagram
The Michiana Pottery Tour includes more than 30 artists at six locations across northern Indiana and southwestern Michigan. The two day tour takes place on the final Saturday and Sunday of September every year
KENTUCKY
Southern Crossings Pottery Festival / SXPF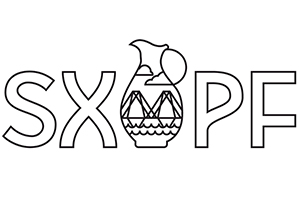 Louisville, KY
March 2-3
Made By Hand, Designed For Many
Jason Bige Burnett, 865-278-8938, sxpottery@gmail.com
MAINE
Maine Pottery Tour
Maine
May 5-6
Lori Watts, info@finemesspottery.com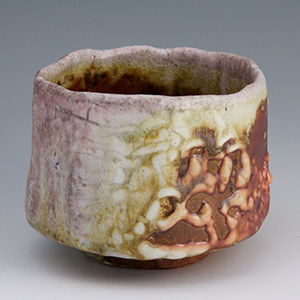 Twelve Hands Midcoast Potters Tour
Midcoast, ME
August 25-26
The nearby friends and firing crew of Jody Johnstone's anagama kiln open their studios to you for this special event.
Simon van der Ven, 207-975-3456, siem@vandervenstudios.com
MASSACHUSETTS
Asparagus Valley Pottery Trail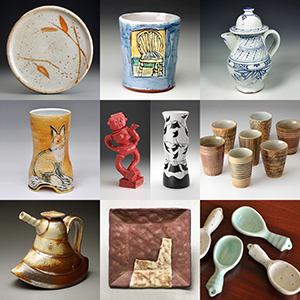 Western Massachusetts
April 28-29
asparagusvalleypotterytrail.com
A self-guided driving tour featuring 23 potters at 9 studios along the beautiful back roads and historic towns of western Massachusetts.
Steve Earp, 413-625-2870, steve@stephenearp.com
Hilltown 6 Pottery Tour
Western Massachusetts Hilltowns
July 28-29
This tour includes nine nationally recognized potters and their guests based in the eclectic and beautiful Hilltowns of Western Massachusetts.
Christy Knox, 413-404-6695, knoxpottery@aol.com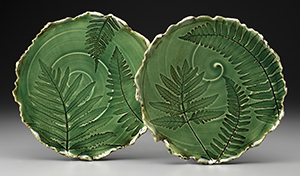 Berkshire Pottery Tour
Berkshire County in Western Massachusetts
September 29-30
A self-guided tour of Berkshire County Potters..our fifth anniversary!
Ellen Grenadier, 413-528-9973, grenadierpottery@hotmail.com
MICHIGAN
The Cracked Pot Studio Tour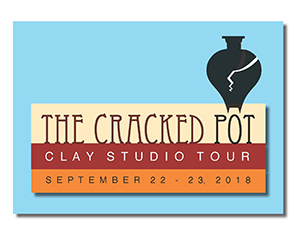 Mid-Michigan
September 22-23
crackedpotstudiotour.wordpress.com/
Ten rural potteries open their studios and invite 50 Michigan ceramic artists to join in showing and demonstrating their work.
Mary Fritz, marycurtisfritz@gmail.com, http://www.maryfritz.com
MINNESOTA
The 26th annual Saint Croix Valley Pottery Tour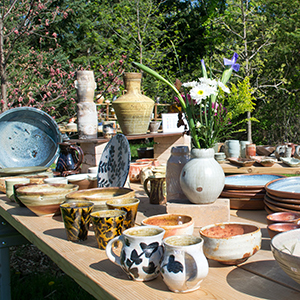 Chisago County, MN
May 11, 12, 13
Celebrating pottery and potters, seven studios will host 62 potters, making sales and connections that prove satisfying to visitors and potters alike.
Cannon River Clay Tour
Northfield, MN
June 16-17, 2018
cannonriverclaytour.com
This self-guided studio tour is hosted by eleven local clay artists and features twelve guest artists from around the country.
Juliane Shibata, 507-720-9339, cannonriverclay@gmail.com, js@julianeshibata.com
MISSOURI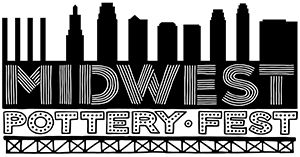 Midwest Pottery Fest
Kansas City, MO
April 7-8
Join the KC Urban Potters & invited guest artists for a weekend of demonstrations, artist talks, a flower bar, & pottery!
Erica Iman, 541-513-0753, kcurbanpotters@gmail.com
MONTANA
Montana Clay Tour
Helena, MT
July 28-29
Ceramic artists invite their colleagues from around Montana for a festive open studio event that coincides with the Bray Bash.
Mel Griffin, montanaclaytour@gmail.com
NEBRASKA
Lincoln Clay Tour
Lincoln, NE
April 27-28
Local artists Gail Kendall, Amy Smith, and Sharon Ohmberger host two home-studio tours and a sale, with guest artists.
Amy Smith, 402-488-0283, amysmithporcelain@gmail.com
Omaha North Hills Pottery Tour
Omaha, NE
October 6-7
Enjoy the work of nineteen nationally recognized clay artists while traveling along the Lewis and Clark scenic byway.
NEW YORK
Finger Lakes Pottery Tour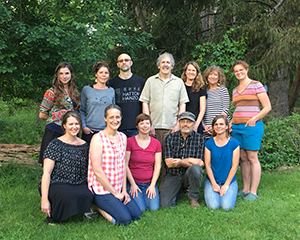 Ithaca, NY
May 12-13
Three studio locations near Ithaca NY with local and invited potters at each studio.
Julie Crosby, 607-280-1606, juliecrosbypottery@gmail.com
Hudson Valley Pottery Tour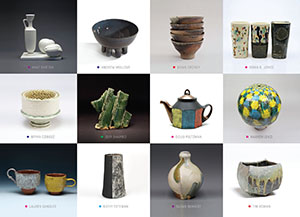 Mid-Hudson Valley area of New York
October 20-21
We invite you to visit the studios, engage the makers, and learn how they have forged a life committed to ceramics.
Doug Peltzman, 845-750-7577, hudsonvalleypotterytour@gmail.com
Brooklyn Clay Tour
Brooklyn, NY
September 7-9
PENNSYLVANIA
Fall into Winter
Boyertown, PA
November 17-18
studiobbb.org/fall-into-winter/
A self-guided tour of artisans' spaces.
Linda Rohrbach-Austerberry, lausterberry@gmail.com
VERMONT
Vermont Open Studio Tours
VT
May 26-27, October 13-14.
Visitors are invited behind the scenes into studios where clay work is created.
Martha Fitch, 802-223-3380, vermontcraftscouncil.com
VIRGINIA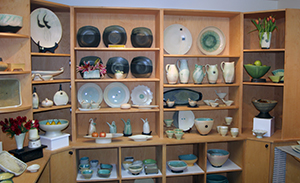 16 Hands Bi-annual Studio Tour
Floyd, VA
May 5-6 & November 23-25
Fine Pottery and Woodworking in the Blue Ridge Mountains of Southwest Virginia. Free self- guided tour.
Ellen Shankin, 540-745-3595, warshank@swva.net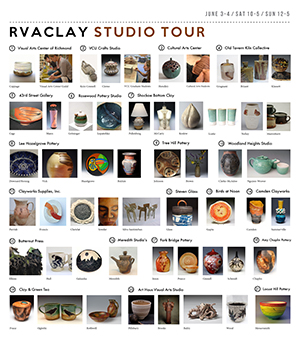 Annual RVA Clay Studio Tour
Richmond, VA
June 2-3
Take a self-guided tour of Richmond's diverse and spectacular clay community.
Scott Campbell, 804-918-7722, richmond@clayworkssupplies.com
WISCONSIN
The Clay Collective Pottery Tour
South Central Wisconsin
May 6-7
Featuring the functional, sculptural and decorative ceramics of twenty-five potters in seven studio locations.
Rick Hintze, 920-699-2529, rickhintze@gmail.com

River Valley Potter's Fall Studio Tour
St. Croix River Valley, MN / WI
September 21-23
This collective of annual fall sales represents seven charming and distinctive studios along the scenic St. Croix River valley.
Nick Earl, 952-270-6893, nicholas.earl@outlook.com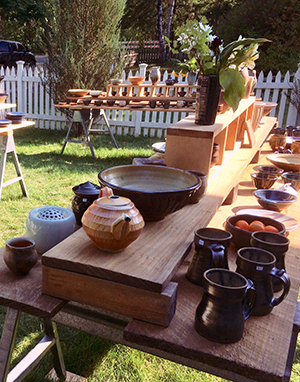 Western Wisconsin Pottery Tour
St. Croix River Valley, WI
September 21-23
Westernwisconsinpotterytour.com
This is a self-guided tour of four studios and guests nestled in the beautiful St. Croix River valley of Western Wisconsin.
Steven Rolf, 715-426-7367, scrolf.potter1@sbcglobal.net
CANADA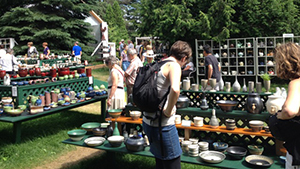 1001 POTS
2435 rue de l'Église,Val-David, Québec, Canada J0T 2N0
July 6 - August 12
30th edition. Over 100 Quebec/Ontario exhibitors. Demonstrations, workshops, special events, Japanese tea room, Silica Garden.
Jonathan Ishikawa, 819-322-6868, expo@1001pots.com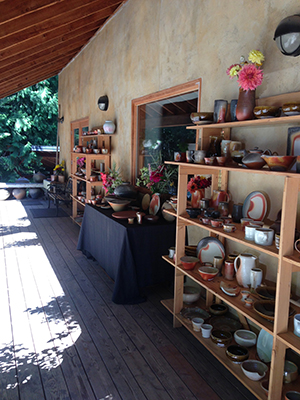 Columbia Basin Culture Tour
Columbia Basin, Southeast British Columbia, Canada
August 11-12
This two day free self-guided tour showcases local pottery and artists' studios offering the public access to purchase work, view demonstrations and other behind the scene opportunities.
Columbia Kootenay Cultural Alliance, 250-505-5505, wkracassistant@telus.net