For the last four years building a center for ceramic art has been an evolving dream of Janne Hieck's and mine. Janne is a German master potter who studied at the ceramic facility in Landshut, Bavaria, and I am an American who at one time lived, worked, and studied in Mashiko, Japan, with the Living National Treasure Shimaoka Tatsuzo. Our developing center, Tolne Gjæstgivergaard, sits in the middle of a beech forest in northern Denmark. We bought the property in July 2012, and since then we have been working to renovate it to be a home, ceramic studio, gallery, café, and meeting facility. We have plans to provide lodging and ceramics courses, too.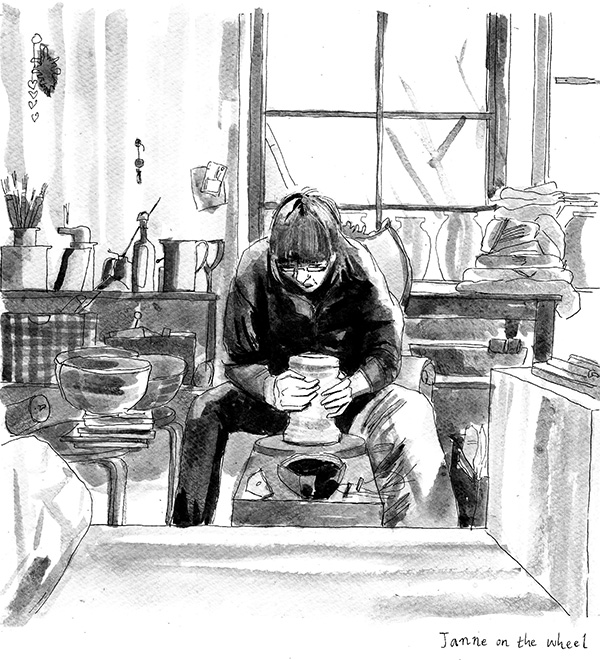 Together with colleagues in our area, we have been inviting other ceramic artists to come and work, lecture, and exhibit with us for much of the last decade. We both enjoy wood firing, salt glazing, and soda glazing and have built a variety of wood kilns to fire our work.
The first we constructed was the salt kiln, in fall 2012. Because we have a recurring wholesale order each year for salt-fired work, we fire it fifteen to eighteen times a year—a lot for a kiln to stand up to. It was constructed with an arch made of castable refractory material after the style of a Japanese itekoi kiln, and after almost fifty firings, the castable was dripping extensively onto our work during firing. In addition the materials we had used to repair the floor in the fall of 2015 didn't hold. After only a few firings, the floor began to warp and disintegrate from the caustic atmosphere of heat and salt.
By January 2016, there was no question that we needed to rebuild our loyal salt kiln. The final firing in the old one was disastrous. We were making samples for a big order, and as the kiln approached Cone 9, about 1,250 degrees Celsius, the floor melted away, and all our work made a long, slow journey toward the walls, then slid farther down the interior of the kiln, landing in a heap in front of the gas burner.
The previous fall, at an exhibition of our work in Arvika, Sweden, Joel Stuart-Beck, a potter and head of the Arvika Konsthantverk cooperative, had asked if he and his friend Emil Österholm could fire sculptural work in our salt kiln in the spring. When I had explained that the kiln needed repair, they had offered to help, and to donate ten nearly-new silicon carbide shelves to the project. The combination of good help, new resources, and good friends was impossible to resist, so we lined up dates for the rebuild and firing, starting at the end of February.
...