current issue
previous issues
about us
articles
support pages
contact
subscribe
email newsletter
get SP here
donate
collector cards
underwriters
digital sample
coming up
home

sections: About | Frequently Asked Questions | Staff |



M I S S I O N S T A T E M E N T

Centered in studio practice, The Studio Potter promotes discussion of technology, criticism, aesthetics, and history within the ceramics community.

We are a non-profit organization celebrating over 40 years of commitment to the publication of The Studio Potter journal. As we look ahead to the next 40 years, we are working hard to institute exciting changes that will both grow our organization and provide a consistent, quality publication serving a growing community of studio potters. We welcome dedicated individuals to our team who support the ceramic arts and are able to bring needed skills such as financial or legal expertise, non-profit development, grant writing, digital/web expertise or experience in publications.

If you would like more information on how to become a part of our Board of Directors, Advisory Board or Staff please contact Elizabeth Cohen at boardinfo@studiopotter.org




H I S T O R Y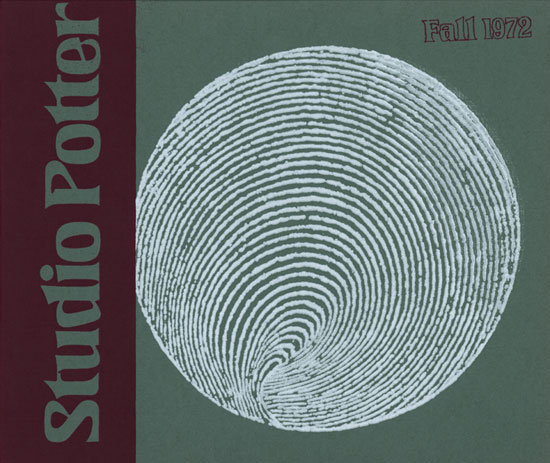 When The Studio Potter began its life in 1972, we took that potter's mark as our symbol. It was a secret mark (above, Vol. 1, No.1 cover) as our symbol. It was a secret mark that only a potter recognizes as well as a universal one that every potter in the world recognizes. It strongly appealed to our iconoclastic approach to pottery. At that time, two publications were pre-eminent in the field: Ceramics Monthly and Craft Horizons.Our perception was that they covered schools and galleries but not working potters, and our conceit was that a new publication by and for potters could fill that need.

In the fall of 1971, discussion on publishing a magazine commenced among members of the New Hampshire Potter's Guild leading to the formation of a non-profit organization called the Daniel Clark Foundation, named after an obscure colonial potter in New Hampshire whose fame came principally from a diary he left upon his death in 1828. We were financed by a dozen New Hampshire potters and a modest grant from the Northeast Region of the American Crafts Council. Innocent and foolhardy, we launched our first issue. The cover (above) was hand-silk screened and the modest twenty pages contained an eclectic mix of photographs and articles on apprenticeship, photo-resist, homemade pugmills, and an excerpt from Paulus Berensohn's unpublished manuscript, Finding One's Way With Clay.

It was an unpretentious beginning, and one that might easily have foundered for lack of journalistic experience and financial stability. Even then, however, it would not have been possible without the help of courageous friends. Original "investors" were Peter and Lissi Sabin, Vivika and Otto Heino, Michael Cohen and Harriet Goodwin (Cohen), Ruth Tobey, Dan and Mary Ann Gehan and Julie and Gerry Williams. Armand Szainer designed the magazine, Bill Finney took the pictures, and attorney Neil Castaldo drew up non-profit papers. Two hundred pre-subscribers took a chance on us.

Forty years later, The Studio Potter inevitably has changed - but so has the field. Through the years, the magazine staff has been restructured, subscriptions blossomed, and, most significantly (and controversially), Studio Potter changed the editorial focus from how-to technology to aesthetic philosophy. We sensed the field had grown toward wider and deeper interests.

Yet, some things have not changed. Volume One, Number One, began with a spirit that still defines our mark: an essential belief in functional pottery, a reverence for new talent and old masters, the encouragement of first-person writing, education as discovery of the self, service to the field, and an overriding commitment to humanitarian values.



sections: About | Frequently Asked Questions | Staff |